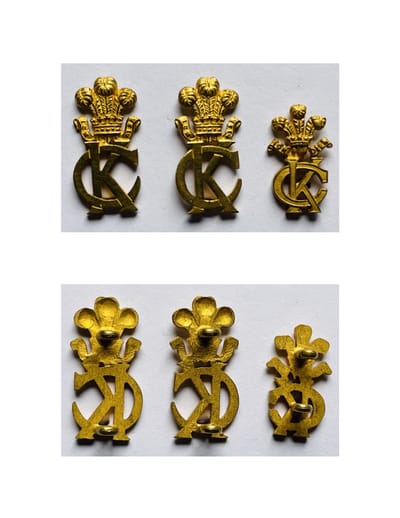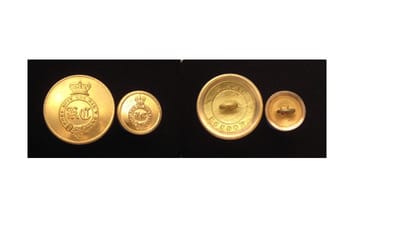 The King's Colonials Officer's Mess kit was a dark blue jacket with rolled, ribbed collar of scarlet silk which bore small gilt badges. These Mess Dress badges were intertwined 'KC' letters of the same design used for the first pattern Regimental Collar badges, surmounted by the Prince of Wales's plumes but lacking the Regimental motto. David Knight and Keith Hook (Journal of the Military Historical Society. 251:70-78, 2018) describe two different sized Mess Dress lapel badges and the badges that they describe are shown in Figure 298. These badges measure 27mm in length and the other 21mm. The larger examples have an indent behind the centre of the plume whereas the smaller one is flat backed. The loops are positioned north-south on these badges. The larger Mess Dress badges are believed to have been worn by Officer's and the smaller badges by senior NCOs. Figure 96 show the smaller pattern Mess Dress lapel badges being worn by a King's Colonial senior NCO.
Unlike the Full Dress and Service Dress tunics, the Mess Dress cuffs were rounded with four rather than five, equal length stripes of ¾ inch scarlet cloth without buttons.
Figure 298: Two different size King's Colonials Mess Dress lapel badges.
An Officer's Mess Waiters tunic breast and cuff buttons have also been identified for the King's Colonials and these are shown in Figure 299. Unlike tunic buttons, Mess Waiters buttons were not officially sanctioned and were chosen by the Officers of the Regiment. The King's Colonials Mess Waiters buttons bear the inter-twined letters 'KC' in script within the Garter strap surmounted by St Edward's crown. The tunic breast and cuff buttons are gilt, convex in shape and measure 27 and 17mm in diameter, respectively. They are open backed with a back mark of Firmin London for the larger tunic breast button and the smaller cuff button is unmarked.
Figure 299: King's Colonials Mess Dress tunic breast and cuff buttons in gilt (Ian Baker collection).Figure 300: A pair of the larger sized King's Colonials Mess Dress lapel badges.