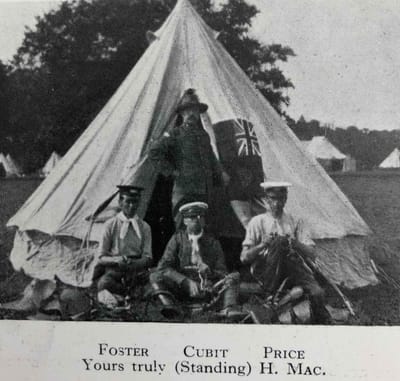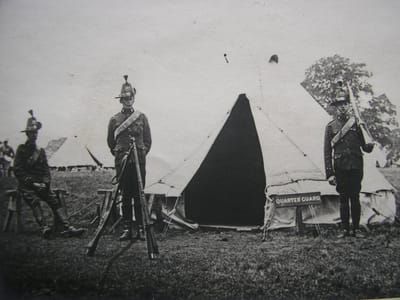 The annual camp was an important training activity for all British army regiments especially the volunteers. A fortnight under canvas annually was supplemented for the King's Colonials by intermediate trainings at Easter and Whitsuntide holidays which became annual features from 1904.
The first annual camp of the newly formed King's Colonials was held at Sidcup in Kent from 14th to 29th June 1902. The Regiment in camp totaled fourteen Officers and 201 Other Ranks with a strong Squadron released under the command of the Adjutant for the Coronation Review. Figures 41-2 are photographs taken from that first annual camp.
Figure 41: Some of the attendees of the Sidcup camp, 1902.
Privates Foster (four possibilities from KEH Nominal Roll but with 202 Other Ranks enrolled by 1903 it is unlikely to be any of these as the Regimental numbers are all higher - 603, 652, 731 and 1373), Henry S. Cubit, 32 (enlisted 4/01/1902) and Price (possibly Elias W. Price, 415 but again unlikely) with Herbert MacIntosh,57 (standing). Private Herbert MacIntosh was from New Zealand (note the New Zealand flag proudly displayed on their tent) and went on to be a Squadron Quarter Master Serjeant and his photograph appears as Figure 105 with his uniform depicted in Figures 103-104 and 106-111.
Figure 42: Quarter Guard at Sidcup Camp being mounted by several Troopers of the Australasian Squadron.