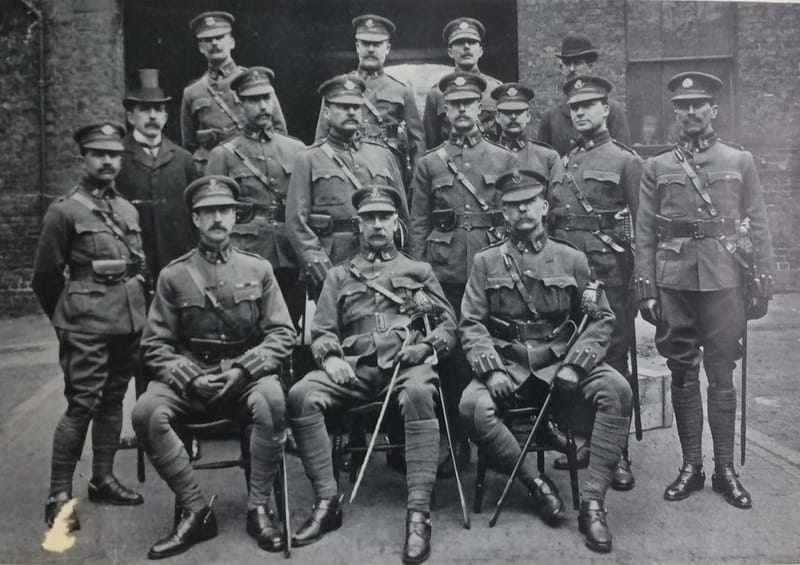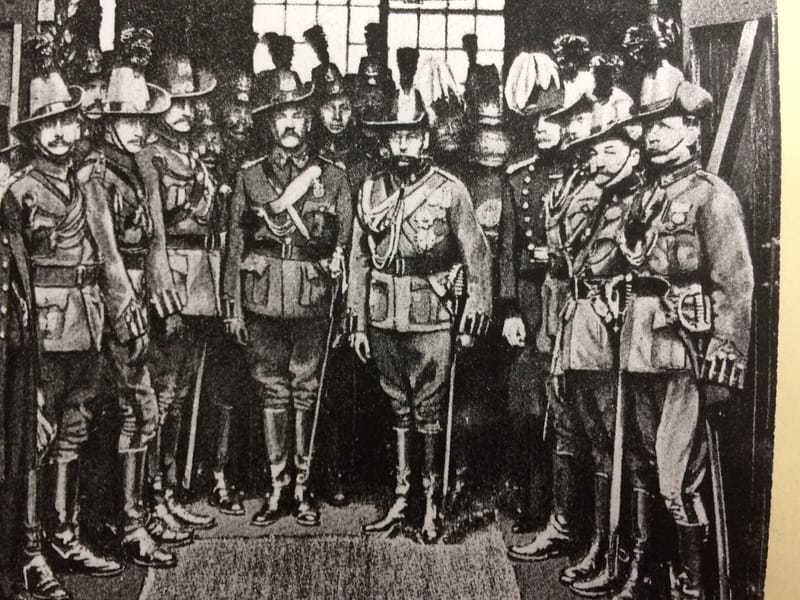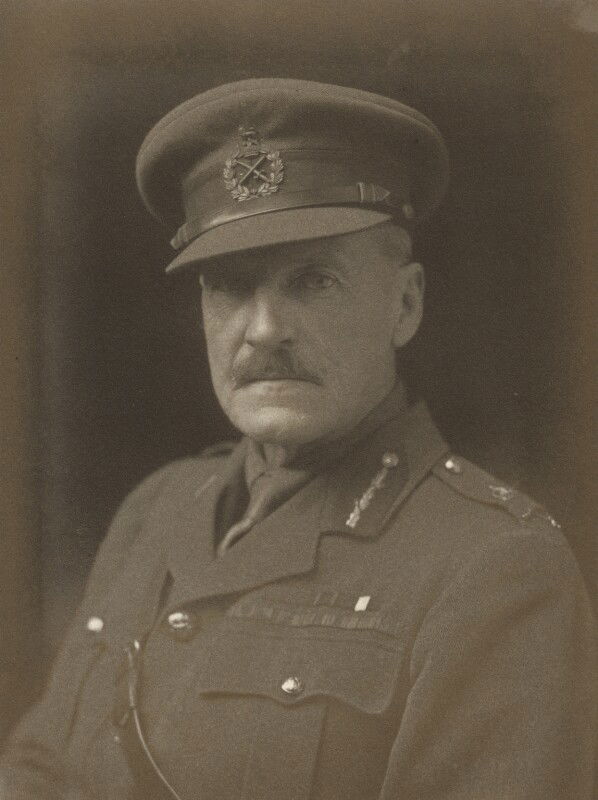 The first recruit sworn into the King's Colonials was Henry S. Cubitt who was curiously given 32 as his Regimental Number on 4th January 1902. The first muster of the Regiment was held on 11th February 1902.
Lieutenant Colonel Willoughby Wallace became the first Commanding Officer and Captain Robert Roland Thompson (late of the Australian Horse) was appointed Adjutant; Captain Sir Robert Bailie (Australia) and Mr John Howard (Canada) were appointed as Captains; and George Hamilton (South Africa and Chile) and A. G. Berry (Australia) as Lieutenants (Figure 3). Volunteers came from the upper echelons of society from Colonial outposts and funding came from the Dominion Government's that sponsored their own particular Squadrons. A cavalry or yeomanry Squadron is the equivalent of a company in an infantry Regiment and was comprised of about 120-150 Officers and Other Ranks. A cavalry or yeomanry Regiment would generally be made up of four Squadrons.
Figure 3: The Officers of the 4th County of London (King's Colonials) Imperial Yeomanry from left to right, back row: Lieutenant Lionel James, Captain J. Howard, Lieutenant P. Hare and Surgeon-Lieutenant L. J. H Oldmeadow, MD. Second row: Second Lieutenant H. C. Corlette, Colonel Sir E. W. D. Ward (K.C.H Under-Secretary of State for War), Lieutenant G. Hamilton, Captain Sir Robert Baillie, Bart., Lieutenant A. G. Berry, Second Lieutenant W. J. Ratcliffe, Lieutenant Hamar Greenwood, and Lieutenant G. Seymour Fort. Front row: Major J. M. Vereker, Lieutenant Colonel Willoughby Wallace, and Captain and Adjutant Robert Roland Thompson in Undress uniform circa 1902 (Navy and Army Illustrated. London: Elliot & Fry, Volume XIV: Number 274, 147-148, May 3rd 1902). Lieutenant later Sir Hamar Greenwood was born in Canada in 1870 and notably served as the last Chief Secretary of Ireland between 1920 and 1922. He died a Viscount in 1948 and a close-up photograph of him is shown in Figure 156.
The King's Colonials established their Headquarters at 30 Charing Cross Road and drilled in a hall at 304 King's Road in Chelsea (Figure 4). By April 1902, the Regimental strength was 190 and a Regimental band had been formed. A representative Squadron was present at King Edward's Coronation Review on 12th June 1902 and a Lieutenant George Hamilton, one NCO and eight Troopers attended the King Edward VII's coronation on 9th August 1902.
Figure 4: His Royal Highness the Prince of Wales and Officers of the 4th County of London (King's Colonials) Imperial Yeomanry (Full Dress uniform) at the Inspection and Official Opening of the Drill Hall in the King's Road, Chelsea on 6th May 1902 (Lieutenant Colonel Lionel James. The History of King Edwards Horse (The King's Overseas Dominions Regiment). London: Sifton, Praed & Co, 1921).
In 1903 it was proposed that the Regiment initially form "Colonial" Squadrons to represent each of the overseas Dominions:
'A' Squadron - British Asians (mostly Indian)
'B' Squadron - British Americans (actually Canadians)
'C' Squadron - Australasian (Australian & New Zealanders
'D' Squadron - British African (South African & Rhodesian)
'E' Squadron – attempts were made to form an entirely New Zealand Squadron but was unsuccessful. The New Zealanders became the 3rd Troop of 'D' Squadron (South African) and this left 'C' Squadron as wholly Australian in make-up and so 'C' Squadron was re-named the Australian Squadron.
The same year, the Regiment commenced training at Latimer Park with a strength of 18 Officers and 202 Other Ranks.
It was again divided into four Squadrons with three Troops per Squadron:
'A' Squadron (British Asian) commanded by Captain L. James with 1st Troop (Asian) 2nd Lieutenant Stockwell, 2nd Troop (Asian) 2nd Lieutenant Radcliffe and 3rd Troop (Australian) Lieutenant Corlette.
'B' Squadron (Canadian) commanded by Major J. Howard with 1st Troop (Canadian) Lieutenant Hamar Greenwood, the 2nd Troop (Canadian) Captain G. Hamilton and the 3rd Troop (Australian).
'C' Squadron (Australasian) commanded by Major Sir Robert Baillie, Bart with 1st Troop (New South Wales) 2nd Lieutenant J. Armstrong, 2nd Troop (New South Wales) Lieutenant G. S. Fort and 3rd Troop (Victoria) Captain A. G. Berry.
'D' Squadron (South African) commanded by Major J. M. Vereker with 1st Troop (African) -, 2nd Troop (African) Lieutenant P. R. Hare and 3rd Troop (New Zealand) Captain R. S. Vaile.
The King's Colonials purchased a Pegasus car for conveying their Officer's for inspection duties in 1902 and were a fully independent unit with their own battery of machine guns (see Annual Camps section), a corps of signallers and an ambulance corps.
Upon retirement of Lieutenant Colonel Willoughby Wallace on the 19 April 1904, command of the Regiment passed to Lieutenant Colonel Honourable Herbert Alexander Lawrence, late of the 17th Lancers (Figure 4a). Colonel Lawrence was the son of Lord Lawrence, Viceroy of India. The Regimental Headquarters moved to Gloucester Terrace, London. The early years of the King's Colonials were not without difficulties as the Regiment was short of funds for many years. The assumption had been made that wealthy Colonials and Dominion Governments would financially support the newly formed Regiment but the reality was quite different.
Figure 4a: Portrait of Lieutenant Colonel Honourable Sir Herbert Alexander Lawrence, National Portrait Gallery
On the 7th April 1905, the Regimental title was shortened to the simpler "King's Colonials Imperial Yeomanry". The Regiment thanks to Royal patronage and colourful uniforms provided a Guard of Honour for numerous overseas dignitaries.