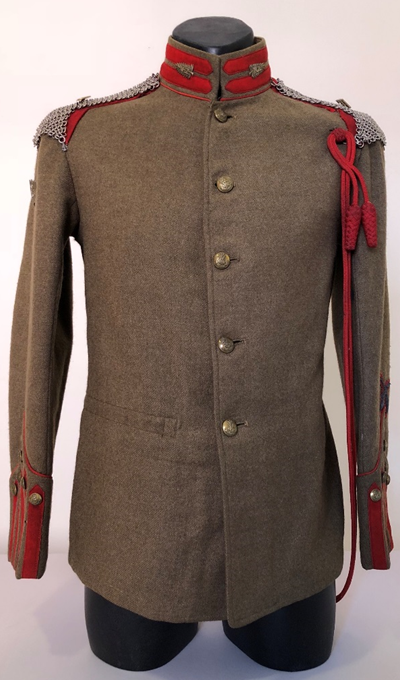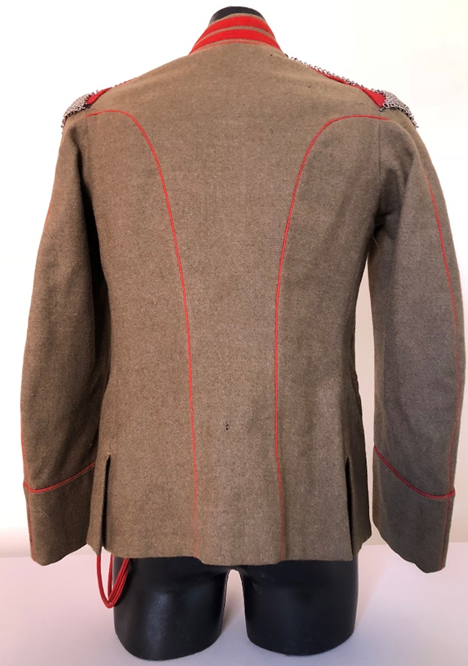 The tunic depicted here bears a label with the name MacIntosh written upon it with a D for 'D' Squadron and SMS for Squadron Quartermaster Sergeant signifying that it belonged to Squadron Quarter Master Sergeant (SQMS) Herbert MacIntosh of the 3rd (New Zealand) Troop of 'D' Squadron (British African) of the King's Colonials Imperial Yeomanry. The tunic was acquired in New Zealand together with several copies of
The King Edwards Horse Senior and Junior Comrades' Association Annual Bulletins
in which SQMS MacIntosh had underlined his name in the list of members. This style of tunic does not bear breast pockets and buttons.
The manufacturers label sewn into the King's Colonials' Service Dress overalls was that of Hobson and Sons of London. Hobson and Sons are still in business today in Golden Grove, London and were a preferred manufacturer of Officer's and Other Rank's British and Colonial regimental and ceremonial, uniforms and buttons. It is noted that the uniforms of the Australian Contingent attending the coronation of King Edward VII in 1902 were also manufactured by Hobson and Sons. There may have been other manufacturers of the uniforms of the King's Colonials which is certainly true for the buttons on their tunics.
The King's Colonials uniform shown was originally accompanied by a New Zealand Squadron water bottle with felt cover and leather strap. The felt cover was marked on the front with 'KC 57' (which may well be Serjeant MacIntosh's Regimental Number) and the top of metal stopper marked 'NZ'.
Figures 97 and 98: The front and rear of the Full Dress tunic worn by Squadron Quarter Master Sergeant MacIntosh of the 3rd New Zealand troop of 'D' Squadron (South African), 4th County of London (King's Colonial's) Imperial Yeomanry, circa 1905-06. The tunic was made by Hobson and Sons, London and bears the name MacIntosh on the inside rear of the collar. Figure 99: Squadron Quarter Master Sergeant Herbert MacIntosh of the 3rd (New Zealand) Troop of 'D' Squadron (British African) of the King's Colonials Imperial Yeomanry. He is wearing his Full Dress tunic (shown in the photographs which follow) and Second Pattern, Sombrero hat (without the plume of cock's feathers) bearing the New Zealand headdress badge, khaki overalls and tan wrist gloves and leather gaiters. This photograph was taken after his visit to England in 1939 (The King Edwards Horse Senior and Junior Comrades' Association Annual Bulletin. 15: 22, 1948).