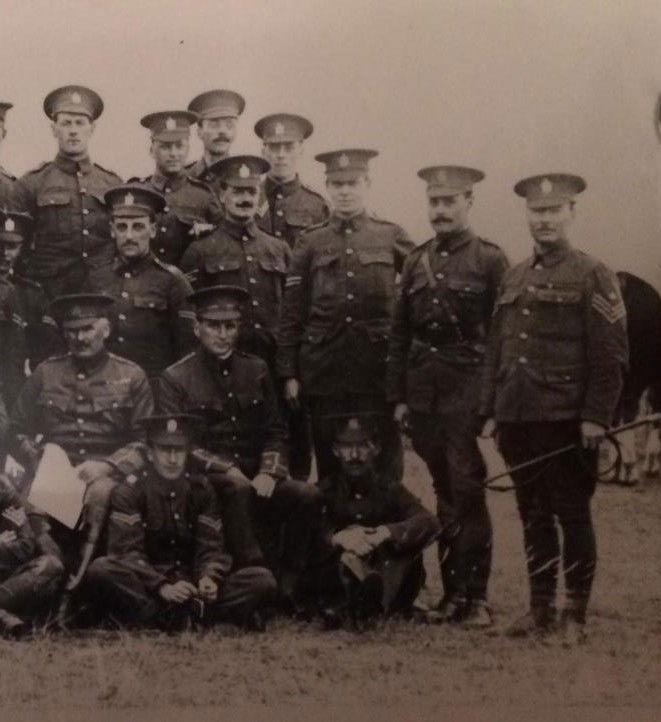 The annual camps for the King's Colonials were held at Churn Camp, near Blewbury, Oxfordshire in 1907 and 1908. The 1907 camp was attended by 21 Officers and 375 Other Ranks this time swelled by the addition of the Cambridge and Oxford detachments. Attendance was much lower in 1908 with 19 Officers and 294 Other Ranks. A feature of these particular camps was the inclusion of a Machine Gun Troop within the Regiment. A Dundonald carriage was used for transporting a Maxim gun and it's ammunition as shown in Figure 58.
Figure 58: Machine Gun Troop of the King's Colonial Imperial Yeomanry at Churn Camp 1907 (The King Edward's Horse Senior and Junior Comrades Association Annual Bulletin. No 20: 15, 1953).
We know from the attendance of one of the more famous members of the King's Colonials, J.R.R. Tolkien who as an undergraduate student of Oxford University attended their annual camp in 1909 at Pond Farm Camp, Tidworth Pennings on Salisbury Plain (John Garth:
Tolkien and The Great War: The Threshold of Middle-earth
. London: HarperCollins, 2003). Here they were camped as a Brigade with the other four mounted regiments of the London Command and were in strength with 24 Officers and 415 Other Ranks.
The 1910 camp was also held on Salisbury Plain at Shorncliffe Camp with reduced numbers at 20 Officers and 327 Other Ranks. This was the first camp for the Regiment as King Edward's Horse.
Figure 59: Officers and Other Ranks from 'A' Squadron, King Edward's Horse at Shorncliffe Camp in 1910. The headdress badge being worn is that of the King Edward's Horse (R. J. Smith collection).