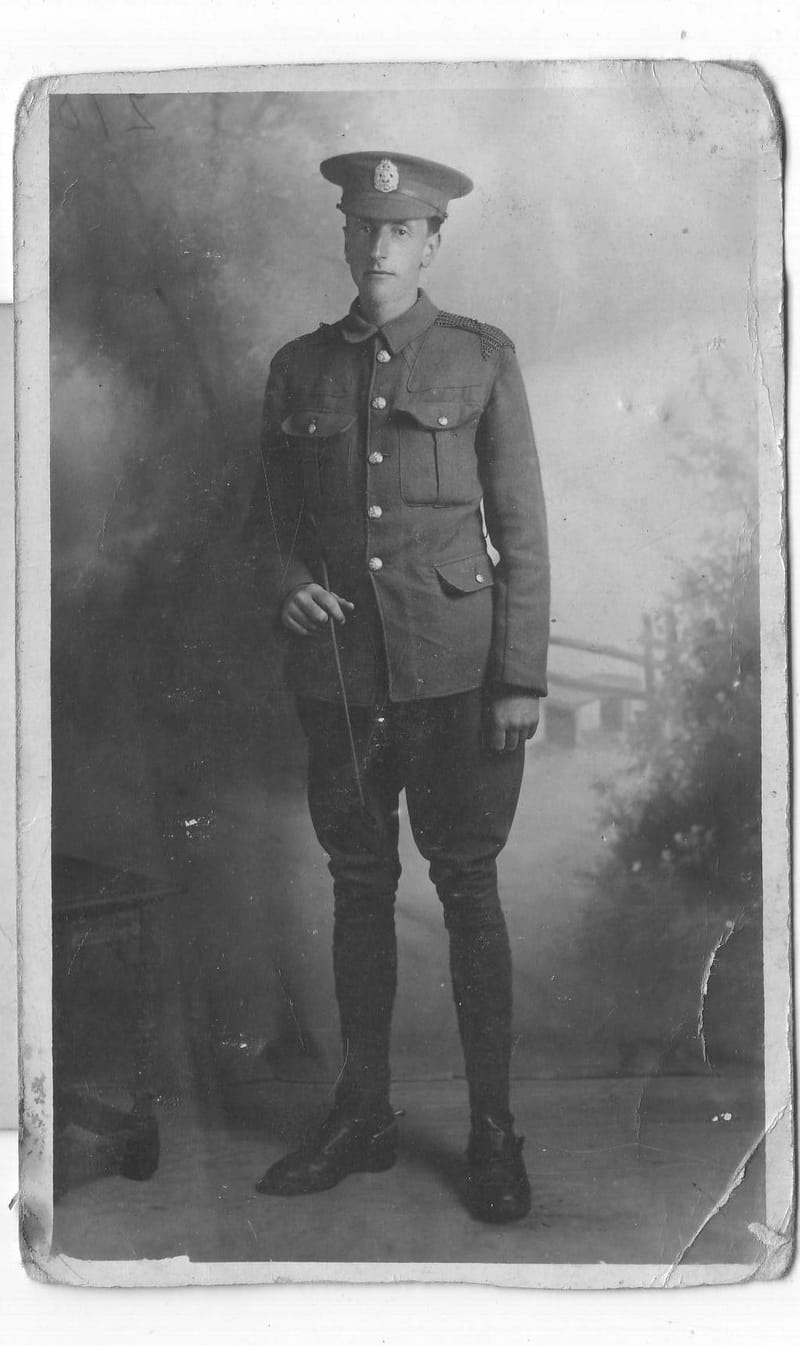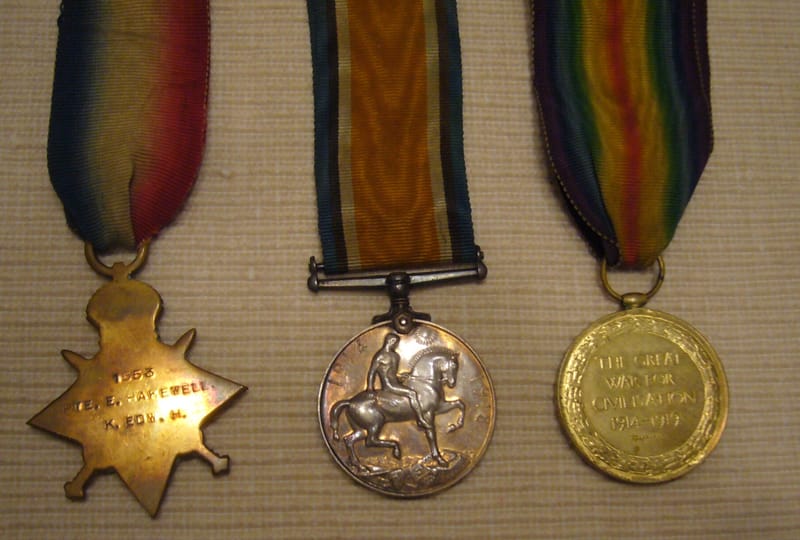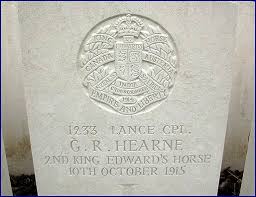 HAKEWILL Charles (Charlie) Ernest. 1553. Private 2KEH then Private Royal Army Medical Corps 136683. Born 1880 third son of Reverend J. R. Hakewill of Maidstone. Attended Market Harborough Grammar School where his father was headmaster. He married Ida Ethel Maude Davies in 1908 in Chester and commuted to his stockbrokers business in London. In Braybrooke, the Cowley family farmed Lower Lodge Farm. Edwin C (Ted) Cowley had served in the Boer Wars in the volunteer yeomanry cavalry and when volunteer recruiting started ahead of the First World War, Serjeant Cowley was recruiting for the 2KEH among his friends and contacts in the area of Braybrooke, Arthingworth, Harborough and Leicestershire. Names on the serving list for September 1914 were Arthur Gamble of Harborough; Albert (Robert) Swinfen of Kelmarsh, Arthingworth; Tom Tibbits of Clipston, and Billy West of East Farndon. The second list of December 1914 included Frank W. Jones of Great Bowden. Charlie may well have known all the other local recruits from Grammar School days. Although Charlie was a stockbroker in London he volunteered and is pictured in his uniform dated September 1914. Charlie served in France Belgium in 1914/5 earning the 1914/15 Star, British War Medal and Victory Medal (reverse with naming shown). When the 2KEH was disbanded in 1917, Charlie transferred to the RAMC as a Private. Charlie died in 1953. Information and photographs from local sources by W. R. (Bob) H. Hakewill, a published local historian in Market Harborough, UK.
HAMILTON-WHITEFORD R. Lieutenant Royal Air Force
HAMMILL Maurice William. 1607. Private
HARWARD, John E. 1835. Private. Discharged 18/04/1918.
HEARNE G. R. 1233. Lance Corporal. KIA 10/10/1915. Buried at BAILLEUL COMMUNAL CEMETERY EXTENSION, NORD, France.
HERBERT R. 40567. Shoeing Smith. Photograph on
www.ukphotoarchive.org.uk
.
HOPE, William R. 1733. Private. Commissioned 3rd Battalion, Border Regiment 31/07/1917.
HUNT Harry Kingswell. 1148. Private, born in the UK and KIA 23/05/1915 aged 32 at the Battle of Festubert. Son of Mr. and Mrs. G. H. Hunt, of 3, Bramley Hill, South Croydon; husband of Rhoda L. Hunt, of 4, Bedford Park, West Croydon. Commemorated on Le Touret Memorial, France.