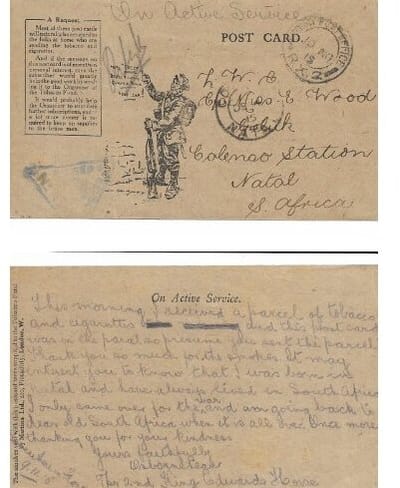 Many of those that served in King Edward's Horse (KEH) or 2nd King Edward's Horse (2KEH) had prior service in the Second Boer War and other Colonial conflicts. To enlist in either regiments, Colonial heritage and/or prior military service were key recruitment criteria. The following biographical narrative provides a fascinating insight into the social and service life of such a soldier of the 2KEH.
The story of Private Edward Lean, 2KEH was brought to light through the meticulous research of my good friend Owen Dobson. Owen has an interest in both regiments of King Edward's Horse having medal groups to both. He could not resist this WW1 'Tobacco Fund' Active Service Post Card. Owen deciphered the sender's name and with a cross check with this website's Nominal Roll for the 2KEH (and for KEH) struck gold with four minutes to spare on bids closing on an electronic auction site - "Osborne Lean" and there was only one, namely 1704 Private Osborne LEAN, 2KEH, who was commissioned into the 1/6th Durham Light Infantry on 4/06/1916. Owen won the postcard and now his research could begin.
WW1 'Tobacco Fund' "On Active Service" post card, postmarked and also hand dated (by the sender), 9 November 1915, sent from "Somewhere in France", by "Osborne Lean" (his signature), a soldier in "The 2nd King Edwards Horse". The card is addressed to "C/O Miss E. Wood, Colenso Station, Natal, South Africa". The card also bears a "Passed by Censor 127" stamp, a post mark "ARMY POST OFFICE/R.X.2." and a Natal stamp "CO(LONSO) / NATAL". There is a 'slogan' to the front, in which a sketched soldier is saying "More 'Baccy', Better Fighting, Quicker Peace".Transcript of Osborne's message: "This morning I received a parcel of tobacco and cigarettes (two words crossed out) and this post card was in the parcel so presume you sent the parcel. Thank you so much for the smokes. It may interest you to know that I was born in Natal and have always lived in South Africa. I only came over for the War and am going back to dear old South Africa when it is all over. Once more thanking you for your kindness. Yours faithfully, Osborne Lean the 2nd King Edwards Horse". Noted in the bottom left corner is "Somewhere in France 9.11.15".
Lean's South African heritage pricked Owen's attention into searching for prior service history in the Colonial wars that dogged that country.
Brabant's Horse – Queens South Africa Medal Rolls
A search of the Anglo Boer War website and the Queens South Africa Medal Roll 1899-1902 (South African Colonial Corps, Brabant´s Horse) reveal the following:
20747 SSM (Squadron Sergeant Major) O. Lean, 1st Brabant's Horse, QSA medal date clasps: 1901 and 1902.
20747 Sergeant O. Lean, 2nd Brabant's Horse, QSA medal clasps: Cape Colony, Orange Free State and Transvaal.
20747 Squadron Sergeant Major Osborne Lean, 1st Brabant's Horse (Later Brabant's Horse), clasp Cape Colony.
Squadron Sergeant Major Osborne Lean earned his "Cape Colony" clasp with the 1st Brabant's Horse, having joined from 2nd Brabant's Horse.
The 'Anglo-Boer War Records 1899-1902' record set from The National Archives, Kew, Ref WO 126 – "Local Armed Forces Enrolment Forms, South Africa War" states that 20707 Sergeant Osborne Lean, 2nd Brabant's Horse, was "Wounded Slightly on 25/02/1901 at Nr Toverwaterpoort".
WW1 and Enslins Horse – South Africa 1914-15
Before he joined 2KEH, Osborne served in the South African Forces, as a Corporal with Enslins Horse (regimental number 176), entitled to a 1914-15 Star with them "to be issued by Pretoria". It is deduced that 176 Corporal Osborne Lean, Enslins Horse, served during the Union's WW1 campaign in German South West Africa (GSWA) and that this was what he earned his 1914-15 Star for and one would expect that his Star will be named to him with Enslins Horse. It also seems possible that Osborne saw service during the Maritz Rebellion in 1914 and this awaits confirmation.
WW1 – 1915, South Africa to England and 2nd King Edward's Horse
Like so many of his comrades in arms, once the campaign in GSWA had been won, many re-enlisted into Union, Colonial or Imperial units to continue the fight. For many, this involved a self-funded voyage to England. We know, from his postcard, that Osborne traveled over to England, from South Africa "It may interest you to know that I was born in Natal and have always lived in South Africa. I only came over for the War...". So, a search of the shipping passenger lists on Ancestry soon located his voyage.
We find that "Mr Osborne Lean", aged 39 (born about 1876) and a farmer by occupation, arrived into Plymouth, Devon, England, from Cape Town, South Africa, on 30/06/1915, aboard the Union-Castle Mail Steamship Company Ltd ship 'RMS Saxon' (official number 112713).
Osborne's father was Joel Lean (as was his father before him) and he was born in 1836 in Cornwall, England and he died in Pretoria, Transvaal, South Africa in 1884 aged 48. Osborne was one of seven children to Joel and Mary Lean.
Given Osborne's arrival into England, on 30 June 1915, and his entry to France and Flanders, just one month later, on 30/07/1915, we can assume that he joined 2nd King Edward's Horse almost immediately. He is likely to have been responding to an advert for new recruits to the regiment, posted in the Colonial newspapers of the day.
His British War Medal and Victory Medal were issued to him as a 2nd Lieutenant with the 1/6th Battalion (Territorial Force) of the Durham Light Infantry.
The "Theatre of War first served in" was France which he entered on 30/07/1915 with 2 KEH.
His commissioning into the Durham Light Infantry is confirmed as 4/06/1916 and he applied for his medals on 8 January 1923, from "103 Walker Avenue, Toronto, Canada". A second address is noted "C/O Rev. O.S. Watkins, 20 Mortimer Rd, West Ealing, London W.13", which Owen suspects is where his medals were to be sent. We now know (from his Wesleyan marriage record, below) that this is his wife's father, the Reverend Owen S. Watkins, the same person who is provided as a C/O address on Osborne's Silver War Badge list entry (below).
Lance Corporal Osborne Lean's last effective day, as a member of A Squadron, 2KEH was 4/06/1916. We know this because in the regiment's War Diary, for the period January 1916 – August 1917, (download from TNA, Ref WO 95/919/1), is a single diary entry for 4/06/1916, which reads "4 June 1916. Hesdin. 1704 L/Corpl O. LEAN appointed to a Commission 1/6 Battalion Durham Light Infy". This ties to the commissioning date on Osborne's Medal Index Card and Medal Roll entry. It is this War Diary which also, gives us the Squadron he served with, at this period in France, i.e. 'A' Squadron.
1/6th Durham Light Infantry (TF) – Commissioned 2nd Lieutenant, 3 June 1916
Osborne's commission was promulgated in the Supplement to the London Gazette, dated 21 September, 1916, Issue 29757 (page 9196): "Durham L.I. – Lce.-Corporal Osborne Lean, from 2nd King Edward's Horse, to be 2nd Lt. (on prob.). 3rd June 1916.".
The War Diaries for 6th Battalion, Durham Light Infantry during the period June 1915 – November 1918 (TNA Ref WO 95/2840/2) tell us that 6th DLI were part of the 151st Infantry Brigade, 50th Division (50th (Northumbrian) Division of the Territorial Force). The 'Durham at War' website's page for Durham Light Infantry, 1st/6th Battalion (https://www.durhamatwar.org.uk/story/12537/), provides an excellent overview and Owen uses this source for an introduction to the Battalion and its operations:
"The 6th Battalion DLI, formed in 1908 from the old 2nd Volunteer Battalion DLI, was a Territorial Force battalion with headquarters in Bishop Auckland and eight companies in drill halls in Barnard Castle, Consett, Crook, Spennymoor, Stanhope, and Bishop Auckland. On 3 August 1914, 6 DLI was on annual camp in North Wales with the rest of the Northumbrian Division, when the order came to return home and prepare for war. Over the next nine months, the battalion's part-time volunteer soldiers, formed into four companies (named 'A', 'B', 'C', and 'D') were trained at Boldon, Ravensworth, and Bensham for full-time active service overseas. Meanwhile, in September 1914, a reserve battalion was formed at Ravensworth Park as the 2nd/6th Battalion DLI. Later still, in June 1915, a 3rd/6th Battalion was formed for home service.
The 1st/6th Battalion, commanded by Lieutenant Colonel Harry Watson, a well-known solicitor in Barnard Castle, left Newcastle railway station for France on 19 April 1915. Within days, the raw Durham soldiers were fighting for their lives in the Second Battle of Ypres, suffering heavy casualties from shelling and gas attacks at Frezenberg and in the GHQ line, the last trench defence before Ypres itself.
As part of the 151st Brigade of 50th (Northumbrian) Division, the 1st/6th Battalion served until August 1916 in the trenches of the Ypres Salient, Armentieres (where the four companies were re-named as 'W', 'X', 'Y', and 'Z'), and Kemmel. The last two places were supposedly 'quiet', but the battalion rarely enjoyed days free from casualties. Moved south to join the Battle of the Somme in September 1916, the battalion again suffered heavily at High Wood and Eaucort l'Abbaye, where Roland Bradford took temporary command of the 1st/6th Battalion".
The War Diaries for 6 Battalion, Durham Light Infantry during the period June 1915 – November 1918, downloaded from The National Archives, Kew, via 'Discovery' (TNA Ref WO 95/2840/2) then pick up Second Lieutenant Lean's story.
.
"La Clytte (sic) 5 June 1916. A quiet day. Corporal Lean from the 2KEH on appointment to the Battalion as 2nd Lieutenant. He left for England to get Officers clothes".
"La Clytte. 16 June 1916. 2 Lieut Goldwynn and 2 Lt Lean returned from leave. At 10-30 pm a sudden heavy bombardment to the south. This presently died down and a very heavy bombardment continued in the Ypres salient. This continued till 11-30 am."
"Locre. 9 August 1916. 2 Lieut Lean took over command of the Lewis Gun".
"The Story of the 6th Battalion, The Durham Light Infantry. France, April 1915-November 1918" (Edited by Captain Sir Ralph Bignell Ainsworth M.C. and originally published London 1919 by The St. Catherine Press, Stamford Street, S.E) references the actions of the following days and weeks.
On the 26th September Lieut.-Col. Jeffreys left the Battalion to proceed to England for three months' rest, and Major Wilkinson took over command. The following day a move was made to Hook trench, where the men lived in small shelters and provided working parties at nights. This trench was on the skyline, and as a result received considerable attention from the enemy gunners. To prevent casualties, and also to provide more room, two Companies were pushed forward on the 28th to Starfish trench. From these positions, in the afternoon, the Battalion relieved the 9th Battalion in the front line. The relief was observed, and the communication trench shelled. The disposition of Companies was, from right to left: Y, Z, W, X, each Company having two Platoons in the front line (North Durham Street) and two Platoons in the support line (South Durham Street). At night they occupied battle positions and extended the trench they occupied by 150 to 300 yards. The 9th Battalion was in support in Crescent Alley. On the left were the 5th Border Regiment, and on the right the 47th Division, but it was not possible to get into touch with the flanks during the night. The Company Commanders were now W Company, 2nd Lieut. Barnett; X Company, 2nd Lieut. Lean; Y Company, Lieut. Catford; and Z Company, Capt. Peberdy. By dawn all preparations, including the alteration of watches to winter time, were completed for the attack, which had been ordered for the 1st October.
The preliminary bombardment commenced at 7 a.m. and continued till zero (3.15 p.m.), when it changed to a barrage. Unfortunately, there were some casualties from shells falling short, the total casualties for the day being about 40, including the Commanding Officer wounded. Lieut.-Col. R.B. Bradford, now commanding the 9th Battalion, asked for and was given permission to take command of the two Battalions, and for his subsequent work that day was awarded the V.C. He arrived at Battalion Headquarters at zero, and at once went up to the front line.
The attack commenced at 3.15 p.m., but, partly on account of the failure of the 47th Division on the right, and partly owing to the wire not being properly cut, the attackers were held up by machine-gun fire and suffered heavy casualties. After considerable fighting with bombs and rifles three Lewis gun teams of X Company, under 2nd Lieut. T. Little and 2nd Lieut. C. L. Tyerman, and one team of W Company under 2nd Lieut. Barnett, succeeded in getting a footing in the first objective. These organised the position and carried on bombing attacks, 2nd Lieut. Little being killed. During these operations Lieut.-Col. Bradford arrived on the scene, and immediately took charge of the situation, and under his direction and leadership the whole of the first objective was gained. A Company of the 9th Battalion then came up, and using the new position as a starting point, advanced and took the final objective after dark.
About dusk a counter-attack was attempted by the enemy on the right front. Advancing in extended order, about twenty of the enemy were challenged, and they all cheered, shouting "Hooray." As they showed no further friendly signs they were fired on and driven off. During the night a further counter-attack developed from the valley on the right, but this also was repulsed.
The following day, by organised bombing, the whole of the final objective was captured and held, and communication trenches were dug back to North Durham Street.
The casualties during the two days had been very heavy, and included amongst the officers, in addition to those already mentioned, 2nd Lieut. Peacock, killed, and 2nd Lieut. Lean, Capt. Peberdy, Lieut. Cotching, 2nd Lieut. Barnett and 2nd Lieut. Appleby wounded. Amongst the decorations gained were Military Medals awarded to Corporal Dixon and Privates Rushforth and Atkinson, all signallers, and Private Turnbull of Y Company. Good work was also done by Sergeants Gowland and Winslow.
The corresponding section of the War Diary has the following entry is part of a larger entry, regarding the above Battalion assault on 1 October. It reads:
"Somme ... 3.15 pm. Assault delivered. 1st objective gained, 1st on the left later on the right also,
2nd Lieuts Lean
, Cotching, Barnett & Appleby
wounded
".
So, we leave the Battalion at this point. In the aftermath of the assault, the wounded Osborne Lean would have been passed back up the medical evacuation chain, arriving, two weeks later, at The Queen Alexander Hospital, Millbank, London, on 14 October 1916 (more on this below), but first, what was the assault?
A Wikipedia entry for this assault, on 1 October 1916, tells us that it was the 'Battle of Le Transloy'; "the last big attack by the Fourth Army of the British Expeditionary Force (BEF) in the 1916 Battle of the Somme in France, during the First World War". The part played by 6 Battalion Durham Light Infantry is described:
"The 50th Division (Major-General P. S. Wilkinson) attacked with the 151st Brigade. On the right the 1/6th Durham Light Infantry (1/6th DLI) was exposed by the repulse of the 1/17th London, had many casualties from German machine-gun fire and was only able to capture a short length of Flers Trench. The 1/9th DLI (Lieutenant-Colonel R. B. Bradford) came up from reserve and Bradford managed to organise another attack, capturing the rest of Flers Trench by 9:30 p.m. In the centre, a composite battalion of the 1/5th Border, 1/8th DLI and the 1/5th Northumberland Fusiliers attached from the 149th Brigade on the left, benefitted from an excellent barrage to advance and capture the Flers trenches before the defenders could react".
Left wondering what injuries Osborne Lean might have suffered on 1 October 1916, it is not long before we find out. At 'Find My Past' (FMP), we discover the digitised "First World War Soldiers' Medical Records", available to view and download. Within these records is an entry for 2nd Lt Osborne Lean, of 6 Durham Light Infantry, aged 40, who was admitted to the "Queen Alexandra's Military Hospital", at Millbank, London, on 14 October 1916, suffering multiple gunshot wounds "GSW legs rt shld & lt hand" (Gun Shot Wounds to legs, right shoulder and left hand) and admitted from "British Expeditionary Force in France, officers, nurses, Colonials and Royal Navy".
Osborne was discharged, from "Queen Alexandra's Military Hospital", on 29 January 1917 – and we discover the significance of this date below.
Marriage in England – 29 January 1917 (Wimbledon, Surrey)
A general Ancestry search on Osborne's name, had turned up this Wesleyan Marriage Record for Osborne, from which we discover that on the day he was discharged from hospital, he got married!
At the Wesleyan Church, Junction of Ravensbury and Durnsford Roads, Wimbledon, Kingston, Surrey (outer London), on 29 January 1917, 2nd Lieutenant Osborne Lean, 6th Durham Light Infantry (Farmer and Bachelor, aged 40), then resident at 45 Marlborough Road, Wimbledon, married Eleanor Watkins (aged 34 years, Spinster), also resident at 45 Marlborough Road, Wimbledon. Osborne gave his father's name as "Joel Lean", a "Merchant", and Eleanor gave her father's name as Owen Watkins, a Wesleyan Methodist Minister. So, now we know, either Osborne was released from hospital to get married, or he set his wedding for the date of his discharge. Either way, Owen suspects it helped that his future father-in-law was a Wesleyan Minister!
Re-admitted "Queen Alexandra's Military Hospital", Millbank, London
Osborne was re-admitted to the "Queen Alexandra's Military Hospital", Millbank, on 1 March 1917 (still noted to be for Gun Shot Wounds to legs, right shoulder and left hand). He was discharged again (to home) on 11 April 1917.
Awarded Silver War Badge
We mentioned, earlier in this write-up that Osborne's MIC listed an entitlement to the Silver War Badge. Given his wounds, an important record to check was the Silver War Badge index book for other ranks and the lists for Officers. These have been digitised and are available to view / download at Ancestry.
We did find an entry in the Officers List No. Off/456, recording that 2nd Lieutenant Osborne Lean of the 6th Battalion Durham Light Infantry was awarded Silver War Badge No. 290570. Whilst there is no mention, in the officers SWB list, re why he was awarded the badge, we think we know why!
Of interest is the address given for Osborne: "c/o Rev. O.S. Watkins, C.M.G., 20, Mortimer Road, West Ealing, London, W.13.", for, as we now know (from his Wesleyan marriage record), this was his father-in law, the Reverend Owen S. Watkins, and the same person provided as a c/o address on Osborne's MIC.
To the Non-Effective / Retired List 1917
We must ask the question, did Osborne Lean return to 1/6 Durham Light Infantry after treatment and recovery? The answer is, no.
'Find My Past' carries digitised copies of the Army List for the period 1839-1946 and in the Quarterly Army List for 31 March 1918, Part 3 (page 2048), I found 2nd Lieutenant Osborne Lean listed among "Non-Effective Officers". This record is headed "Officers who held Temporary Commissions, Officers of the Special Reserve and Territorial Force, &c., in receipt of Non-Effective Pay (The War of 1914-18)". Osborne is listed as "LEAN, Osborne (Hon. 2nd Lt. Late Terr. Force Bn. Durh. L.I.", with Date of Birth 2 July 1876, "Rank When Last Serving" 2nd Lt., and "Regiment, &c., from which Retired and Date of Retired Pay" being "Terr. Force Bn. Durh. L.I. 2 Dec 1917".
So, 2nd Lieutenant Osborne Lean retired on 2 December 1917 and, from that date was in receipt of 'Non-Effective' or most probably 'Retired Pay'. Fortunately, 'Find My Past' carries digitised copies of the record series "British Armed Forces, First World War Disability & Retirement Payments for Officers & Nurses", in which we find a record, for Osborne Lean, 6 Durham LI, of his "Army. Non-Effective Services. Retired Pay.", which commenced on 2 December 1917 and ceased on 15 August 1918.
The Supplement to the London Gazette, 30 November 1917, Issue 30410 (page 12642) records: "2nd Lt. O. Lean resigns his commission on account of ill-health, caused by wounds received in action, and is granted the hon. rank of 2nd Lt. 2nd Dec. 1917."
The officers' service papers for 2nd Lieutenant Osborne Lean, Durham Light Infantry are available to order from or view in person at The National Archives, Kew under their Reference WO 374/41282. With the ongoing closure of TNA due to the COVID-19 emergency, this is something that will have to wait.
To Canada – 23 February 1918
Before the Great War ended, with the armistice on 11 November 1918, Osborne Lean's war was prematurely already over. In early 1918, now retired, with a few months of army pay still to run, he and Eleanor emigrated to Canada. Osborne's heartfelt desire, to return to South Africa post war, as expressed in his card, "... I only came over for the War and am going back to dear old South Africa when it is all over...", was not fulfilled. Funny how marriage (and perhaps a machine gun) can influence a man's mind!
Shipping Records – Arrival in North America 1918
We return to Ancestry to find the shipping passenger list(s) recording the separate arrival of Osborne and Eleanor in Canada. On 23 February 1918, Osborne Lean, left Liverpool aboard the "S.S. Grampion" and arrived at St. John on 17 March 1918. According to this record, Osborne, aged 42, was travelling alone. It was recorded that he was born South Africa and was now destined for Toronto, Ontario. He gave his occupation in South Africa as "Farmer' and stated that "Farmer" was his "intended occupation in Canada". He further stated that he had been a farmer for 20 years and his religion was "Wesleyan".
On 8 April 1918, Eleanor left Liverpool, aboard the 'SS Mauritania', and arrived at Halifax Nova Scotia on 15 April 1918, at 11 a.m. According to this record, Eleanor, aged 35, was travelling alone. It was recorded that she was born South Africa and was now destined for Toronto, Ontario and was "going to husband – Clerk". She gave her occupation as "Housewife" and religion as "Methodist".
Whilst Osborne and Eleanor arrived in Canada one month apart, we have a digitised copy of a 1918 entry in the "U.S. Index to Alien Arrivals at Canadian Atlantic and Pacific Seaports, 1904-1944", for
Osborne Lean (aged 42) and Eleanor Lean (aged 35), which records their arrival together as a "Canadian Landing" in records held at St. Albans Port in Vermont. We don't have a date for this, but perhaps this was Osborne collecting his wife upon her arrival?
Employment in Canada
Osborne had stated his intent to farm in Canada, but perhaps that was a desired occupation at the time and facilitated his emigration to Canada. From Eleanor's shipping record, she states that she was going to join her husband who she says was a "Clerk". Clearly, he had found work, but whether he made it into farming later on, we don't yet know, however see the 1921 Census below.
June 1921 Census – Canada
'My Heritage' genealogy website carries the digitised returns for the Canada Census of June 1921. There is a return for Osborne and Eleanor, and their child Hawey R. Lean. They are living at 251 Avenue Road, Toronto North, Ontario. Osborne is aged 44, Eleanor 39 and Hawey (Richard Harvey named after Osborne's elder brother) just 1 year old. Both Osborne and Eleanor are stated to have been born in South Africa. They also have a lodger family, namely Alex (aged 49) and Georgina (aged 41) Henderson and their son Jim Henderson (aged 7). Interestingly, both Osborne and Eleanor are now Canadian citizens. The record states that they arrived in Canada in 1918 and they now give their religion as Church of England and Presbyterian respectively. Osborne is employed as an "Office Assistant".
Death of Osborne and Eleanor in Canada: 23 June 1952 & 21 February 1967 respectively
Osborne Lean died in Canada, on 23 June 1952, and was buried at Parklawn Cemetery, 2845 Bloor Street West, Toronto, Ontario, Canada. His wife Eleanor (nee Watkins), who died on 21 February 1967, is buried in the same plot. Their headstone and grave details are free to look at on the 'Find a Grave' website. Their headstone reads: "LEAN / IN LOVING MEMORY OF / OSBORNE LEAN / BORN IN SOUTH AFRICA 1876 / PASSED ON JUNE 23RD 1952 / BELOVED HUSBAND OF / ELEANOR WATKINS / BORN IN SOUTH AFRICA 1882 / PASSED ON FEB 21ST 1967". Added to the same headstone is "RICHARD HARVEY / BOMBER PILOT R.C.A.F. / GAVE HIS LIFE OVERSEAS / FEB 11TH 1942 / IN HIS 23RD YEAR / RESTING IN BROOKWOOD CEMETERY / ENGLAND".
Sergeant Pilot Richard Harvey Lean, R/85630 Royal Canadian Air Force
Osborne and Eleanor's only son, Sergeant Pilot Richard Harvey Lean, Royal Canadian Air Force was killed on active service on the 11th February 1942 aged 22. Sergeant Pilot Lean was with the 98th Toronto Group, Canada. He was killed whilst flying an Armstrong Whitworth Whitley V, N1439 of No 10 (Abingdon RAF) Officer Training Unit. This aircraft took off at 21.29 for night circuit training only to crash a minute later, coming down in Upwood Park, Besselsleigh on the A420. The aircraft burst into flames and three of the crew died. The record card states that the cause of the crash was an error of judgement on the part of the trainee pilot. The fourth member of the crew Sgt David Eric Hughes was taken to the Oxford Radcliffe Infirmary recovered and survived the rest of the war.
This must have been a tragic loss to Osborne and Eleanor to lose their only son.