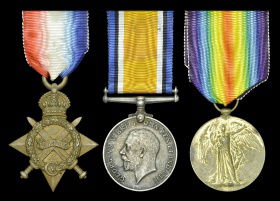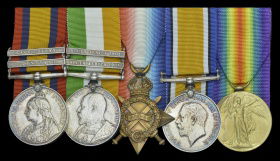 EDLINGTON, Charles John. 766. Serjeant. Trumpeter. Enlisted White City , London and transferred to 53 Squadron Royal Flying Corps. KIA 16/02/1917 aged 27. Frank William Harris Simpson and Sergeant Trumpeter Charles John Edlington were killed when their BE2c (6313) broke up in vertical nosedive after descending out of control from 9,000 feet near Nieppe. Born in Shorncliffe, Kent as the son of John and Kate Edlington of 82 Havelock Road, Brighton, England. Buried in Pont-de-Nieppe Communal Cemetery, Nieppe, Departement du Nord, Nord-Pas-de-Calais, France.ELLENBERG, Edward Albert. 1737. Private 2KEH. Private 112219, Tank Corps. Private 1/4th Battalion then 1/7th Battalion Northumberland Fusiliers 61182. Entered France 27/10/1915. KIA 28/12/1917 and commemorated on the Tyne Cot Memorial, Belgium. Enlisted in Putney, Surrey. Brother of Private Martin Ellenberg, 1848, KEH. Relationship between brothers noted on Army Registers of Soldiers' Effects. Born 8/05/1891 in London, England.
EVANS, Herbert N. 1050 Corporal. Discharged 31/08/1918.
EVANS, Robert. M. 1219. Private. Commissioned 5th Battalion, South Staffordshire Regiment 4/08/1916.
EVERETT, Raymond Charles Second Lieutenant, Captain
EVETTS, Hubert. 176. Private. Discharged 12/03/1919.
FARRELL, John V. 1310. Serjeant. Discharged 23/04/1919.
FARRER-BROWN, Y. 1080. Lance Corporal, Second Lieutenant 51st Battalion, Middlesex Regiment.
FEILING, Reginald Ernest. 144. Acting Warrant Officer Class 2. Commissioned Second Lieutenant 1/10/1915 later Captain. Awarded Military Cross inscribed to Captain R. E. Feiling and published in London Gazette 3/06/1919 to Lieutenant (A/ Capt.) Reginald Ernest Feiling. Military Cross sold by Dix Noonan Webb auctioneers, UK in Oct 1995.
FERGUSON, Clifford G. 1466. Private. Discharged 14/09/1916.
FERGUSON, Thomas. 1487. Private 2KEH. Transferred to KEH as Private 2114 from 2KEH. Arrived in France 30/07/1915 and discharged 29/07/1919.
FERRIER, Alexander. 2058. Private. Transferred to KEH as Private 2071. Discharged 25/10/1918.
FINCH, James W. 157. Serjeant. Entered France 5/05/1915. Wounded at Pont Fixe 20/06/1915. Transferred to be Warrant Officer Class 2, Tank Corps 302774 and then Warrant Officer, Class 2 Northumberland Fusiliers 61293
FINKLE, James. 1565. Corporal. Transferred as a Corporal Tanks Corps 302860 then Corporal Northumberland Fusiliers 61225. Argentinian who enlisted from Argentinian Railway staff.
FINNEY, Alexander. 61187. Private - Northumberland Fusiliers 112091, Tank Corps 302803
FISHER, Alwyn George Edmond. 1006. Private. Enlisted at Shepherd's Bush. Entered France 4/05/1915. Born in East Finchley, London and KIA 25/05/1915 aged 31 at the Battle of Festubert. Second surviving son of George Fisher, of Hurst, Sutton, Surrey, formerly partner in the firm of Messrs. Robinson and Fisher, of Willis' Rooms, St. James', and of Katie, daughter of Samuel Heath. Manager of an estancia near Bahia, San Bias, Argentina. Educated at Harrow. Trooper Fisher, being in England on a holiday at the time, joined the Legion of Frontiersmen on the first day of the War, afterwards exchanging to the 2nd King Edward's Horse. He went to France in April, 1915, and saw much fighting near Cuinchy and in the Battle of Festubert. He was killed on 25/05/1915, advancing with hand-grenades, for the second time, on the German trenches. A friend, who was with him at the time, writes : " I was running with him down the side of a trench, under heavy fire, when a chance shot must have skimmed a low part of the trench. He was struck in the head, and death was immediate; he could never have known anything." Commemorated on Le Touret Memorial, France. (Possible photograph Figure 23)

FOARD, Frederick. 1601. Private. Discharged 20/04/1919.
FOOT, Thomas Morey. 1717. Private. Discharged 14/09/1916.
FORREST, Harold Archibald. 940. Private H. A. Forrest, King Edward's Horse, later Lancashire Fusiliers. 1914-15 Star (940 Pte. H. A. Forrest. K. Edw. H.); British War and Victory Medals (940 Pte. H. A. Forrest. K. Edw. H.). Harold Archibald Forrest was born in Streatham in 1889 and attested for General Service on 4 September 1914, giving his profession as Assistant Riding Master. He served during the Great War with 2nd King Edward's Horse on the Western Front from 5 May 1915, and, having subsequently transferred to the 2nd Battalion, Lancashire Fusiliers, was discharged on account of wounds on 9 August 1918 (entitled to Silver War Badge). He died in Rochford, Essex in 1948. Photograph of 1914/15 Star medal trio sold by Dix Noonan Webb UK at auction July 2017 shown.
FOUNTAIN, Owen George William. 1669 Private 2KEH enlisted 31/05/1915. Private 11th Battalion Tanks Corps 302795 on 7/08/1917, Private Northumberland Fusiliers 61185 from 27/08/1917 until discharged 15/02/1919. From Hampton Hill, Middlesex, England and born 13/06/1892 and died Oct 1975 in Chelsea, London. Awarded British War Medal and Victory Medal.
FRASER, Ernest Albert. 1727. Private. Enlisted in London having travelled back from Vereenging, Transvaal, South Africa. KIA 1/07/1916 and commemorated on Thiepval Memorial.
FRASER, Guy Basil. Captain in 1914. Entered France June 1915. Wounded at Pont Fixe 21/06/1915. Later Captain Head Quarters, No 1 Training Group, Royal Air Force.
FULLER, Albert. 1078. Private. Entered France 5/05/1915. Discharged 14/12/1918.

FULLER, Charles S. Lieutenant. Corporal. 2KEH. Entered France 4/05/1915. Commissioned Second Lieutenant 3rd Battalion Manchester Regiment 24/10/1916. Second Lieutenant 1st Squadron Royal Flying Corps. Awarded Military Cross. KIA 11/11/1917 while on an offensive patrol when the wings of Nieuport Scout aircraft B6798 folded and collapsed during a dive on Dickebusch Lake, the aircraft crashed and he was drowned. Born 21/12/1887 in Hobart, Tasmania the son of Sidney Holgate Fuller and Emma Davis. Buried in Bailleul Communal Cemetery Extension (Nord), Lille, Nord Pas de Calais, France. Commemorated on the Australian War Memorial Commemorative Roll.
FUTTER, John A. 1503. Private. Discharged 18/08/1916.
GALBRAITH, Lawrence. 1906. Serjeant. Attached King's African Rifles.
GALE, Edgar G. 972. Private. Discharged 13/02/1919.
GARDYNE, Thomas M. B. 438. Private. Discharged 2/02/1919.
GARLAND, Charles (Dick). 932. Private, Lieutenant Yorkshire Dragoons. Dick was born in Canada and educated at Brighton Grammer School in Victoria, Australia as his father Richard was General Manager of Dunlop Pty Ltd in Melbourne, Australia. Dick and his brother Ewart were living in London at the outbreak of the war and Dick enlisted in 2KEH in April 1915. He saw service with the KEH during the Easter uprising in Ireland and wrote a letter that was published in 'The Age' newspaper in Victoria on 1st July 1916 which caused a stir as to the scale of civilian losses during the uprising and the plight of the Irish people. Ewart trained to be a pilot with the Royal Flying Corps in July 1916. A photograph of Dick Garland in India in 1943 is available on-line courtesy of the State Library of Queensland
http://blogs.slq.qld.gov.au/ww1/2016/03/28/charles-garland-easter-rising-1916/
.
GEDDES, Evans J. 134. Private. Commissioned 13th Battalion Welsh Regiment 12/03/1916.
GEORGE, Edward Royston. 957. Private. Commissioned as a Second Lieutenant in the Royal Engineers 15/2/1916 and later promoted to Captain.
GEPP, Charles William. 1322. Private. Enlisted at Hampton Court London. KIA 9/07/1915. Born in Valparaiso, Chile. Buried in LA PLUS DOUVE FARM CEMETERY, Hainaut, Belgium.
GIBBON, Oliver V. 1411. Private. Commissioned 12th Battalion Yorkshire Regiment 30/01/1916
GIBBS Richard Tysdall. 1456. 2KEH. Private. Enlisted 29/03/1915, entered France 5/05/1915 and discharged 16/06/1916 due to wounds. Awarded British War Badge B10540. Anglo-Argentinian Railway staff.
GIDWELL, John. 463. Private, Serjeant Lancashire Fusiliers 45473.
GLOVER, Arthur H. 435. Private. Commissioned 9th Battalion, Middlesex Regiment 25/09/1917.
GLYNN, John. 1471. Private. Deserted 16/11/1916. Awarded no medals.
GODSMARK, Harry S. 992. Private. Discharged 10/02/1916.
GOODWIN, Arthur E. 1775. Private. Entered France 14/10/1915 with 2KEH as Private 1775. Transferred to KEH as Private 2073.
GORDON, William. 1783. Private 2KEH. Private 25th Indian Cavalry, Second Lieutenant Indian Army Reserve of Officers 7/04/1918.
GOULD, John R. 1008. Private. Commissioned 2KEH 1/10/1915. Second Lieutenant then Major Royal Air Force.
GRAHAM, Malcolm H. 977. Private. Commissioned Royal Garrison Artillery 6/07/1916.
GRAINGER, E. 1098. Private, Private Military Mounted Police.
GRAY, Charles Cecil. 1419. Private. Discharged 16/04/1917.
GREEN, Mathu. 1621. Private, Lance Corporal then Second Lieutenant Machine Gun Corps 22979.
GREENLAND, . Serjeant. Awarded Croix de Guerre.
GREENWAY, Thomas. 1134. Private, Private Tank Corps 302864, Private Northumberland Fusiliers 61289
GRIEVE, William G. 1453. Private, Second Lieutenant Royal Engineers 26/01/1916.
GRIFFITHS, William. T. 2. Private 2nd KEH. Arrived in France 4/05/1915 as Private 2 in 2nd KEH and discharged 19/04/1919 as Private 2116 KEH. Previous service 10th Hussars as Private 3562 discharged 1907. Awarded Queens South Africa Medal with clasps Paardeberg, Driefontein, Relief of Kimberley.
GROSVENOR, Gilbert. Major the Honourable Gilbert Grosvenor, Rifle Brigade, King's Colonials, 2KEH and Nottinghamshire Yeomanry. Awarded Queen's South Africa 1899-1902 with two clasps Transvaal, Cape Colony (Lieut: Hon. G. Grosvenor, Rifle Bde:); King's South Africa 1901-02, 2 clasps (Lt. Hon. G. Grosvenor. Rifle Bde.); 1914-15 Star (Lieut. Hon. G. Grosvenor. K. Edw. H.); British War and Victory Medals (Major Hon. G. Grosvenor.) The Honourable Gilbert Grosvenor was born on 22 August 1881, the second son of the 1st Baron Stalbridge and his wife Eleanor, and the grandson of the 2nd Marquess of Westminster. He was educated at Eton, and was commissioned Second Lieutenant in the Rifle Brigade, serving with them in South Africa during the Boer War. He transferred to 'C' Squadron, King's Colonials in 1908. He then served with the 2KEH as a Second Lieutenant from Oct 1914 before transferring in 1916 to the Nottingham Yeomanry (Sherwood Rangers) with the rank of Major. Grosvenor married Miss Effie Cree, the daughter of the Reverend Edward Cree, on 4 July 1913. He died without issue on 15 June 1939. Photograph of his medals sold by Dix Noonan Webb, UK at auction in December 2016 shown. Lieutenant in 'C' Squadron KEH photographed at Woodbridge in 1914.
GUNNELL, Leonard Daniel. 2206. Private. Listed as with 2KEH Reserve Regiment on 1919 Absent Voter List and living in Islington, London.