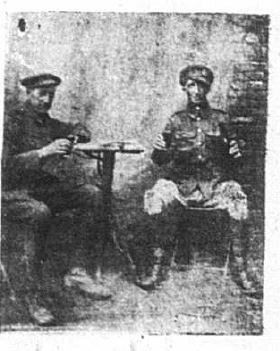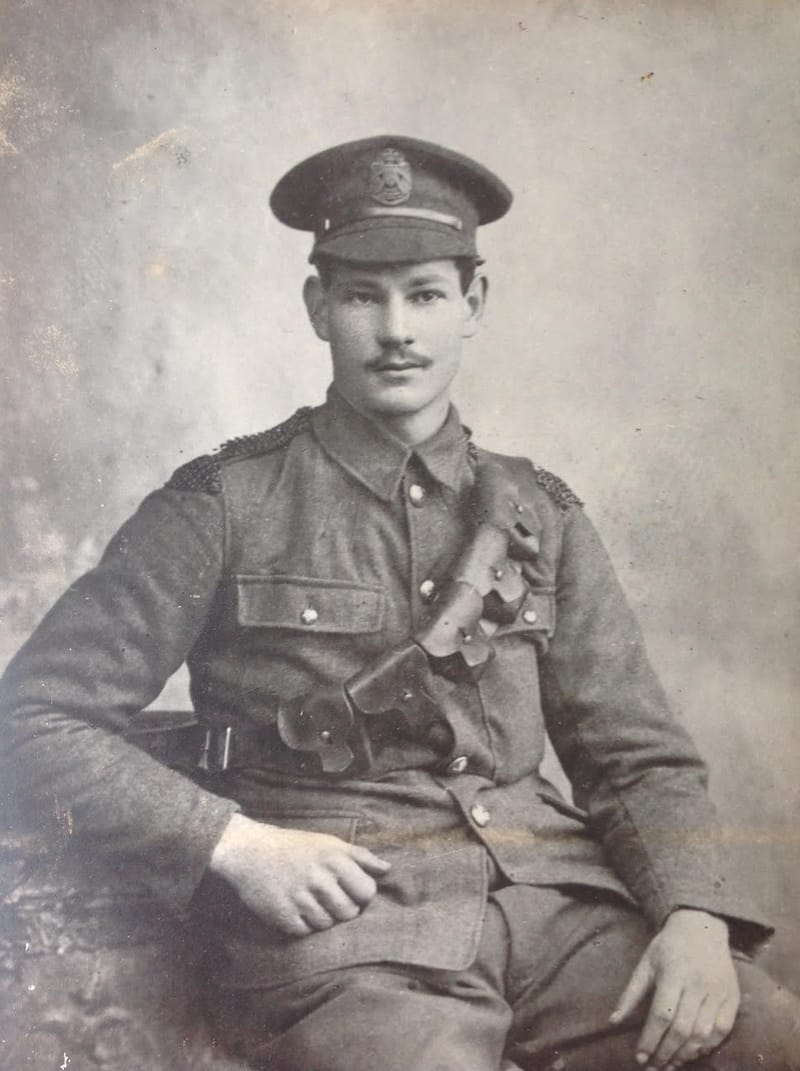 INSKIP, Edward D. 1272. Private. Commissioned 3rd/4th Battalion Suffolk Regiment 4/09/1916.
JACOBS, John. 1539. Served as John COLE. Private. KIA 13/12/1916. Buried in ST. SEVER CEMETERY, ROUEN, Seine-Maritime, France.
JAMES, Maurice. 1345. Private. Commissioned 2KEH 15/04/1917.
JAMIESON, John McCuill. 30. Private. Commissioned 7th Battalion Notts & Derby Regiment 28/02/1917.
JARVIE, Norman Alexander. 405. Private KIA 13/12/1914 aged 40. Born in 1874 in Anderson, Glasgow. Received a commission as a Second Lieutenant in the 3rd /4th Battalion of the Highland Light Infantry, dated to the 27th May 1895, 28th July 1896 promotion to full Lieutenant. On 10th October 1899, The London Gazette announced Jarvie's promotion to Captain. The very next day, the Second Anglo-Boer War broke out and on January 25th 1900, the Dundee Evening Telegraph reported that Jarvie had been attached to the 1st Battalion and was soon to depart for South Africa. The 1st Battalion had suffered heavy casualties at the Battle of Magersfontein (11th December 1899) and Issue no 13, vol 2 of the HLIC stated that he was leading a detachment of 50 NCOs and men to replace these losses. On 5th February Jarvie had departed Devonport with his 50 men and was to sail that afternoon from Southampton on the ship Majestic. In late March, reinforcements from the 4th Battalion (likely including Jarvie) finally caught up with the 1st Battalion in the Orange Free State capital of Bloemfontein. The very next day, the battalion had to make a forced march to join the Highland Brigade at Reitfontein. Assuming that Jarvie was not one of them, he almost certainly accompanied the 1st Battalion on its march to Heilbron, during which they lost 70 men to constant harassment from Boer guerrillas. The HLI's roll for the Queen's South Africa Medal lists that Jarvie qualified for the Wittebergen clasp, which required him to be in the area of Harrismith and Bethlehem in July of 1900. This means he probably took part in the HLI's capture of Retief's Nek on 23rd July. He may also have been present for the action at Spitz Kop on 15th August. Jarvie boarded the ship Britannic from Capetown on 6th October and was on his way back to Britain. On 16th November 1900, the London Gazette published a notice that Jarvie had been removed from the army, 'the Queen having no further occasion for his services'. This dismissal immediately caused a minor scandal, with half a dozen newspapers printing the story. On 24th November, the Worcester Chronicle published the story under the headline 'Officers Cashiered'. The manner of his dismissal and the reporting around it suggests that Jarvie's military career may have ended in a court martial. When the next war broke out 14 years later, he was 41 and technically too old to enlist. However, he appears to have enlisted as a simple trooper in the 2KEH. Jarvie may have lied about his age to join up, but as he was physically capable and passed the tests, many examiners would happily have passed him. Furthermore, he may have omitted to state his previous service, since many battalions didn't want court martialled soldiers in the ranks. However, the 2nd King Edward's horse was made up primarily of ex-patriot Britons from the colonies and Jarvie's family connections with Singapore and the Far East may have been a factor in his acceptance. He died of illness 13/12/1914 aged 40 in Brentford Hospital, Middlesex, United Kingdom and is buried in Middlesex. Name commemorated on the Glasgow Necropolis. Jarvie's Officer's sword was first recorded in Dix Noonan Web's Auction of the 14th December 2006. It later appeared in Bonhams' auction on the 5th December 2012. The sword carries the following Inscription:"Norman A Jarvie, Captain, 4th Ban., Highland Light Infantry, South Africa, 1899 -1900".
JARVIS, Charles Wemyn Barron. 1011. Private. Commissioned as a Second Lieutenant 3rd Battalion Royal West Kent Regiment 14/05/1915 later Captain.
JEFFREY S. W. 1831. Private. 'Came from Australia' noted on British War Medal Roll.
JEPSON, John B. 1437. Private 2KEH, Private Machine Gun Corps 52909. Transferred Class 'Z' A Reserve 2/02/1919
JOHNSON, Albert H. 161. Private. Discharged 19/04/1919.
JOHNSTON, Andrew A. 1162. Serjeant. Commissioned Dorsetshire Regiment 22/02/1918.
JOHNSTON, Hector C. 1670. Private. Commissioned Border Regiment 26/06/1917.
JOHNSTONE, James. 723. Private. Commissioned 4th Battalion King's Shropshire Light Infantry 24/01/1917.
JOHNSTONE, Robert. 1312. Private. Discharged 2/09/1916.
JONES, Edward A. 1593. Private. Discharged 9/08/1917.
JONES, Frank (Fred) W. 927. Private 2KEH enlisted December 1914 and served in Serjeant Cowley's troop. Later became a Private in the Army Service Corps R/39963. The very grainy photograph of Private Frank Jones with Private Charlie Hakewill appeared in the Market Harborough Advertiser 9 November 1915 taking a break. The article about the photograph explains Charlie was nicknamed "Peter the Painter" and Fred W. Jones was "Jockey" enjoying a "well earned rest," and we might also add, a well earned refreshment. Both send cheery greetings to their Harborough friends. They are in 2nd King Edward's Horse, The Canadian Mounted Brigade. An additional photograph of Private Jones, 2KEH who was a cross country horseman from a village in Market Harborough, UK on horseback is shown in Figure 39d from local sources by W. R. (Bob) H. Hakewill a published local historian in Market Harborough, UK.
JONES, John H. 1571. Private. Transferred to Royal Flying Corps 6/11/1917 107453. BWM and Victory medals named to RFC.
JOYCE, Percy. 1350. Private. Commissioned Royal Engineers 29/1/1916.
JOYCE, Robert J. 1305. Private. Discharged 19/04/1919
JUDD, H. Alexander. Second Lieutenant in 1914. Lieutenant Oct 1914. Acting Captain KEH, Captain Canadian Cavalry.
JUST, Leonard Wolfgang. 1045. Second Lieutenant in the King's Colonials 21/04/1903.Private 2KEH then commissioned as a Second Lieutenant 2nd/6th Gloucestershire Regiment 10/10/1915 later Lieutenant.
KEARNEY, John. 1498. Private. Deserted 29/10/1915 and awarded no medals.
KELLY, Arthur F. 177. Serjeant. Farrier. Discharged 13/12/1918.
KEMP, Joseph. 1765. Private. Discharged 22/06/1919.
KEYS, Charles. 190. Warrant Officer Class 2. Commissioned 11th Battalion, Devonshire Regiment 4/08/1916. Lived in Muswellbrook, NSW, Australia. Noted in Old Comrades Association of KEH so presume later in the war he transferred to them.
KINCAID-SMITH, Alan. 1264. Private. Commissioned 12th Battalion, Highland Light Infantry 12/03/1916.
KING, Daniel B. 442. Private. Discharged 16/01/1919.
KINGSFORD, Arthur. 979. Serjeant. Commissioned 176th Tunneling Company, Royal Engineers 10/09/1915. Later Acting Captain.
KIRK, Charles William. 483. Squadron Quarter Master Serjeant (Warrant Officer Class 2). Commissioned Second Lieutenant 5th Battalion Notts & Derby Regiment 25/09/1916. Joined 1st/6th Battalion Dec 1917. From Durban. Wounded 3/01/1918 by shrapnel from a shell burst and did not rejoin the Battalion. From Durban, South Africa.
KIRWAN, Patrick. 1518. Private. Transferred to Royal Flying Corps 17/02/1917 as Private 65465. BWM and Victory medals named to RFC.
KNOWLES, Benjamin. 389. Lance Serjeant, Serjeant; Commissioned Lieutenant 9/11/1916, Captain, Major RAMC
KNOX, Wilfred Sidney. 1826. Private 2KEH. Private Northumberland Fusiliers 61244, Private Royal Army Ordanance Corps 043721. Discharged to the Reserve 21/02/1919. Did not serve in France and entitled to British War Medal and Victory Medal. Born 29/05/1895 and died in Goodwood, Trinidad and Tobago. Brother of Harold (Harry) Dudley Knox 1827 from Trinidad and Tobago.
KNOX, Harold (Harry) Dudley. 1827. Private. Died of Wounds 3/06/1917 aged 22. 'A' Squadron, 2KEH. Born in 1895 the son of William and Celeste Knox, of William's Ville, Trinidad, British West Indies and educated at St. Mary's College, Port-of-Spain, Trinidad and Tobago. Buried at DUISANS BRITISH CEMETERY, ETRUN, Pas de Calais, France. Brother of Wilfred Sidney Knox 1826 from Trinidad and Tobago. Portrait photograph of Harry Knox and additional information on the Knox brothers courtesy of Paul Sandford (Great uncle was Harold Knox).KOECHLIN, Marcel C. 649. Serjeant. Discharged 14/12/1918.