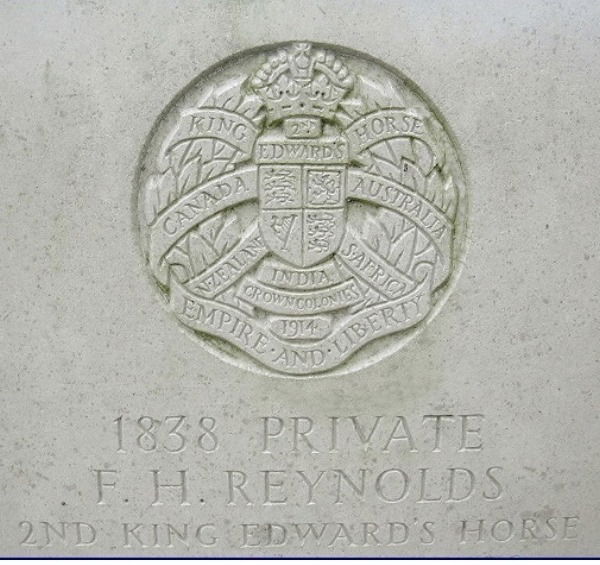 RADFORD, Herbert. 1643. Private. Discharged 22/12/1915.
RAW, Richard Trotter. 2060. Private 2KEH, Lance Corporal Northumberland Fusiliers 61196, Second Lieutenant Royal Flying Corps 16/03/1918. Entered France 27/04/1917. Flying Officer RAF 8/10/1940. Born 11/08/1897.
REID, Hugh D. 220. Regimental Serjeant Major (Acting Warrant Officer class 1). Died of self inflicted wound 20/02/1917. Buried GROVE TOWN CEMETERY, MEAULTE, France.
REYNOLDS, Francis Orpen. 1838. Private KIA 1/05/1917 aged 26 at the Second Battle of Arras. Buried in FAUBOURG D'AMIENS CEMETERY, ARRAS, France.

RICHMOND, Robert. 1567. Private. Discharged 15/03/1919.
RIPPINGALE, Ernest. 746. Warrant Officer Class 2. Commissioned 2KEH 27/06/1917.
ROBBIE Alexander B. 1053 Private. Discharged 4/01/1918.
RODGERS, Allan M. 721. Private. Discharged 8/05/1919.
ROWEN, Frederick Joseph. 1488. KIA 25/09/1915 aged 20. Born in Ireland in 1895 and arrived in France 30/07/1915. "A" Squadron 2nd King Edward's Horse. Son of Thomas T. A. and Helena M. Rowen of Bonnybrook House, Santry, Dublin. Buried in TROIS ARBRES CEMETERY, STEENWERCK, Nord, France.
RYAN, Morgan. 1577. Private. Discharged 18/03/1918.