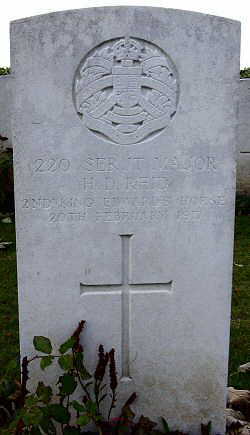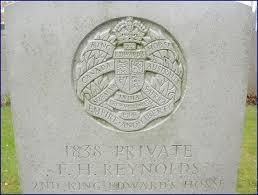 RADDON, Kenneth Hugh. H. 1339. Private. Enlisted 30/12/1914 and discharged 21/09/1916 due to sickness. Awarded Silver War Badge 65155. Served overseas.
RADFORD, Herbert C. 1643. Private. Discharged 22/12/1915.
RAINER, Christopher. 912. Private. Transferred to KEH as 2125. Entered France 4/05/1915. Discharged 23/02/1919.
RAW, Richard Trotter. 2060. Private 2KEH, Lance Corporal Northumberland Fusiliers 61196, Second Lieutenant Royal Flying Corps 16/03/1918. Entered France 27/04/1917. Flying Officer RAF 8/10/1940. Born 11/08/1897.
REES, Caesar D. 1434. Private. Commissioned Liverpool Regiment 19/03/1916.
REID, Hugh Douglas. 220. Acting Regimental Serjeant Major. Died of a Self Inflicted Wound 20/02/1917 at 34 Casualty Clearing Station Grovetown with a diary entry of Brought in Dead. Buried in Grovetown Cemetery, Meaulte near Albert, France. Awarded Distinguished Conduct Medal 1/01/1917. Born 5/07/1873 at St Hellier, Jersey, United Kingdom. Enlisted in 3rd Volunteer Battalion, King's Royal Rifles in 1890. Then saw service as 3444 Hugh Douglas Reid, 3rd Dragoon Guards enlisted on 20/06/1891 in Canterbury, England and awarded Boer War medals with 1st Imperial Light Horse, 3127 for his King's South Africa medal with SA 1902 clasp and Cape Police Department, Serjeant 650 (11/10/1899 to 11/1/1902) Queen's South Africa medal with Defence of Mafeking, Orange Free State and Transvall clasps. He served in Natal 1893-1895 then Home 1895 to 1898 and then on A/Reserve until 1903. Married in 1904 to Marguerite Ada Gladstone. Photograph of gravestone shown.
RELLEHAN, M. Private. Promulgated sentence of one years hard labour having been found guilty of "Using threatening language to a superior officer." Vendin lez Bethune, 25/06/1915.
REYNOLDS, Francis Orpen. 1838. Private KIA 1/05/1917 aged 26 at the Second Battle of Arras. Buried in FAUBOURG D'AMIENS CEMETERY, ARRAS, France. Photograph of gravestone shown.

RICHMOND, Robert. 1567. Private. Discharged 15/03/1919.
RIPPINGALE, Ernest. 746. Warrant Officer Class 2. Commissioned 2KEH 27/06/1917.
ROACH, Robert Barn. 1349. Private. Commissioned Northamptonshire Regiment 23/11/1916. Lieutenant Tank Corps
ROBBIE, Alexander B. 1053. Private. Discharged 4/01/1918.
RODGERS, Allan M. 721. Private. Discharged 8/05/1919.
ROUGHTON, John W. 1234. Private. Discharged 23/02/1919.
ROWEN, Frederick Joseph. 1488. DoW 25/09/1915 aged 20. Born in Ireland in 1895 and arrived in France 30/07/1915. "A" Squadron 2KEH. Son of Thomas T. A. and Helena M. Rowen of Bonnybrook House, Santry, Dublin. Buried in TROIS ARBRES CEMETERY, STEENWERCK, Nord, France.
RUSSELL, Richard Somerville. Private. Entered France 28/05/1918. Commissioned as a Second Lieutenant in the King's Own Scottish Borderers. Lived in Lenzie, Dunbartonshire, Scotland and was a Commercial Traveler by occupation as listed on daughter's birth certificate. Information courtesy Great War Forum post by a relative.
RYAN, Morgan. 1577. Private. Discharged 18/03/1918.
RYAN, Patrick. 1530. Lance Corporal. Enlisted 15/04/1915 and discharged 2/11/1917 aged 34 due to disability with his residence given as the Dublin Police Station. Awarded Silver War Badge 354961 as a Lance Corporal and saw service overseas. Awarded British War Medal and Victory Medal named to Private P. Ryan K.Edw.H. Victory Medal held by family.