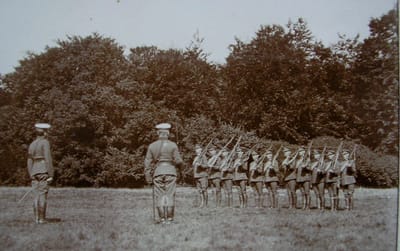 In 1903, the annual camp was held at Latimer Camp in Chesham, Buckinghamshire in August of that year under the encouraging and watchful eye of the land holder, Lord Chesham. Unlike some irregularities with the previous camp the Latimer Park experience was very soldierly. The camp was attended by eighteen Officers and 202 Other Ranks illustrating its humble beginnings. The band didn't attend the opening of the camp due to a dispute over pay and under Band Master Ambrose Hulley all sixteen members were absentees. This became a police matter and all eventually joined the camp.
The annual camps were great training opportunities for marching, parading and horsemanship.
Figure 44: Captain Robert R. Thompson (an Australian who had served as a Sergeant in the 4th Dragoon Guards and Adjutant of the 1st (Volunteer) Australian Horse) and Squadron Sergeant Major Ernest S. Wells (who had served as Regimental Sergeant Major in the 4th Hussars and was promoted to Regimental Sergeant Major in the later King Edward's Horse in 1911) passing and inspecting recruits at Latimer Camp in 1903.
On Sunday 9th August 1903 the Regiment attended an open-air church service at Latimer. Colonel Willoughby Wallace gave the readings and present at the service were the men of the 'D' (Chesham) Squadron, The Buckinghamshire Imperial Yeomanry (Royal Buckinghamshire Hussars). In the afternoon games were played and the Chesham prize band played music.