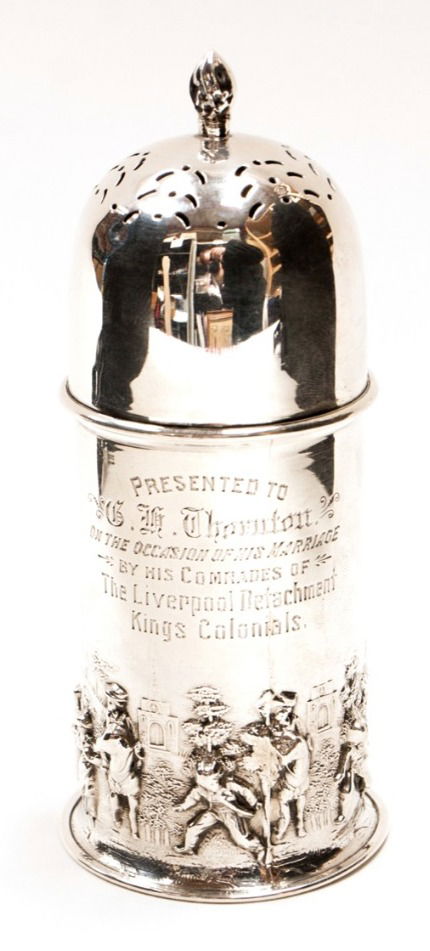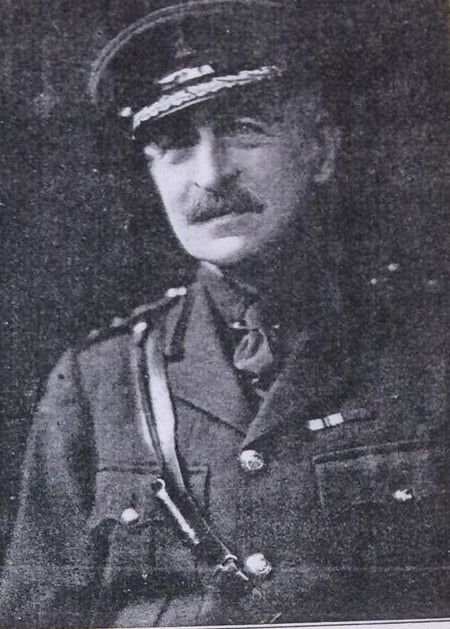 By 1906, recruitment had stalled and so the catchment for volunteers was expanded with subsequent addition of detachments in Cambridge and Oxford plus a Liverpool Troop from the Dominion residents of Liverpool. There is little physical evidence now of the association of the King's Colonials with these localities or for that matter their headquarters in London except mementos like that shown in Figure 5. The Liverpool Troop were attached to 'A' Squadron (British Asian) for training and housed in the Headquarters of the Liverpool Scottish.
The entry from Gore's Liverpool Directory, 1911 edition provides the address of the Liverpool Troop as King Edwards Horse, The Kings Overseas Dominions Regiment, Northern District Detachment, HQ 2 Church Street W, Liverpool under the command of Captain W. Bancroft Pearch.
Figure 5: A repoussed silver sugar shaker as a wedding gift to Trooper Thornton engraved from his comrades of the Liverpool Detachment of the King's Colonials (The saleroom.com).
Political manoeuvring within the War Office by 1907 led to several of the self-governing Dominions seeing advantage in recognising the value of the King's Colonials as a volunteer force in which they could be boldly represented. This then led to several alliances being formed between Colonial units namely the 8th (Princess Louise's) New Brunswick Hussars in 1907 and the 1st, 2nd, 3rd, 4th and 6th Australian Horse and Border Light Horse (Cape Colonial Forces) in 1908. The year of 1908, saw changes to the structure of the Army and the creation of the Territorial Force which led to the Regiment no longer being administered through the County of London Territorial Force Association but under its own association.
In 1909, due the Crown Colonies having gained Dominion status, the term 'Colony Squadrons' was abolished. From this time on the Squadrons were mixed in composition with new recruits allocated to the Squadron best suited to their training needs rather than on the traditional Dominion association or origin. At this time, the Regimental strength stood at 27 Officers and 444 Other Ranks. From April 1909 to January 1913, the Commanding Officer was Colonel H. Fortescue CBE, late of the 17th Lancers (Figure 6, bottom image).

Figure 6: Colonel H. Fortescue, Commanding Officer from April 1909 to January 1913, in Service Dress uniform (Lieutenant Colonel Lionel James. The History of King Edwards Horse (The King's Overseas Dominions Regiment). London: Sifton, Praed & Co, 1921).