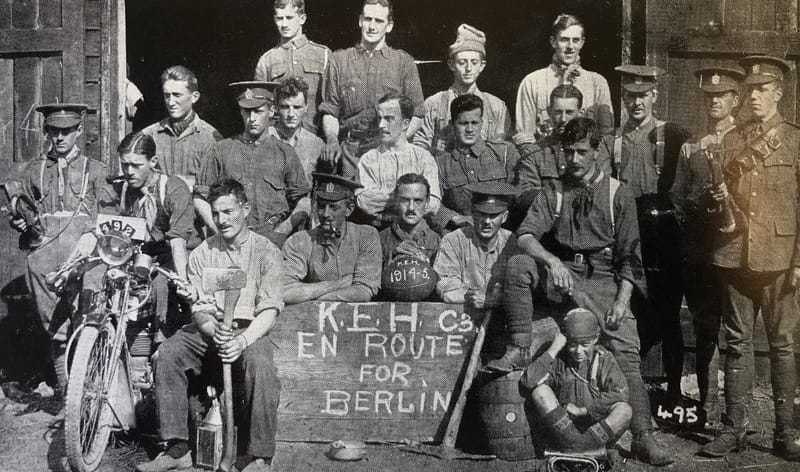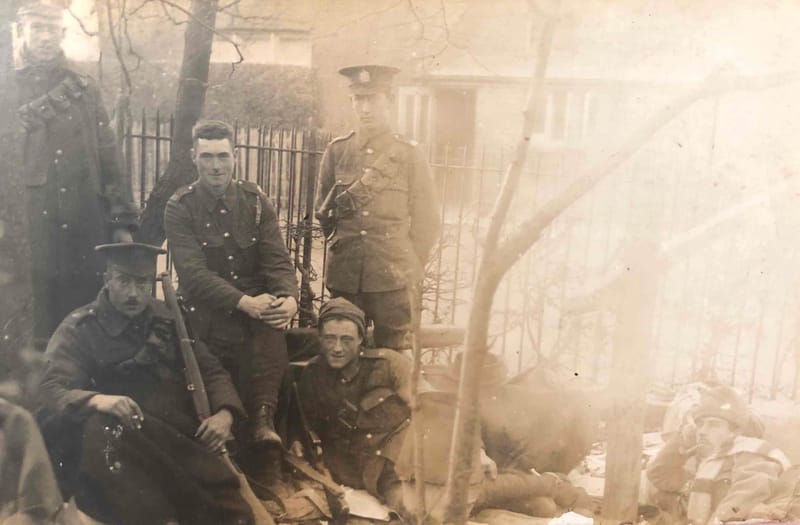 The King Edward's Horse were embodied 4th August 1914 in Chelsea where it was training with the 4th Cavalry Brigade. They were mobilised to Watford and moved to Bishop Storford in March 1915.
Figure 11: No. 3 Troop of 'C' Squadron at Gammons Farm, Watford in 1914 the captioning 'en route for Berlin' by the Troopers capturing the optimism and excitement of the early stages of the Great War (The King Edward's Horse Senior and Junior Comrades' Association Annual Bulletin. 19: 16, 1952).
Figure 12a and b: Postcard of a group of King Edward's Horse at Garston, Watford on 14 December 1914. The sender of the card is John Callum Newlans Eastick, regimental number 51 who became a Captain in King Edward's Horse. He was born in England in 1889 and went to France with 'B' Squadron as a Serjeant in 1915 and was commissioned on 13 September 1915. He died in 1972. He wrote on the back of the card that he wasn't in the postcard as these were Troopers of 'C' Squadron who had among their ranks many former members of
the
original Cambridge and Oxford university troops of
the
King Edward's Horse. He also notes that all leave had been cancelled and he thinks it unlikely he will be home for Christmas.
'C' Squadron (Australasian) together with Regimental HQ landed at Havre on 22nd April 1915 and joined 47th (London) Division and then joined IV Corps Cavalry Regiment on 1st June 1916