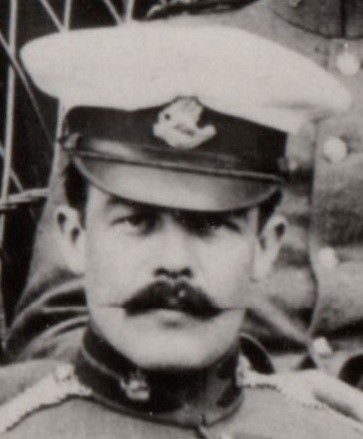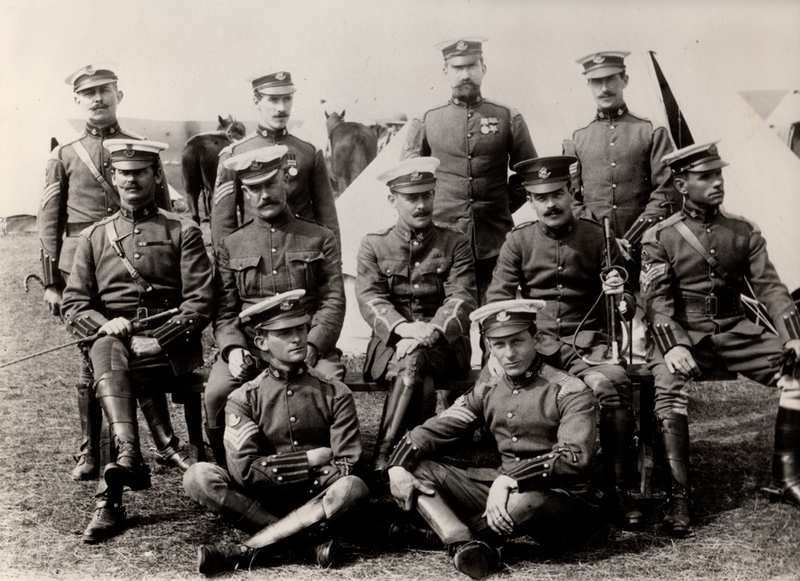 'A beaver with a maple-leaf background and a scroll at the base British American. Officers and senior NCOs in gilt, Other Ranks' in brass' (KK 1374).
The 'B' Squadron (British American) Other Ranks' headdress badge is shown being worn with matching collar badge(s) in Figure 208 and by several senior NCOs in Figure 209.
Figure 208: Close-up image of the 'B' Squadron (British American) headdress (KK 1374) and matching collar badge(s) circa 1905 taken from the group photograph in Figure 209 (Peter Nemaric collection).Figure 209: A group of King's Colonials Regimental Staff Officers and 'B' (British American) Squadron Officers and senior NCOs circa wearing Undress uniforms with second pattern forage caps circa 1905-06. The Officer second from the left in the second row is a Field Officer as he bears gold braid to the peak of his forage cap. Regimental Sergeant Major Daniel Fegan, 278 is stood at the rear, second from the right wearing his Khedive Star and Egypt medals. Sergeant Sydney Harris is seated at the front right. He and the Sergeant to his left are both wearing cloth marksman's badges on their lower left sleeve. Squadron Quarter Master Serjeant J. E. K. Bynoe, 1, is seated at the right in the second row (Peter Nemaric collection).