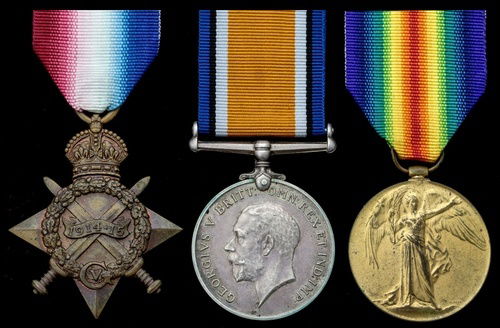 D'ALROY, Frank. 1822. Corporal. Discharged 11/04/1918.
DAVIDSON, William. 416811. Private, Private Labour Corps 5195
DAVIES, William Stanley. Second Lieutenant
DEELEY, Frank Glover. 1188. Trooper, South Staffordshire Regiment attached Gloucestershire Regiment, Lancashire Fusiliers 40554
DEMPSEY, Earl Ford. 1968. Private 2KEH. Private Tank Corps 112095.
DEVELIN, Robert H. 963. Serjeant and founding member of 2nd KEH. Discharged 17/12/1919. 1914/15 Star, British War Medal and Victory Medal sold at auction by Spink & Son, London in July 2017.

DE VERTEUIL, Maurice. 1356. Private, Private Tank Corps 302867, Corporal Northumberland Fusiliers 40119 Lance Corporal
DICKSON-HILL, John. 150. Private. KIA 23/05/1915 at the Battle of Festubert. Commemorated on Le Touret Memorial, France.
DIXON, John B. 1603. Private. Commissioned Montgomery Yeomanry 5/12/1918.
DONALDSON, Roland M. 1713. Private. Discharged 14/10/1916.
DOUDNEY, Hugh D. 123. Private. Commissioned ? Fusiliers 12/05/1918.
DOUGAL, Alfred B. 1586. Private. Commissioned 2KEH 28/08/1917.
DOUGLASS, George C. 1147. Private. Commissioned 3rd Battalion, Hampshire Regiment 21/01/1916.
DOWDY, James E. 1211. Private. Discharged 14/12/1918.
DOYLE, Edward. 1600. Private. Commissioned 3rd Battalion West Yorkshire Regiment 15/10/1918.
DUNBAR, Frederick. 106. Serjeant. Discharged 16/11/1918.
DUNERE, Charles C. 1742. Private. Commissioned Royal Engineers 12/03/1916.
DURRANT, Ward. 728. Private. Commissioned 2/2nd Lovat Scouts 1/01/1916.
DUTCH, Ernest J. 675. Private. Commissioned 14th Battalion Royal Fusiliers 3/01/1916
DUUS, William Hanson. 892. Private, born in the UK and KIA 23/05/1915 aged 31 at the Battle of Festubert. Commemorated on Le Touret Memorial, France.
DRIVER, William. 1599. Private. Died of illness 30/04/1917. Born 1880 in Norfolk, UK and is buried in Rathcooney Cemetery, Glanmire, County Cork, Ireland.