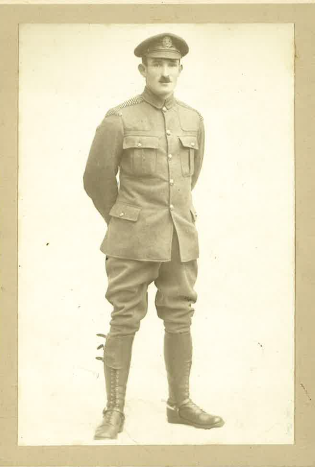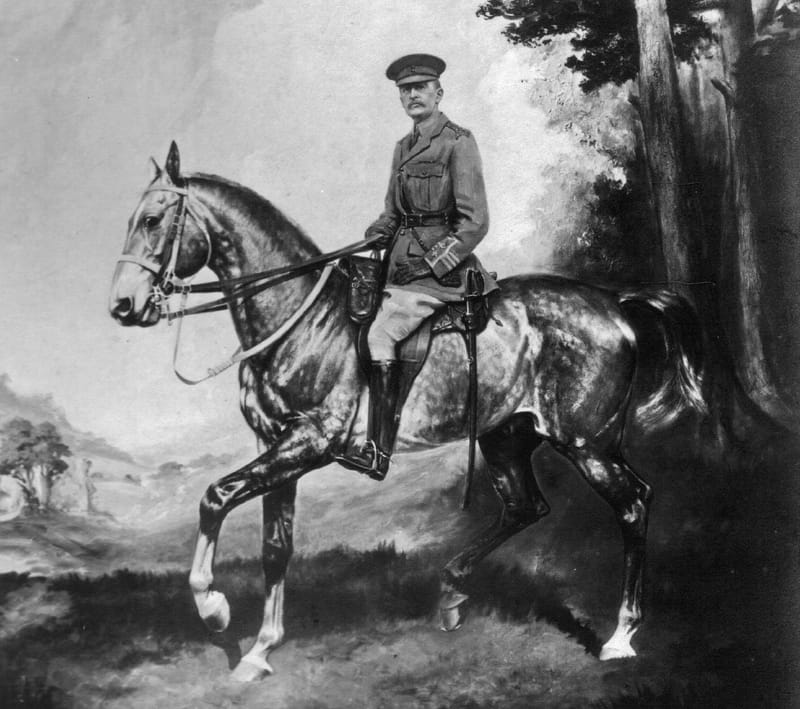 CAMPBELL, Robert Bruce. Served with the Assam Valley Light Horse from 1897. Served 2nd KEH 1915-17 then Tank Corps. Commissioned Second Lieutenant Labour Corps 1918. Cap badge and shoulder title in the National Army Museum together with his British War Medal, Victory Medal and Volunteer Long Service Medal India.
CAPELL, Henry Addison Devereaux. 1977. Trooper, Second Lieutenant Highland Light infantry, Lieutenant Labour Corps
CAPPER, Alfred Isidore 433. Private 2KEH, Private KEH, Acting Corporal Northumberland Fusiliers 61202. Born in London named Alfred Isidore Friedlander and worked in South Africa. Changed his name to Alfred Isidore Capper by deed poll in November 1914 due to the Germanic overtone of his birth surname. He enlisted in the 2nd KEH 1914 and went to France 2/07/1915. Alfred then appears in a 1916 photograph of a Hotchkiss machine gun team of King Edward's Horse (see Figure 22) which he must have been transferred to although his Medal Index Cards and medal rolls make no distinction between the KEH and 2KEH. He was then transferred as an Acting Corporal to the Northumberland Fusiliers 61202. He didn't speak about much of his wartime experiences with his family but did re-call being shot off his horse, being buried by the earth thrown up by a shell but escaped unscathed and fighting dismounted. He married in 1930 and died in London in 1945. The family retains his 2KEH cap badge (see Figure 429) and 2KEH portrait photographs (Information and photographs courtesy of Robert Cruickshank, his grandson).
CHENERY, Harold. 1608. Private. Died of a self-inflicted wound 3/11/1917 aged 24 at Moore Park Camp, Kilworth, County Cork, Ireland whilst attached to the 7th Officer Cadet Battalion. Correspondence from his Australian family to the Army regarding his place of burial indicate that his death by discharge of his rifle to his head was regarded as an accident. Harold was the son of Charles and Alice Chenery of the The Cedars, 24 Hillside Crescent, Launceston, Tasmania. He was born at Shoreham, Sussex and is buried in Kingston-UPON THAMES CEMETERY, Surrey, UK with his body being repatriated for burial in Surrey by his relatives.
CHIPPERFIELD, Edward. 1195. Private. Discharged 1/12/1916.
CHRISTIE, James. 1436. Private, born in the UK and KIA 26/05/1915 aged 31 at the Battle of Festubert. Commemorated on Le Touret Memorial, France.
CHRYSTAL John. 1919. Acting Corporal Royal Engineers 208117, Acting Corporal 2nd KEH, Second Lieutenant Royal Engineers.
CHUBB, William S. R. 1881. Private, Saddler. Died 30/03/1918.
CLACEY, Walter Cleveland. 1213. Serjeant. Discharged 23/12/1918.
CLAPHAM, Graham W. 774. Corporal. Commissioned Reserve Brigade Royal Field Artillery 30/01/1916.
CLAREY, John C. 1788. Private. Northumberland Fusiliers 40115, Tank Corps 302868
CLARKE, Alured C. 1695. Private. Discharged 31/08/1916.
CLARKE, Stanley R. 1855. Private, Private Northumberland Fusiliers 61215, Private Tank Corps 302872
CLELLAND, Daniel. 1333. Private, Acting Lance Corporal Tank Corps 302822, Acting Lance Corporal Northumberland Fusiliers 61307.
CLEWLON, R. D.
COLLING, John. 1808. Private Lancashire Fusiliers 40546, Private Northumberland Fusiliers
COLLINGWOOD, Alan R. G. 1984. Private. Discharged 22/04/1919.
COLLINS, Patrick F. 1556. Private. Thought to have deserted but enlisted 2nd Leinster Regiment 20/11/1915.
COOK, Herbert H. 805. Warrant Officer Class 2. Commissioned ? Regiment 16/02/1919.
COOKE, Edwin B. 1805. Private, Corporal 5th Dragoon Guards 3834.
COOKE, Frederick W. 1751. Private. Discharged 10/03/1919.
COONEY, Jonathan. 1309. Private, Private Tank Corps 45460, Private Lancashire Fusiliers 303024.
COOPER, Frank. 1014. Private. Discharged 13/02/1919.
CONRAN, Rueben H. 1003. Corporal. Commissioned Royal Engineers 16/06/1916.
CONSTABLE, Clifford Edward. Second Lieutenant, Captain.
COPE, Arthur Selywn. 1330. Private, Second Lieutenant Lancashire Fusiliers, Lieutenant 2/5 Gloucestershire Regiment.
CORDER, Harold C. 1187. Private, Acting Serjeant Tank Corp 302806, Northumberland Fusiliers 39947, Lancashire Fusiliers.
CORIN, Thomas. 1160. Private DoW 29/05/1915 aged 33. Brother of W. T. Corin, of East Divine St., Sarnia, Ontario, Canada. Served in the South African Campaign. Buried CHOCQUES MILITARY CEMETERY, Pas de Calais, France.
COUSINS, Harry W. 114. Private. Discharged Civil Employment Authority 27/06/1917.
COWLEY, Edwin (Ted) C. From the village of Braybrooke, Market Harborough. Serjeant, Second Lieutenant 2nd KEH and went on to become a Major in the Norfolk Yeomanry. Died in 1932 when he was killed in an altercation with a former employee of the farm which he managed. Recruited several school friends for the 2nd KEH and penned an article on the 2nd KEH for the Press Handout that was reported in the 1st Feb 1916 issue of the Market Harborough Advertiser page 6 from local sources by W. R. (Bob) H. Hakewill a published local historian in Market Harborough, UK.
COX, Alfred, G. 64. Squadron Quarter Master Serjeant. Commissioned RASC 5/03/1917.
CRADOCK, Montagu. Lieutenant Colonel CB CMG. Lieutenant Colonel Cradock commanded the 2nd King Edward's Horse through out 1914-17. He was born in Giling East, North Yorkshire on the 16th October 1859 and died in London on the 14th December 1929. Having first enlisted in the Durham Fusiliers in 1877, as a Second Lieutenant he saw active service in Afghanistan in 1879-1880 with the 6th Dragoon Guards. Having retired from the army as a Captain in the 6th Dragoon Guards he emigrated to New Zealand in 1893. In 1900, Major Cradock took command of the 2nd New Zealand Contingent in the Second Boer War. He was promoted to Lieutenant Colonel and commanded the 3rd Mounted Infantry Corps and Bushmen's Brigade. (Portrait photograph Copyright Imperial War Museum HU 102500 shown as Figure 433 and accompanying portrait of Montagu Cradock on horseback courtesy of Jamie Vans).
CRAMPTON, Charles S. 1100. Private. Commissioned Royal Army Service Corps 2/04/1916.
CREIGHTON, Bertram B. 1215. Private, Tank Corp, Northumberland Fusiliers 61255.
CREIGHTON, James C. 1146. Private. Discharged 16/06/1916.
CRONIN, Thomas. 1461. Private, Private Tank Corp 302787, Private 2/4th Northumberland Fusiliers 61180.
CROSS, James. 127. Serjeant. Commissioned Royal Field Artillery 15/10/1915.
CULLINANE, Michael. 1632. Private 2KEH, Private 10th Northumberland Fusiliers 39916, Private Lancashire Fusiliers 40545, Private Tank Corps 302852.
CURTEIS, Edmund C. 1025. Private. Commissioned 3rd Battalion Royal West Kent Regiment 15/08/1916.
CUTHBERT R. L. 340. Private. DoW 07/07/1915 aged 47. Son of Anne Wilkinson Cuthbert of 49 Cluny Drive, Edinburgh and the late Hugh Cuthbert. Chartered Accountant (Scotland) and Certified Public Accountant (USA). New York Member of New York Yacht Club who was born at Greenock. Gravestone located in LA PLUS DOUVE FARM CEMETERY, Belgium. Photograph of his original wooden grave marker which has been replaced with a
gravestone.