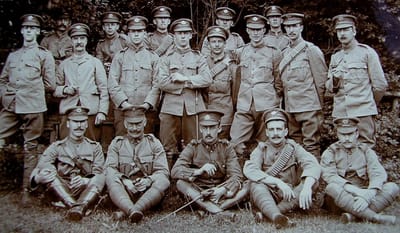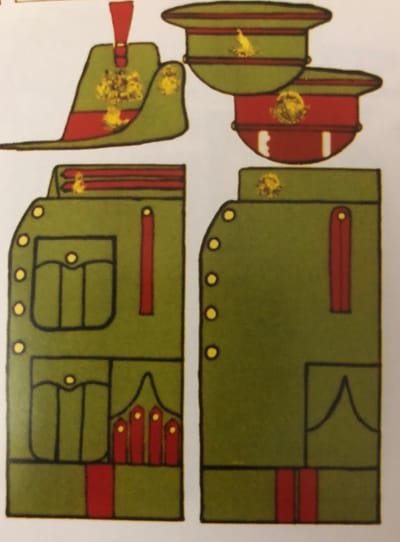 The Service Dress uniform worn by the 4th County of London (King's Colonials) Imperial Yeomanry from 1901-1904 was of a plain regular cavalry pattern khaki tunic with a stand-and-fall (Prussian) collar and overalls for Officers and Other Ranks. In Officers Service Dress only the Sam Browne belts were worn with the whistle attached to the shoulder brace. The distinctive scarlet cap lines worn by all ranks in Full Dress were dispensed with. From 1901 to 1904 a plain khaki peaked cap was worn with three scarlet welts. Other Ranks wore webbing bandoliers without cartridge covers.
Service Dress was first introduced into the British Army in 1902 and became largely universal from 1903. From 1904, a new khaki Service Dress was adopted with a second pattern, scarlet and khaki peaked cap.
Figure 91: A group from the 1st or 2nd Troop (British African) and 3rd Troop (New Zealand) of 'D' Squadron (British African) of the King's Colonials Imperial Yeomanry circa 1904. They are wearing the Service Dress uniform with the second pattern khaki forage cap. The Officer of the 3rd Troop in the centre of the front row is wearing his Undress uniform with the Australasian Squadron headdress badge. To his immediate left is the Regimental Quarter Master Sergeant wearing a Second Pattern Regimental pattern headdress badge. The Squadron Sergeant Major of the 1st or 2nd Troop with the 'D' Squadron (British African) headdress badge is at the very left of the front row. Sergeant MacIntosh is seated second from the right-hand end in the front row. Several of the Other Ranks are equipped with Boer War pattern, 50-round Mills equipment webbing bandoliers. Figure 92: Comparison of the King's Colonials tunic and headdress for a Private, Full Dress 1902 (left panel) and Service Dress 1904 (right panel) (D. J. Knight and R. J. Smith. The Uniforms of the Imperial Yeomanry 1901-1908. The Military Historical Society, Arrow Press, London, 2009).