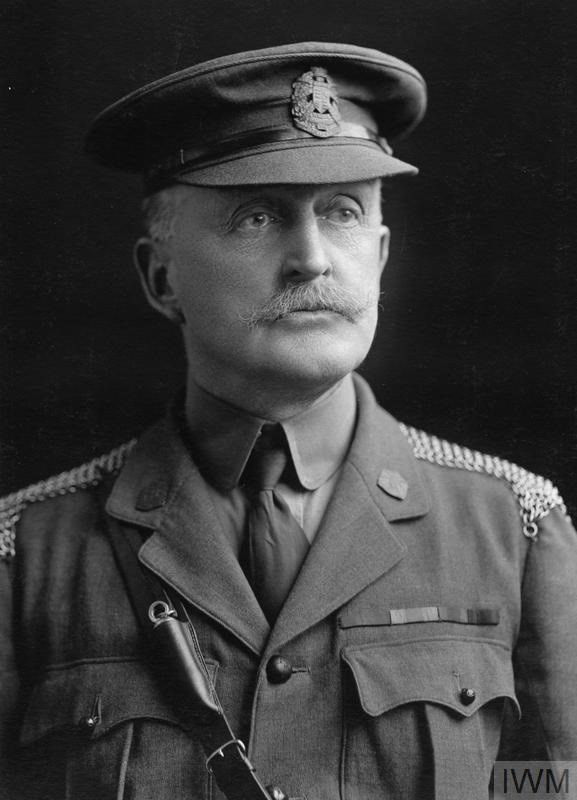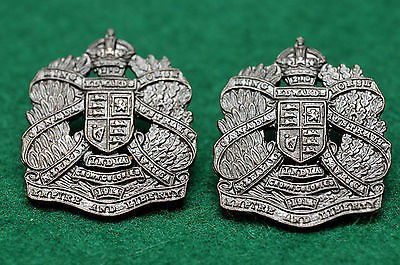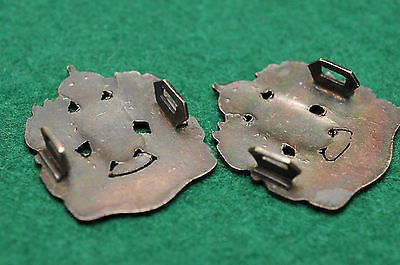 Officers and Other Ranks of the 2nd King Edward's Horse wore pairs of collar badges in patterns matching the headdress badge as shown being worn in Figure 433.
Figure 433: Officer's voided headdress badge and non-voided collar badges of Lieutenant Colonel Montagu Cradock CB CMG, 2nd King Edward's Horse in gilding metal circa 1917. Lieutenant Colonel Cradock was born in Giling East, North Yorkshire on the 16th October 1859 and died in London on the 14th December 1929 Having first enlisted in the Durham Fusiliers in 1877, as a Second Lieutenant he saw active service in Afghanistan in 1879-1880 with the 6th Dragoon Guards. Having retired from the army as a Captain in the 6th Dragoon Guards he emigrated to New Zealand in 1893. In 1900, Major Cradock took command of the 2nd New Zealand Contingent in the Second Boer War. He was promoted to Lieutenant Colonel and commanded the 3rd Mounted Infantry Corps and Bushmen's Brigade. During the Great War he commanded the 2nd King Edward's Horse ©Imperial War Museum (HU 120500).

The 2nd King Edward's Horse collar badges were in bronze for Officers (Figures 434-435) and in gilding metal for Other Ranks (Figure 436-437). Voided and non-voided genuine examples are known for both.
Figures 434-435: A pair of Officer's voided collar badge of 2nd King Edward's Horse in die cast bronze with hexagonal loops circa 1915-1917 (With permission
The Irish Grenadier
).