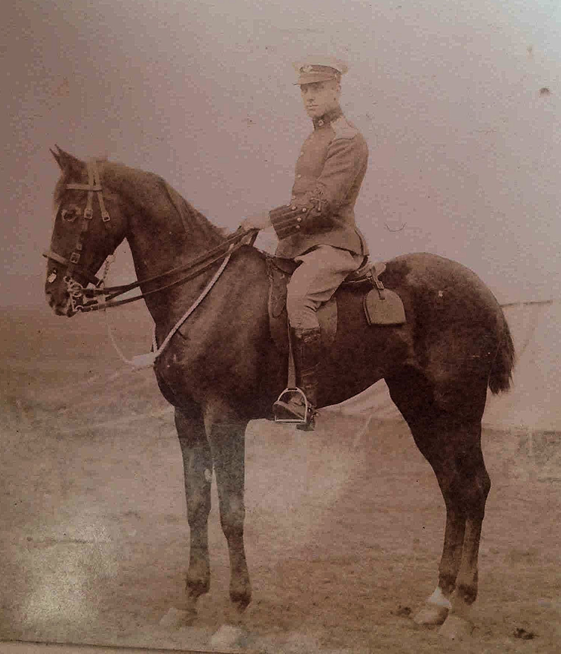 From 1905 until 1910, perhaps as a result in the change in title from 4th County of London (King's Colonial) Imperial Yeomanry to King's Colonials, all the Squadrons (British African, British American, British Asian, Australian and for short period, New Zealand and then as a Troop of the British African Squadron) of the King's Colonials wore matching pairs of collar badges of the same design as the Squadron headdress badges. One of the first known dated photographs (Figure 286) of matching Squadron headdress and collar badges being worn is that of Sydney Herbert Bywater Harris taken in October 1905 upon his joining 'B' (British American) Squadron.
Figures 286-287: Sergeant Sydney Herbert Bywater Harris upon joining 'B' Squadron (British American) taken in October 1905 with close-up image showing his 'B' Squadron (British American) headdress and matching collar badge(s) (Carole McEntee-Taylor: From Colonial Warrior to Western Front Flyer: The Five Wars of Sydney Herbert Bywater Harris. London: Pen and Sword, 2015).
The one notable exception to the wearing of matching collar badges was the Australasian Squadron. Photographs of Troopers of 'C' Squadron (Australasian) do not show them to be wearing a collar badge modeled on the Australasian Squadron headdress badge (KK 1376). There has been no photographic evidence identified of Australasian collar badges being worn nor have any ever appeared on the market or in private or publicly available collections. The Australasian headdress badges were either worn without collar badges or with the first pattern Regimental inter-twined KC collar badges or with Australian Squadron collar badges.
The Squadron collar badges were worn as facing pairs with the heads of the Australian kangaroo, Asian elephant, Canadian beaver and African ostrich all facing inwards. The tips of the New Zealand Squadron fern on their collar badges face outwards. The loops on genuine collar badges also lack broad feet. From 1905 onward the first pattern Regimental collar badges worn by Other Ranks were replaced by Squadron collar badges of a similar pattern to the Squadron headdress badge. The only exception to this is that the Other Ranks of the Australasian Squadron did not wear Australasian Squadron collar badges as none of these were ever produced. The Officers continued to wear the second pattern Regimental collar badges.