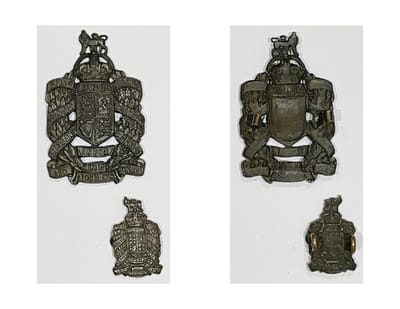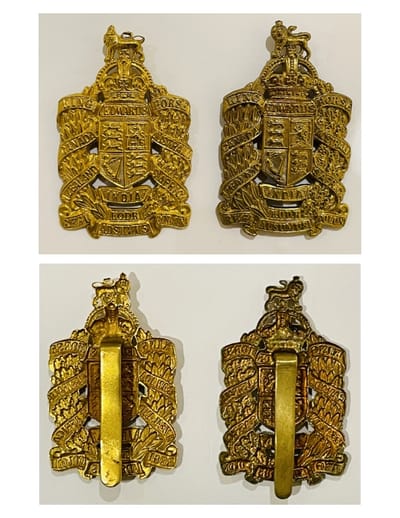 A later version of the King Edward's Horse headdress badge known as the second pattern badge (KK 1507) has a rounded King's Crown in place of the Saxon crown of the first pattern badge (KK 1506). The War Office sealed the second pattern King Edward's Horse headdress badge as
Pattern Number 8676/1916
in gilding metal on the 22/2/1916 and it was worn until the KEH was disbanded in 1924.
An Officer's version of this headdress badge is shown in Figure 319 with a single matching second pattern collar badge both in die cast bronze. The headdress badge has east-west blades (folded) and the collar badge has east-west loops. Bronzed versions of the die-struck gilding metal version of the headdress badge fitted with a slider are also known where a bronze finish has been applied to the front of the badge only. This is likely to be a field conversion for an Other Rank commissioned in the field.

Figure 319: A genuine second pattern King Edward's Horse Officer's headdress badge (KK 1507) with a King's Crown and east-west blades with service wear to edges of the blades and a single matching second pattern collar badge both in bronze circa 1916-24.
The headdress badges shown in Figures 320 are second pattern Other Ranks badges which are die-struck, gilding metal and are fitted with sliders. There are two variants of this second pattern headdress badges which differ in the spelling of the Latin word Adsumus (translated to English as 'Here we are') as Ausumus as shown in Figure 320. Badges with either spelling are genuine and points to there being at least two sets of manufacturing dies in existence for the second pattern KEH headdress badge.
Original second pattern KEH headdress badges have sliders that have been crimped from the original manufacture process which together with the voiding on the badge and the quality of the strike constitute features characteristic of a genuine badge.
Figure 320: Two genuine second pattern King Edward's Horse Other Ranks headdress badges in gilding metal with rounded King's Crowns (KK 1507), one with the correct Adsumus spelling and the other with variant Ausumus spelling circa 1916-24.