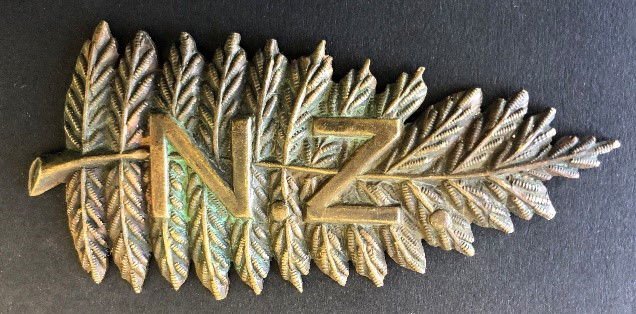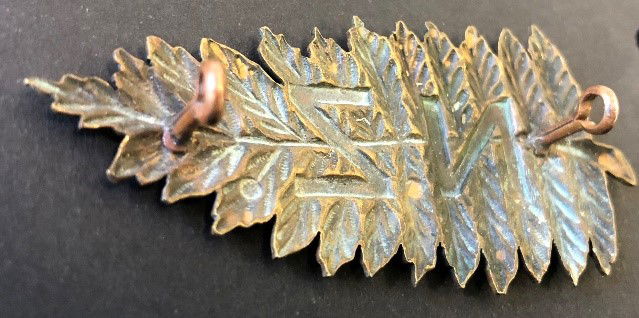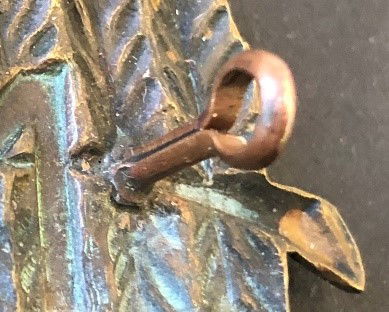 A copy of the 'E' Squadron (New Zealand) headdress badge is shown in Figure 259-261. This copy is a very good strike but has loops with broad feet.
Figures 259-261: A copy of an 'E' Squadron and later 3rd Troop, 'D' Squadron (Australasian) Other Ranks' headdress badge (KK 1377) in gilding metal with east-west loops.
The 'E' Squadron headdress and collar badges are sometimes confused with several different patterns of fern leaf badges worn by New Zealand Volunteer Officers who formed part of the Second Boer War contingent and by New Zealand Permanent Staff. These fern leaf badges have differently shaped leaf stems, dimensions, loop positions and some but not all patterns lack the full stops after the letters 'N' and 'Z '.
Sydney Harris (shown in Figure ) who joined 'B' Squadron (British American or Canadian) in 1905 states that because there was no special Squadron for New Zealanders (from 1904) they could wear a fern badge to indicate their Nationality. New Zealand fern headdress and collar badges were worn by members of the 3rd Troop of 'D' Squadron (British African).