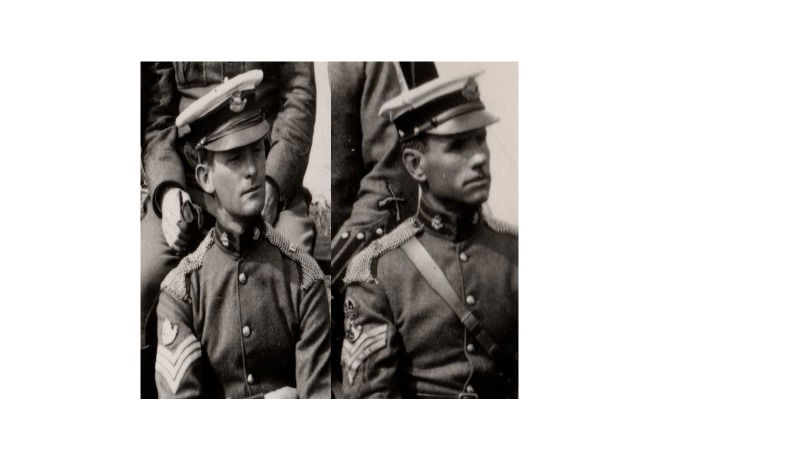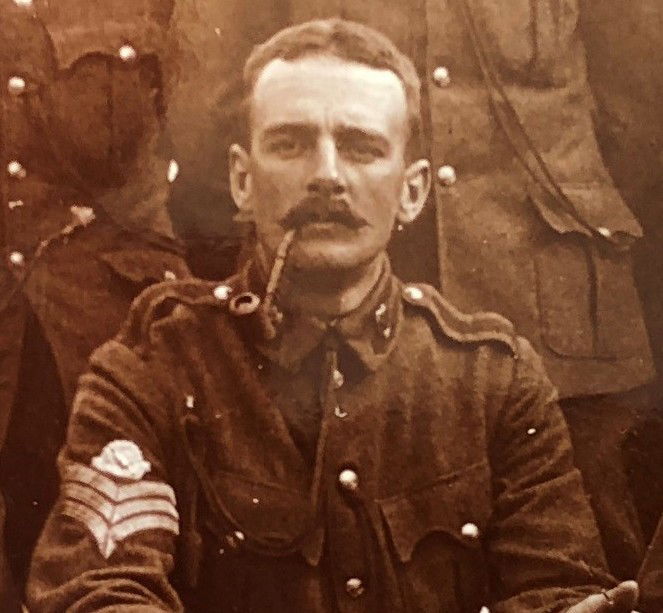 A close-up image of the Squadron Quarter Master Sergeant and the Squadron Sergeant Major from the group photograph of 'B' Squadron (British American) Officers and Senior NCOs circa 1905-06 (Figure 221) show arm badges being worn above the rank chevrons of their right sleeves (Figure 325). The Squadron Sergeant Major wears his Sergeant Major's crown above his arm badge. The front of these arm badges appears identical to the Squadron headdress badges.
Figure 325: Composite image of 'B' Squadron (British American) Sergeant (left image) and Squadron Sergeant Major (right image) wearing 'B' Squadron (British American) headdress pattern badges above their rank chevrons as a Senior NCO arm badges taken from the group photograph in Figure 221 circa 1905-06 (Peter Nemaric collection).
Arm badges were also worn by some NCOs in 'C' Squadron (Australasian) as can be seen in the photograph of Sergeant MacIntosh in Figure 84. Close-up images (Figures 326-327) of this Squadron from a photograph at annual camp (Figure 43) shows that they were worn by the rank of Corporal and above.
Figures 326-327: Close up images of a 'C' Squadron (Australasian) Sergeant and Corporal at annual camp in 1903 (from Figure 43) wearing a 'C' Squadron (Australasian) Headdress pattern badge as an NCO's arm badge above their rank chevrons.

Photographic evidence of an arm badge being worn by an NCO from 'A' Squadron (British African) has not been identified.