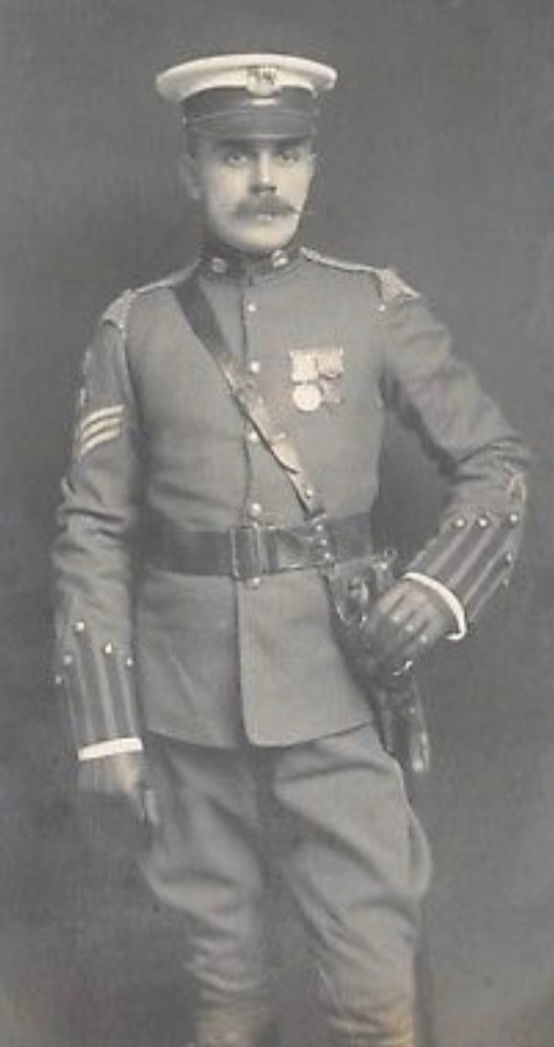 The wearing of arm badges by some Squadron Non-Commissioned Officers (NCOs) of the King's Colonials in the same pattern as the Squadron headdress badges has not been previously documented. These badges were worn from 1901-1910 and are clearly evident in the group photograph of 'B' Squadron (British American) Officers and Senior NCOs circa 1905-06 (Figure 209). A photograph of Squadron Sergeant Major C. H. Crooke shows the side profile of his 'elephant' arm badge being worn above his rank chevrons on his right arm (Figure 322). He is wearing his Sergeant Major's crown above his arm badge.
Figure 322: Squadron Sergeant Major C. H. Cooke of 'A' Squadron (British Asian) wearing an 'A' Squadron (British Asian) headdress pattern badge above his rank chevrons circa 1905-09
.
SSM Cooke is wearing the Egypt medal (1882-1889) with a single clasp (13 possible) and the Khedive's Star (1882-1891).