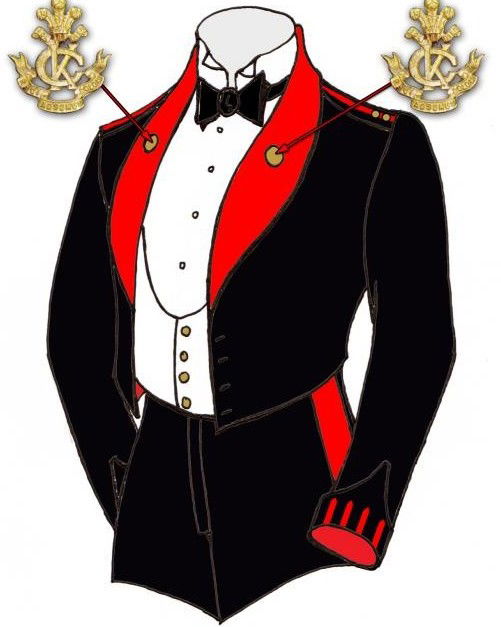 Officer's Mess Dress was of a dark blue jacket with a ribbed scarlet silk rolled collar. Further information as to the lapel badges worn on Mess Dress which differ from the small gilt Regimental badges is provided in the collar badge section. The cuffs were round unlike the pointed cuffs of Full Dress and in a further change from Full Dress had four rather than five stripes of ¾ inch scarlet cloth of equal length without buttons. Shoulder straps were in blue cloth with a single stripe again of ¾ inch scarlet cloth down the centre. Badges of rank were in gold. The jacket was worn with a white Marcella waistcoat and shirt with a black bow tie. The overalls were blue with double stripes in scarlet cloth complimented by black Wellington boots (not tan as with Full Dress) and dress spurs.
Figure 88: King's Colonials Officer's Mess Dress 1902-05 (Reproduced with permission of Griff Morgan-Jones).

Other Ranks Mess Dress consisted of a khaki jacket with scarlet silk roll collar upon which was worn a variation of the Regimental badge in gilt (see collar badge section). The cuffs were khaki and pointed with four stripes (unlike the five for Full Dress and Undress) of ¾ inch scarlet cloth without buttons and followed the shape of the cuff. The waistcoat was khaki with three small gilt buttons (see button section) was worn over a white shirt with a black bow tie. The Mess Dress uniform was completed with khaki overalls and black Wellington boots again not tan with Full Dress.