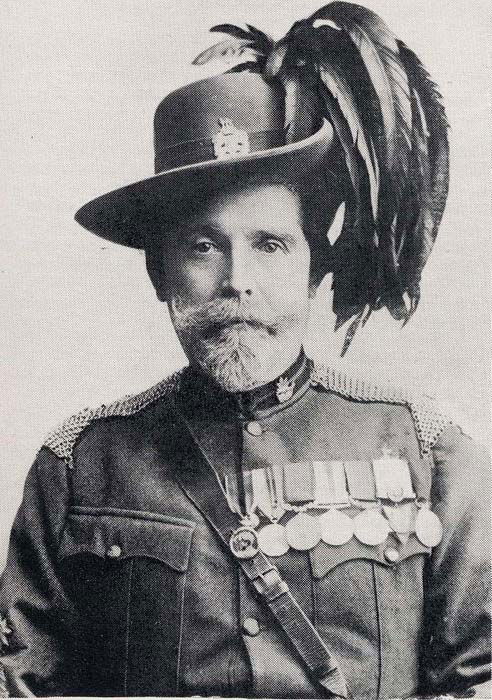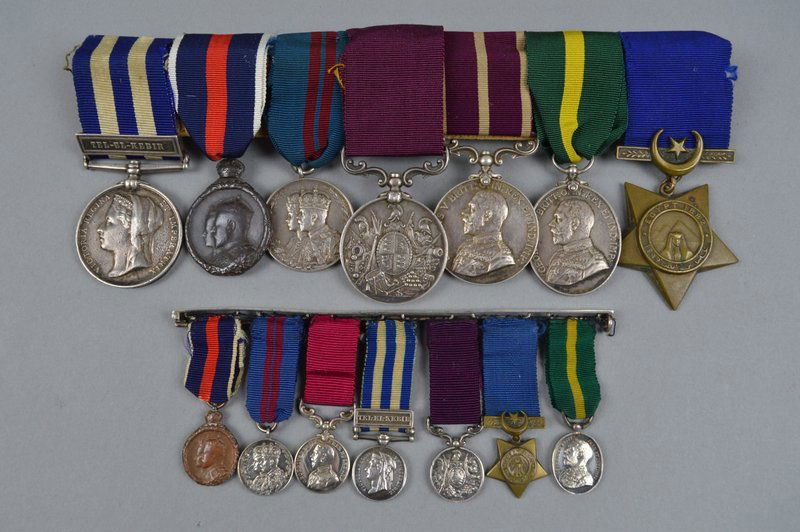 FEGAN
, Daniel. Regimental Sergeant Major Daniel Fegan (Regimental number 274) in Full Dress uniform of 'B' Squadron, King Edward's Horse circa 1911. (Copyright Imperial War Museum Q 69197). Regimental Sergeant Major Fegan was born in 1851 in Ireland and saw service with the 4th Royal Irish Dragoon Guards, the King's Colonials and then King Edward's Horse. He saw out the final years in service as a Yeoman of the Guard.
Medals worn by Regimental Sergeant Major Daniel Fegan with a set of miniatures: the 1902 and 1911 Coronation medals; Egypt medal with 'Tel-el-Kebir' bar, Khedives Star; Army Long Service and Good Conduct medal; Army Meritorious Service Medal and the Territorial Force Efficiency medal (Reproduced courtesy of Richard Winterton Auctioneers Ltd, UK).
McGOWAN
, John. Medals worn by Squadron Sergeant-Major McGowan (Regimental number 2139) 4th Dragoon Guards, King's Colonials and later Yeoman of the Guard. India General Service medal 1895-1902 with two clasps, Punjab Frontier 1897-98, Tirah 1897-98 (S.Q.M.S. J. McGowan, 4th Dragoon Gds); Army Long Service and Good Conduct medal (L.S & G.C. VR., small letter reverse VR crown; Meritorious Service Medal GVR; Khedive's Star 1882.
John McGowan was born in Liverpool and enlisted in the 4th Dragoon Guards on 21 September 1877. After a distinguished service career with the 4th Dragoon Guards, he was posted to the Permanent Staff Yeomanry Cavalry as Regimental Sergeant-Major on 20 December 1901 sanctioned o raise the King's Colonials. He was discharged from the King's Colonials on 12 May 1909 and appointed to Her Majesty's bodyguard on 18 June 1909. He attended the Coronation in 1911, the Silver Jubilee in 1935 and the Coronation in 1937. He died on 11 January 1942.