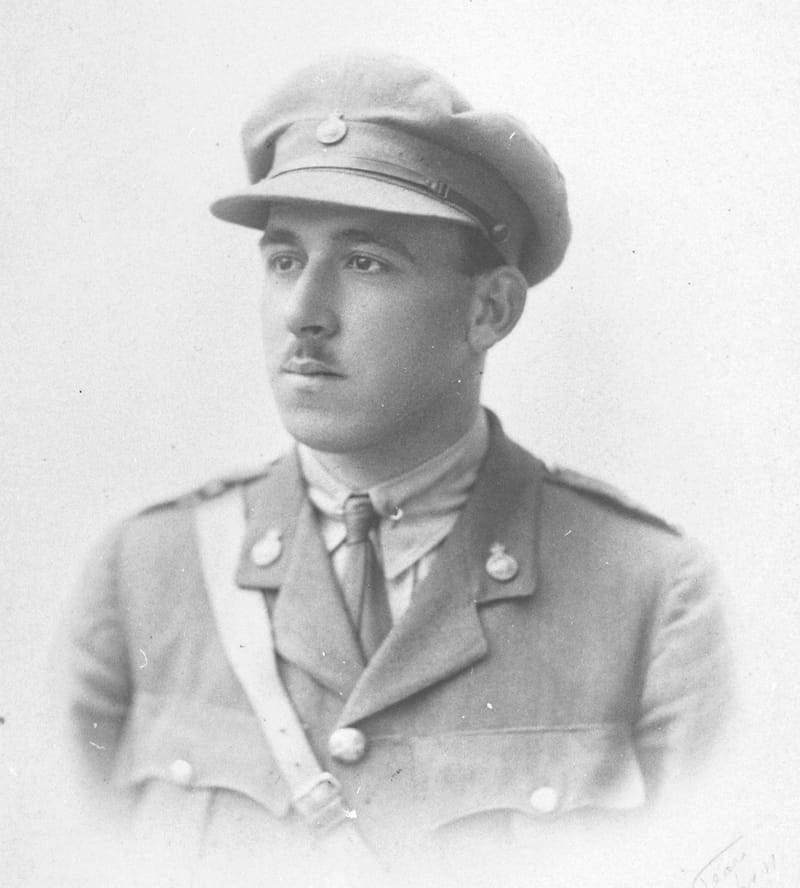 TABUTEAU Frederick 1596 Private, Private Labour Corps 466866
TALBOT Leonard L. 1015 Serjeant, Second Lieutenant Royal Field Artillery
TANNER Charles A. 1455 Private
TAPPLY Sidney L. 643 Private
TAYLOR Charles W. 673 Serjeant
TAYLOR Claude Arthur 1230 Private
TAYLOR E. C. 629 Lance Corporal, Corporal Tank Corps 302780, Corporal Northumberland Fusiliers 61236
TAYLOR James Nichols 1223 Private, Lieutenant Lincolnshire Yeomanry
TAYLOR John C. 905 Private, Private Royal Berkshire Regiment 55523
TAYLOR Maurice 1362 Private
TAYLOR Patrick J. 14 Private, Private Royal Engineers 363111
TAYLOR Percy C. 1805 Private
TAYLOR Robert Gladstone 714 Private, Second Lieutenant Royal Field Artillery
TAYLOR S. 1429 Private, Private Military Mounted Police P/12037
TEARE John Stewart 437 Private, Lieutenant Royal Field Artillery
TEMPLE Edwin William Henry 462 Private, Second Lieutenant The Queen's Regiment, Lieutenant Royal West Surrey Regiment
TEMPLE H. 37 Corporal, King's Colonials
TENNANT Charles Percy 1399 Private, Honourabe Artillery Company
TETLEY Henry 1584 Private, Private Corps of Dragoons D/30978
THIRLWELL Robert M. Private Dragoon Guards D/18423, Private KEH, Private Corps of Dragoons
THOMAS Albert V. 1174 Private, Private Tank Corps 302865, Private Northumberland Fusiliers 40116
THOMAS David Lewis 1280 Lieutenant Royal Engineers, Private KEH
THOMAS Francis H. 1065 Private, Second Lieutenant Royal Fusiliers
THOMAS Sidney 1036 Private, also spelt Sydney on MIC
THOMPSON F. Squadron Serjeant Major King's Colonials Permanent Staff 1902.
THOMPSON Frederick Roland Blyth Lieutenant
THOMPSON George H. 1252 Private
THOMPSON John Blake 1105 Private, Corporal Northumberland Fusiliers 61199, Second Lieutenant Army Service Corps
THOMPSON John William 852 Private, Private Machine Gun Corps Cavalry 105526, Captain Labour Corps
THOMPSON Robert Roland. Captain and Adjutant. King's Colonials circa 1902. Australian who served as a Serjeant with 4th Dragoon Guards and Adjutant with 1st (Volunteer) Australian Horse (see photograph, Figures 4 & 42).
THOMSON Alexander G. 311 Staff Serjeant Major, Warrant Officer Class 2
THOMSON Ninian Alan. Australian. Lieutenant KEH in WW1. Lived in Queanbeyan, New South Wales. Director of Mauri Brothers and Thomson. Died 2/04/1952.
THOMSON, Kenneth Sinclair. New Zealand. Lieutenant. Transferred to 21st Prince Albert Victor's Own Cavalry (Daly's Horse), Frontier Force. Kenneth Thomson was the son of Mr. and Mrs. J. Sinclair Thomson, of The Crossing, Geraldine, New Zealand. Was born in Wellington on October 7th, 1886. He entered Wanganui Collegiate School in 1900, and remained there for five years, being a Prefect during his last year. From Wanganui he went for about a year to the Otago Medical School, and thence to St. John's College, Cambridge. While at Cambridge he obtained a commission in the King's Colonials and became so much interested in military matters that he decided to give up his medical career and go into the army. After taking his B.A. degree with honours in 1909, he obtained a commission in the Indian Army, leaving in February to join the 21st Cavalry, Frontier Force. He was on leave in New Zealand for six months in 1913 and visited Wanganui. His death in action occurred in the neighbourhood of Basra, in the Persian Gulf, on March 3rd, 1915, he had been attached for service to the 16th Cavalry and put in command of a machine-gun section. He can have only been a very short time at the front before he fell. (In Memoriam, 1914-1918, Wanganui Collegiate School). He is buried in Basra War Cemetery, Iraq (III.C.17). (Reference - Auckland Online Cenotaph). Photograph is of him in the uniform of a Lieutenant in the 21st Prince Albert Victor's Own Cavalry (Daly's Horse) circa 1914-15.
THORNTON Edward 776 Private. Likely to have served in the Liverpool Troop of the King's Colonials. Photograph of name engraved wedding gift (shown in Figure 5).
THORPE John S. 801 Private
THOYTS H. N. M. Colonel
THURSTON George H. 604 Private, Private Labour Corps 613024
TIBBITTS Thomas 911 Private, Serjeant Northumberland Fusiliers 61300, Second Lieutenant Nottinghamshire and Derbyshire Regiment
TICEHURST Hubert 1348 Private, Private Labour Corps 665131
TILLEY Harold William Private, Lieutenant Royal Field Artillery
TIMBRELL James 942 Private, Sapper Royal Engineers WR/259726, 198255
TINKLER John Cecil 139 Serjeant, Lieutenant
TINKLER Lionel Maughan 405 Serjeant, Captain Yorkshire Regiment
TITILAH James 1823 Private, 2078 on MIC as well
TITUS Patrick J. 1396 Private
TOBIAS, N. 80465 Signaler
TOD Alexander 1122 Private, Lieutenant Hampshire Regiment attached King's African Rifles
TOLKIEN John Ronald Reuel. Private, served pre-Great War KEH when at Oxford University, Second Lieutenant Lancashire Fusiliers Great War, Lieutenant Lancashire Fusiliers. One of the world's great literary figures.
TOMLIN Alfred E. 790 Private, Acting Serjeant Tank Corps 112211
TOMLIN Henry G. 307 Private, Private Tank Corps 302839, Private Northumberland Fusiliers 61220
TONG William G. 993 Serjeant
TOOGOOD Percy William 653 Private KIA 25/08/1915 aged 27. Son of Laurence William and Eliza Toogood, of Sydney, Australia. Born at Rosehill, Parramatta, Australia. MUCH HADHAM (ST. ANDREW) CHURCHYARD, UK.
TOWEY Martin 1464 Private, Private Army Service Corps T/364128
TRACEY Austin J. 1372 Private, 2126 on MIC as well
TRAVIS Robert Walter 1416 Private, Lieutenant Royal Warwickshire Regiment
TREADWELL Arthur 864 Serjeant Second Troop 'A' Squadron KEH Vielle Chapelle KIA 9/04/18 aged 36. Son of Joseph Edward and Eliza E. Treadwell; husband of Mary Treadwell, of 13, Poplar St., Failsworth, Manchester. LOOS MEMORIAL, FRANCE. Alfred on MIC
TRELEAVEN Conrad V. 1551 Private, Second Lieutenant Warwickshire Yeomanry, Lieutenant Indian Army Reserve of Officers
TRICKETT Ronald 1974 Private 2079 on MIC as well, Private Royal Engineers 359811
TRINGHAM Henry Vincent 1394 Serjeant, Lieutenant King's Own Royal Lancaster Regiment
TRUDGETT George D. 1584 Private labour Corps 230731
TRUNDLE Charles 1357 Private, Second Lieutenant Reserve Regiment of Cavalry
TULL Frederick J. 498 Lance Corporal, Acting Serjeant Tank Corps 302815, Acting Serjeant Northumberland Fusiliers 39889, Acting Serjeant Lancashire Fusiliers
TULLOCH Herbert Maurice Second Lieutenant, Lieutenant Royal Air Force
TURCOTT Edgar 1029 Private
TURNER Augustine John 1101 Private
TURNER Charles Wood 310 Corporal, Second Lieutenant Royal Canadian Regiment
TURNER Edward G. 1872 Private, Private Northumberland Fusiliers 61210, Private Tank Corps 302785
TURNER John. W. 1743 Private
TURNER James H. E. 343 Private, Private Royal Air Force 319034
TURNER Max 1882 Private, Second Lieutenant Tank Corps
TURNER Walter Richard 1423 Private DOW 21/04/1918. Born in Adelaide, South Australia in 1880. Enlisted in London. BRISTOL (ARNOS VALE) CEMETERY, GLOUCESTERSHIRE, UK.
TUTT Arthur Richmond Serjeant Surrey Yeomanry 1248, Second Lieutenant KEH, Second Lieutenant Royal Army Service Corps
TWOPENNY Richard Ernest Noel. Lieutenant, spelt Twopeny on MIC. Military Cross and bar. Born 1893 in South Australia, commissioned into KEH 25/5/15 and returned to Australia 13/4/19 (see Figure 394 fro Peter Nemaric collection).