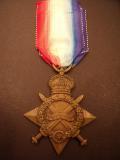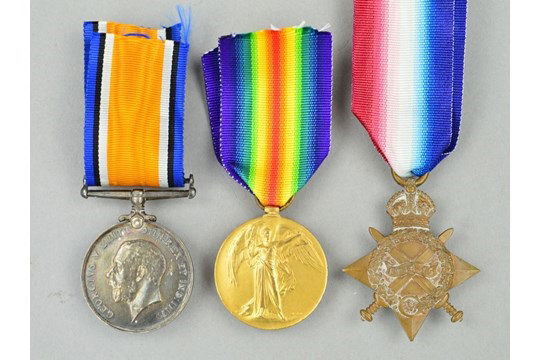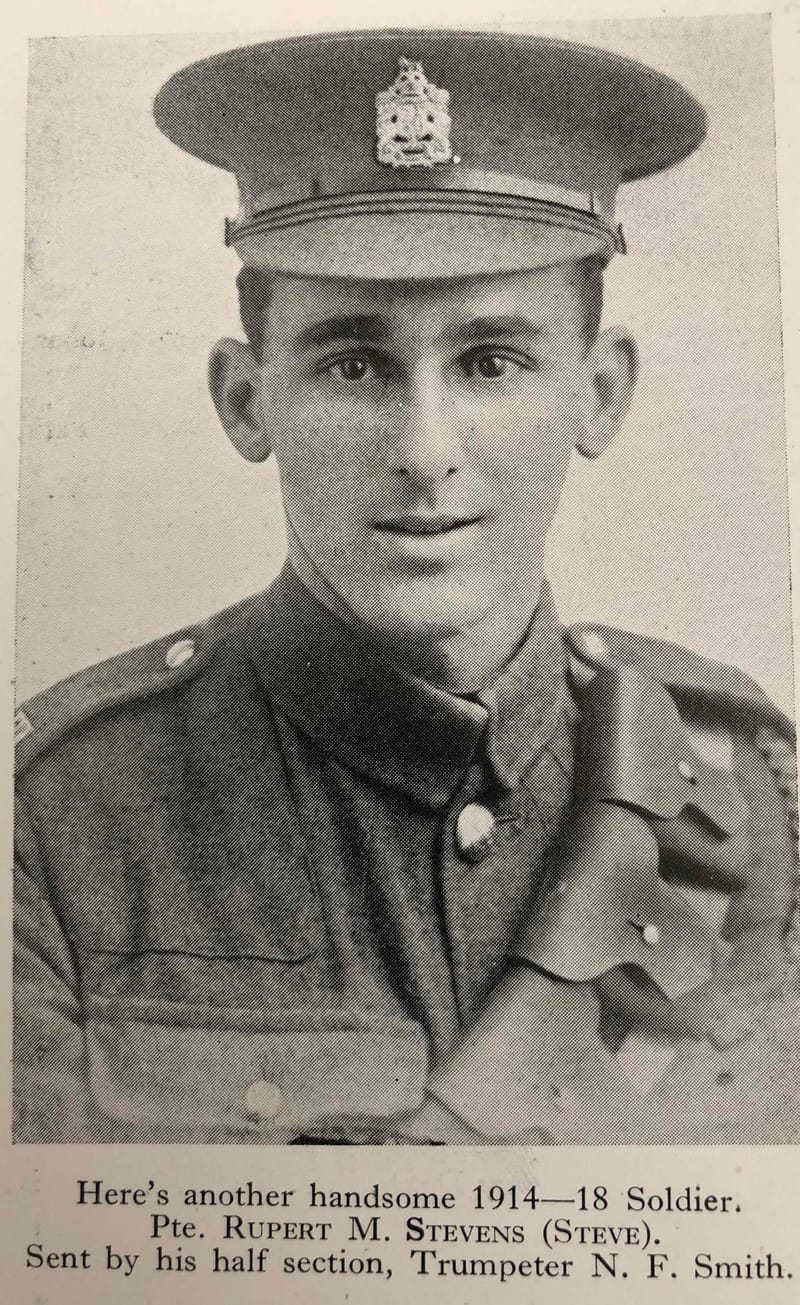 SLADE, Alfred. E. 1626, Private. 1914/15 Star named to 1626 PTE A. E. SLADE K. EDW. H. To France 15/7/15 with King Edwards Horse; discharged sick 23/8/16 & entitled to the Silver War Badge. 1914/15 Star sold and photograph courtesy greatwarmedals.com, 2018.
SLAPE R. H. D/12957 Private Dragoon Guards GS/6709, Private KEH, Private Corps of Dragoons
SLEATH Joseph H. 1173 Serjeant, Serjeant Labour Corps 409714
SLOMAN William 243 Private, Private Labour Corps 674063
SLY Alex Foushew 873 Private, Second Lieutenant Cheshire Regiment, Lieutenant Nigeria Regiment
SLY Harry 546 Private
SMITH Alan Kincaird 1264 Private, Lieutenant Highland Light Infantry
SMITH Arthur Cyril Godwin Second Lieutenant, Captain Royal Field Artillery, Captain Royal Air Force
SMITH Charles 802 Private, Acting Serjeant Royal Fusiliers G/95609
SMITH Charles B. 278 Private, Private Royal Engineers 246469
SMITH Edward Stratton 701 Serjeant
SMITH Ernest 1117 Private
SMITH E. S. 166 Corporal
SMITH F. H. 15 Corporal
SMITH Frederick Walter 2048 Private KIA 9/04/18. LOOS MEMORIAL, FRANCE. 690 on MIC as well
SMITH George Ernest Turner 1327 Private, Second Lieutenant Machine Gun Corps 22989
SMITH George M. O. 1781 Acting Corporal Lancashire Fusiliers 45504
SMITH Harold Broadfield 262 Private
SMITH Harry. 1526 Private, Private Royal Army Medical Corps 137450
SMITH H. 1184 Private
SMITH Humphrey 611 Private
SMITH Ignatius 1697 Private
SMITH, John. 784, Private. Arrived in France 21 April 1915 and discharged 12 March 1919. 1914/15 Star, British War Medal and Victory medal sold at auction 2017 and re-sold 2019. (Photograph of medal trio courtesy of Richard Winterton Auctioneers, United Kingdom).
SMITH John 1397 Private, Reverend Australian Imperial Force
SMITH John Robert 638 Private, Warrant Officer Class 2, Lieutenant and Quartermaster
SMITH Joseph 1861 Private, Private Northumberland Fusiliers 61241
SMITH L. G. D 14 Private
SMITH Malcolm L. 1911 Private, Private Northumberland Fusiliers 40114
SMITH Martin Dayton 1479 Private, Private Tanks Corps 112080, Private Lancashire Fusiliers 45505, and also served Heavy Branch, Machine Gun Corps but not recorded on MIC. Born in Boston, Massachusetts on 13/08/1892 and enlisted in KEH in Ireland around 08/04/1915 and deserted from British Army 14/09/1917 and enlisted in the US Army as a Private and deployed to France 22/04/1918. Died 09/07/1980 (Information provided by Keith on the Great War Forum).
SMITH Norman Frankling. 435 Private 'B' Squadron. Living in Surrey in 1951.
SMITH Percy N. 12445 Private, Private Royal Flying Corps 78354
SMITH Radnor H. 1701 Acting Serjeant
SMITH Reginald J. 16 Private
SMITH R. E. T. Private, Second Lieutenant Machine Gun Corps
SMITH Richard B. 1679 Private, Private Corps of Dragoons D/34019
SMITH Roy Captain Royal Field Artillery
SMITH Sidney Albert 248 Private
SMITH Walter 349 Lance Corporal KIA 12/03/1918 aged 38. 'B' Squadron. Son of Alfred and Jane Smith. ST. GERMAIN-AU-MONT-D'OR COMMUNAL CEMETERY EXTENSION, FRANCE.
SMITH William 2147 Private Army Service Corps T4/241940, Private KEH
SMITHERS Charles F. 1209 Private, Private Royal Engineers WR163, Private Machine Gun Corps 112270, Private Liverpool Regiment 85732
SMITHSON Arthur L. 1320 Private
SMYE William T. 1646 Private, Acting Serjeant Tank Corps 302781, Acting Serjeant Northumberland Fusiliers 61226
SMYTH Charles Douglas 1658 Private, Captain Leinster Regiment
SNAPE Herbert 760 Private
SODEN Henry Lewis Balfour 82 Serjeant, Lieutenant Army Service Corps, Lieutenant Supply and Transport Corps Indian Army Reserve of Officers. Named in a photograph at Colchester camp in 1911 see Figure 61.
SOLMAN Ernest 1083 Private, Private Labour Corps 414408 also spelt Soloman on MIC
SORZANO Fernando 1412 Private, Private Liverpool Regiment 85685
SOUTHWELL Harry D/9047 Private, Private Corps of Dragoons D/9047
SOWLEY Sidney 1099 Private
SPENCER George Edward 1043 Northumberland and Durham Imperial Yeomanry, Lance Serjeant, Second Lieutenant, Captain
SPRUCE Robert 865 Private
STACEY Reginald A. 1648 Private
STANFORD Frederick Edward Gordon 1441 Private, Second Lieutenant Queen's Regiment
STANLEY Jack 1264 Private
STANNING Thomas G. 1520 Private, Acting Corporal Royal Defence Corps 68942
STANTON C. J. 1675 Private, Private Military Foot Police P/14552
STAPLES Osric Osmond 1612 Serjeant, Second Lieutenant Royal Scots Fusiliers
STARK Lawrence 1937 Private, Private Lancashire Fusiliers 45507
STARLING Arthur Henry 1392 Private, Private Machine Gun Corps 112264, Private Northumberland Fusiliers 39903
STAUNTON L. A. Lynch 1027 Private
STEELE Ivan G. 727 Private
STEEN Ian Lieutenant, Longford 1915
STEIN Ian Ramsey Boorthron 413 Corporal, Lieutenant. Taken Prisoner of War 9/04/1918 and repatriated 10/12/1918.
STEPHENS Harry 1127 Private, Private Labour Corps 416780
STESSIGER H. P. Serjeant Major in 1908 and promoter of the King's Colonial Lodge.
STEVEN Hugh 1576 Private
STEVENS, George Percival. 48. Born in 1890 in Peckham, London, UK and educated at Askes's School, Hatcham. Son of Frank & Gertrude Stevens, 6 Danecroft Road, Herane Hill, London. Enlisted in the King's Colonials on 21/11/1907 and served until 28/02/1913. Re-enlisted 10/05/1913 and embodied 5/08/1914 with 'A' Squadron KEH. Entered France 1/06/1915 and discharged 23/11/1915. Commissioned Second Lieutenant 23/11/1915 in Royal Field Artillery KIA 21/05/1918 as a Lieutenant 232 Brigade RFA attached Royal Engineers.
STEVENS Rupert M. (Steve). 1463. Private. Born in Durban, South Africa and served with the KEH in Ireland, France and Italy. Secretary and President of KEH South African branch for many years. Named in photograph at 1904 camp in St Albans of the King's Colonials with Trooper Randall. Had several horses shot from beneath him. Died 9/05/1960. 1914 portrait photograph from (The King Edward's Horse Senior and Junior Comrades Association Annual Bulletin No 14, 1947).
STEVENSON Alexander 1329 Private. Discharged 13/12/1918.
STEVENSON Cecil B. 1740 Private. Reserve 4/12/1919.
STEVENSON Phillip. D. Lieutenant, Acting Captain. Adjutant KEH. Born in England and demobilised 01/1919. Lieutenant in KEH in 1915 see Figure 19.
STEVENSON Ralph C. 909 Private
STEVENSON Thomas 520 Private
STEWART Charles R. H. 990 Lance Corporal, Captain Royal Air Force
STEWART Christopher H. 1438 Private, Acting Lance Serjeant Northumberland Fusiliers 61173
STEWART Frank Algernon 845 Serjeant, Lieutenant Norfolk Yeomanry
STEWART John 165 Staff Serjeant Major, Captain attached Tank Corps
STEWART John F. 1376 Corporal
STEWART Sidney Joseph 713 Private, Lieutenant Royal Air Force
STEWART William Malcolm 918 Private, Captain, Second Lieutenant Devonshire Regiment attached Machine Gun Corps
STEYN Stephanus Sebastian Lombard 185 Lance Corporal, Lieutenant Royal Field Artillery
STILWELL Egerton 1500 Private
STIMPSON Richard 936 Private, Private Royal Flying Corps 319684
STOCKWELL Colin Francis St Clair. Second Lieutenant commanded 1st Troop, 'A' Squadron (British Asian) King's Colonials in 1903. London Gazette 8/05/1903. Served with Scottish Horse 12/11/1914 and then transferred to Royal Horse and Field Artillery 4/05/1915 in France. Awarded Legion de Honneur Croix de Chevalier 5/06/1917. 5th March 1917 - Attached to Headquarters Units Asst. Prov. Marshalls. Temporary Captain C F Stockwell, Gen List. 9/02/1921 - Asst. Prov. Marshal (Cl. FF).Temp. Capt. C. F. Stockwell, 'Gen. Last, and, relinquishes the temp, rank of Maj. 31/01/1921. Major Colin Francis STOCKWELL. Auxillary Forces. Born 26/04/1882 in Hong Kong and died in Shantung, China on 11/04/1936.
STONARD Jack W. 1845 Private, Private Liverpool Regiment 85729
STONE James B. 216 Sapper, Sapper Labour Corps 230743
STONER Henry B. 1250 Private, Private Tank Corps 112179
STOREY John 1158 Lance Corporal KIA 9/04/1918. VIEILLE-CHAPELLE NEW MILITARY CEMETERY, LACOUTURE, FRANCE.
STOW Sidney 1617 Private, Private Northumberland Fusiliers 59637
STRACHAN A. G. 732 Private, Second Lieutenant Royal Field Artillery
STRALENDORFF Richard 622 Private
STRATFORD Charles J. Captain King's African Rifles
STRATHDEE William 913 Private, Second Lieutenant Seaforth Highlanders 114724, Corporal Royal Garrison Artillery
STRATTON George 1505 Private
STREET James 907 Private
STRETCH Samuel 1218 Private
STRONG John 220 Private 720 on MIC as well, Corporal Labour Corps 385220
STUBBING Harold R. 2001 Private
STUDDY Robert Frank Barton 835 Private, Second Lieutenant Northamptonshire Regiment
SULLIVAN Kevin J. 1216 Acting Corporal
SULLY Frederick S. 1609 Private, Private Northumberland Fusiliers 61264, Private Tank Corps 302836, Corporal 302836 Christian name initial H. on MIC as well
SUMMERHAYES Joseph W. 1097 Private
SUNDERLAND Geoffrey 509 Corporal, Captain Royal Sussex Regiment
SUTTON Herbert F. 1258 Private
SWAIN Alec 733 Private
SWAIN Henry Thomas 1547 Lance Corporal, Second Lieutenant, Lieutenant. Could be in photograph Figure 33 Second Lieutenant Swaine?
SWAIN Robert E. 1355 Private, Second Lieutenant Royal Welsh Fusiliers. Could be in photograph Figure 33 Second Lieutenant Swaine?
SWAN John O. 1707 Private
SWANN Humphrey. Lieutenant, Major. Born 18/04/1885 in Wimbledon, Surrey, UK and enlisted in the KEH after leaving King's College at Cambridge university and commissioned in 1910. Went to France at the outbreak of the war with 'B' Squadron. Promoted to Captain in 1915 and became second in command of 'A' Squadron. As a Major he commanded 'C' Squadron in 1917 and was shot by a sniper and had a leg broken. After nine months he rejoined 'A' and then 'C' Squadron serving out the war. Major Swann died in November 1960 in Truro, Cornwall, UK (See Figure 19 and portrait photograph Figure 328 Copyright IWM HU 118798).
SWANEPOEL Christiaan Nicholas 788 Private KIA Arras, France 7/05/16. 2nd Troop. Born Rouxville, Orange River Colony, South Africa. CABARET-ROUGE BRITISH CEMETERY, SOUCHEZ, FRANCE.
SWARBRICK F. W. Staff Serjeant Major 21st Lancers appointed Acting Serjeant Major KEH in 1911.
SWEENEY William 1541 Private, Private Army Service Corps M/404885
SWINLEY Gordon Noel Balfour 1113 Private, Lieutenant King's Own Scottish Borderers
SYME David Allan Second Lieutenant, Captain Tank Corps
SYMONDS Charters J. Surgeon. Lieutenant King's Colonials 1902.
SYMONS William H. 1072 Private, Private Army Service Corps M/40922