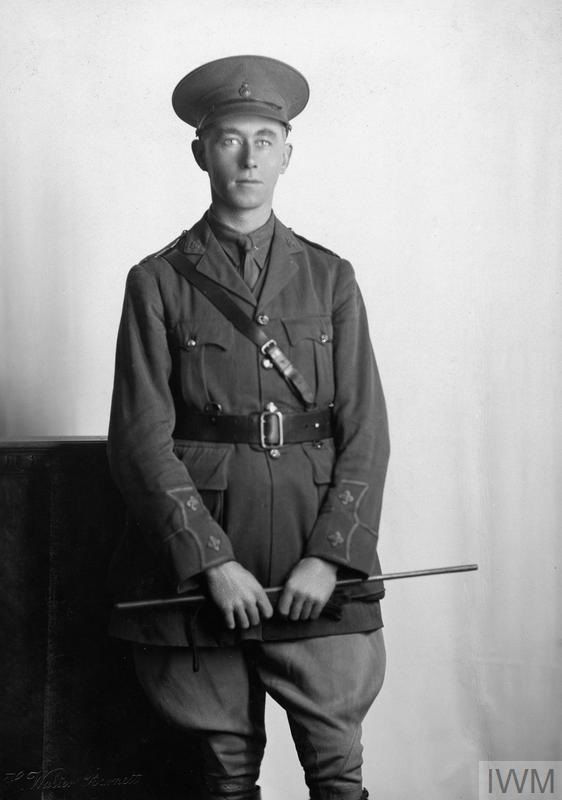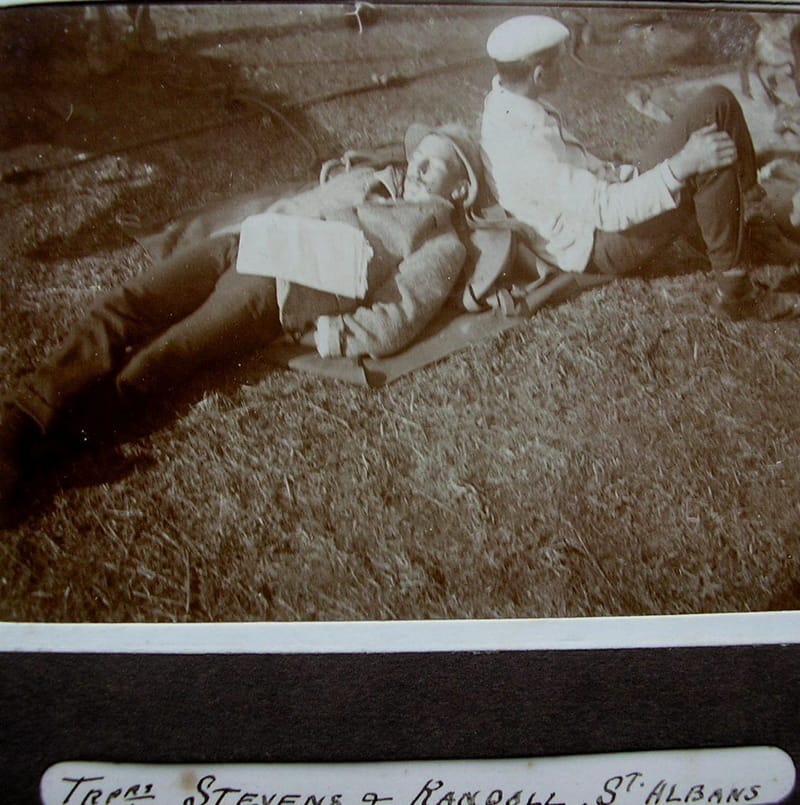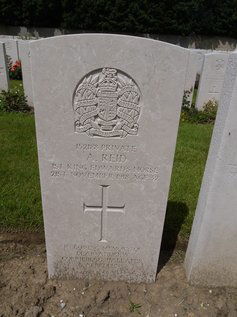 RABIN, Benjamin.1458. Private, Private Royal Engineers 251857, Private Royal Fusiliers GS/128840
RADDON, K. H. H. 1339. Private
RADFORD, Herbert C. 1643. Private
RAINBOW, Arthur G. 1667. Private, Private Tank Corps 302835, Private Northumberland Fusiliers 61274
RAINER, Christopher. 912. Private
RAMPLEN, Thomas. 1419. Private
RAMSDEN, Ludlan. D/15347. Corporal Dragoon Guards, Corporal KEH, Corporal Corps of Dragoons
RAMSEY, C. Lieutenant KEH. Captain in photograph Marlborough Barracks, Dublin 1918 see Figure 33. Portrait photograph wearing second pattern Officer's KEH headdress badge (Copyright Imperial War Museum HU 124675). RANDALL, . Private. Trooper Randall named in 1904 King's Colonials St Albans camp photograph and Trooper Stevens also named (photograph shown under STEVENS in Nominal Roll.
RANDERS, Harold K. 1722. Private
RANSSON, Sidney L. 1627. Private, Sapper Royal Engineers WR/42276, Private Machine Gun Corps 300510, Private Liverpool Regiment 85734
RAPSEY, Horace E. 1203. Private, Sapper Royal Engineers 246398, Private Machine Gun Corps 22985
RATCLIFFE, Thomas Massey. 666. Private
RATCLIFFE, W. J. Second Lieutenant King's Colonials 1902 and commanded 2nd Troop 'A' Squadron (British Asian) in 1903 (Photograph Figure 4).
RATHBONE, Victor. 106. Squadron Serjeant Major, Lieutenant, Longford 1915. Awarded the Military Cross as a Lieutenant. Lived in South America.
RAW, Frederick C. 740. Private, Private Royal Air Force 14090
RAW, Richard Trotter. 2060. Private, Lance Corporal Northumberland Fusiliers 61196, Second Lieuenant Royal Flying Corps
RAY, Edward P. 1723. Corporal, Corporal Liverpool Regiment 85787, Corporal Army Service Corps A/454648
RAY, Kenneth. 20. Private
RAYMOND, William G. 1723. Private same regimental number on MIC as Edward P. Ray
RAYNER Harris S. D/13631 Private, Private Corps of Dragoons
READ Albert Henry 209 Private
REARDON Jos D. 1251 Lance Corporal, Lance Corporal Labour Corps Irish Command 329908
REDFERN Thomas 423 Private, Private Northumberland Fusiliers 61276
REDFORD, Daniel Benjamin. 259. Private
REES, Caesar D. 1434. Private, Second Lieutenant Liverpool Regiment
REES, David J. 1129 Private KIA 19/08/17 aged 40. Son of Evan and Anne Rees of 26, Chancellor's Road, Fulham Palace Road, Hammersmith, London. Buried in GWALIA CEMETERY, BELGIUM.
REEVES, Alfred Henry. Captain KEH.
REEVES, Allan S. 747. Private. From Southern Rhodesia.
REEVES, William G. 1798. Corporal, Corporal Northumberland Fusiliers 61195, Corporal Tank Corps 302794
REID, Andrew. 152188. Private. DoW 21/11/1918 aged 32. Son of Andrew and Margaret Reid of Collickreich, Ballater; husband of Isabella Reid of Craiggowan Golf Road, Ballater, Aberdeenshire. Buried in TERLINCTHUN BRITISH CEMETERY, WIMILLE, FRANCE.
REID, Harry. 1491. Sapper Royal Engineers 229155, Sapper KEH, Sapper Royal Engineers WR/263358
REID, Hugh D. 220. Serjeant Major, Acting Warrant Officer Class 1
REID, Jeremiah.1597. Private, Private Lancashire Fusiliers 45521
REID, Oswald Douglas. 1418. Private. Accidentally drowned at Baldoyle near Dublin, Ireland 18/08/16. Son of Thomas and Catherine Reid. Buried in ANNAN CEMETERY, UK.
REISSLAND, Charles F. 1143. Private
RELIHAN, Matthew. 1492. Private, Private Labour Corps 23075
REMMETT, Charles William. 873. Private, Lance Corporal. Awarded Meritorious Service Medal as a Lance Corporal.
RENDALL, Richard W. 1605. Private
REYNOLDS, Allan Boyd. Captain then Major KEH and then Lieutenant Colonel Royal Lancaster Regiment. Photograph in 1915 see Figure 19. Born in the UK.
REYNOLDS, Alfred N. 1361. Corporal
REYNOLDS, Francis O. 1838. Private
RICH, Geoffrey Gordon. Serjeant Canterbury Mounted Rifles 7/424, Lieutenant 1st Troop 'A' Squadron KEH Vieille Chappelle 1918. Awarded the Military Cross as a Lieutenant.
RICHARDS, John. D/17226. Private Dragoons, Private KEH, Private Corps of Dragoons
RICHARDS, Richard. 1627. Private, Private Royal Engineers WR/285721
RICHARDSON, Arthur. 1326. Private, William on MIC as well with same number
RICHMOND, Frank George. 1121. Corporal, Serjeant Machine Gun Corps 22986
RICHMOND, Robert. 1567. Private
RIDGEWAY, William Kemp. 1593. Private, KEH New Zealand - Ridgway on MIC as well
RIDGWAY, George. D/16746. Private Dragoon Guards GS/21465, Private KEH D/16746, Private Corps of Dragoons D/17646
RIGG, Robert G. 1494. Private
RINDER, Robert Toynbee. 1446. Private
RING, John. 1534. Private, Private Tank Corps 302811, Private Northumberland Fusiliers 39915, Private Lancashire Fusiliers 40592
RIPPINGALE, Ernest. 746. Staff Quarter Master Serjeant, Second Lieutenant
RITCHIE Ernest 1763 Serjeant, Serjeant Tank Corps 112012