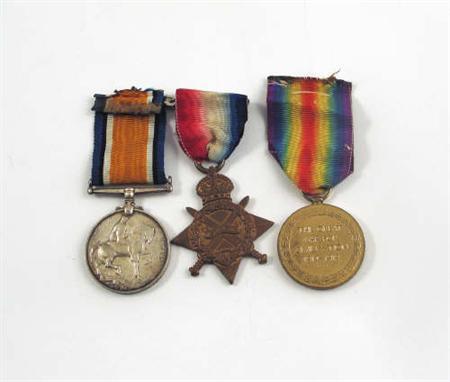 PAGE, Harry. D/18319. Private, Private Corps of Dragoons
PAGE, Lance St Allard March. Sapper, Second Lieutenant Royal East Kent Mounted Rifles
PAGE, William Augustus. 458. Serjeant, Staff Quarter Master Serjeant. Regimental Police Serjeant. Awarded Meritorious Service Medal as a Squadron Quarter Master Serjeant. Died in May 1946 in South Harrow, UK
PAGE, William George. 329. Private
PAINE, James Spark. 1336. Lance Corporal KIA 18/10/1918 aged 30. Son of George and Elizabeth Susan Paine of 6 Forest Road, Forest Gate, Essex. Buried in LILLE SOUTHERN CEMETERY, FRANCE.
PALING, Ernest John. 928. Private
PALMER, J. H. Noted as T. H. in Regimental history. Squadron Quarter Master Serjeant (ex-10th Hussars) Permanent Staff King's Colonials 1902. Squadron Serjeant Major in 1909 and promoter of King's Colonial Lodge. Retired in 1911 (Photograph see Figure 5).
PANKHURST, Clive Reginald. 1693. Sapper, Sapper Labour Corps Home Service Company 236746. Also spelt Parkhurst on another MIC.
PAPE, Thomas. 1645. Private, Private Liverpool Regiment 91424, Private Tank Corps 302879.
PAPWORTH, Edward. D/6035. Private Dragoons, Private KEH.
PARE, Arthur Edward. 1281. Private, Captain Royal Engineers.
PARISH, Edward A. 1225. Private, Private Royal Fusiliers GS/140947.
PARKE, George. 1888. Private, Private Army Service Corps M/403853.
PARKER, Arthur B. 1103. Private.
PARKER, Ernest Harry Thomas. Private, Lieutenant Royal Field Artillery.
PARKER, Percy Horace. Private, Major Machine Gun Squadron East Riding Yeomanry.
PARKER, Rudolph O. 1664. Private, Second Lieutenant Royal Engineers.
PARR, Charles D. 939. Private, Private Royal Fusiliers GS/59500.
PARRY, Harold. 157. Private.
PARSON Ernest Edward Second Lieutenant Royal Field Artillery, Temporary Lieutenant Royal Field Artillery
PARSONS Gerald M. 383 Private
PARSONS Harold L. 1663 Corporal, Corporal Machine Gun Corps 105389
PARSONS Harry 502 Private
PARSONS Henry Arthur 903 Private, Second Lieutenant Royal Engineers
PARSONS Percy J. 1470 Private
PASCOE Claude Alfred Leonard 1560 Private, Major London Regiment attached Machine Gun Corps
PATELL Jack William. Second Lieutenant in photograph Marlborough Barracks, Dublin 1918 see Figure 33.
PATERSON James. 1379. Private
PATERSON James. 1654. Acting Corporal, Acting Corporal Machine Gun Corps 105390
PATTEN Stanley. 1741. Private
PATTERSON, Frederick. 1716. Private
PATTINSON, Jeffrey. 1291. Private, Lieutenant Border Regiment
PATTISON, Albert. 1403. Serjeant
PAUL, Horatio Wilmot. Captain Welsh Mounted Brigade, Captain Royal Army Service Corps
PAUL, Randall 691. Acting Corporal
PAYNE, Alfred 1966. Private
PAYNE, Edward 1090. Private, Private Yorkshire Dragoons 3682, 175658
PAYNE, John R. 548. Private
PAYNE, Robert McGeorge. 1922. Private
PAYNE, Stanley James. 1555. Lance Corporal. Awarded Military Medal for action at Cambrai Dec 1917.
PAYNE, Stanley J. 130. Re-numbered 1555. Discharged 11/02/1919.
PAYNE, Walter D. 474. Private
PEACH, Walter H. 1391. Private
PEARCE, Edward Lithgow. Lieutenant.
PEARCE, Vivian. Private. South African and saw service in France in WW1.
PEARCH, Walter Bancroft. Captain King Edward's Horse 1910. Commanded the Liverpool Troop as a Lieutenant which was attached to the 'A' (British Asian) Squadron from 16/03/1906. Walter Bancroft Pearch was born on the Wirral in 1877 and was first commissioned into the 1st Lancashire Volunteer Artillery Corps in November 1899. He was then with the Imperial Yeomanry in the Boer War, serving with 29th Squadron, IX I.Y as a Lieutenant. In WW1 he seems to have served only within UK, probably on staff duties, and earned no war medals. After WW1 he lived in London and then in Folkestone. He retained his military rank in all entries in directories and electoral registers until his death in 1952; probate records show that he left an estate valued at £65, 649; his civilian occupation in 1912 was stockbroker. In 1939 he was 'Lieutenant Colonel retired', evidently unmarried but with a resident chef/valet.
PEARMAN, Arthur T. 1018. Corporal
PEARSON, Cyprian T. 774. Private, Second Lieutenant Royal Field Artillery
PEARSON, H. A. Second Lieutenant, Acting Captain Machine Gun Corps
PEARSON, Henry E. 1273. Private
PEART, James R. 1548. Private
PEASE, Edward. 1391. Private, Second Lieutenant East Lancashire Regiment
PEATTIE, Henry R. 1417. Private
PEET, James W. 1284. Private, Private Tank Corps 112116
PEGG, William 1622. Private, Serjeant Machine Gun Corps 22984
PEMBERTON, . Private King's Colonials 1904. Photograph see Figure 53.
PENN, Sidney H. 1320. Private, Private Lancashire Fusiliers 40589
PENNEFATHER, John W. E. 1000. Private
PENNEFATHER, Ronald H. 1753. Sapper Royal Engineers 342459, Sapper KEH
PENNIE, Oliver. 1818. Private. Enlisted 19/09/1915 and joined the BEF in France 29/06/1916 and transferred to the Tank Corps as Private 300531 on 7/08/1917.
PENNIFOLD, Albert. 1109. Private, Private Labour Corps 609026
PERIGRINE, James Nicholas. 1800. Rifleman Natal Light Horse 26, Private KEH, Second Lieutenant Manchester Regiment
PERKINS, Charles B. 618. Acting Serjeant. Awarded the Belgian Croix de Guerre as a Corporal KEH.
PERKS, Charles. 1095. Private, Corporal Tank Corps 112272
PERRETT, Albert H. D/11603. Private, Private Corps of Dragoons
PERRY, John Anthony. 2051. Private KIA 9/04/18 defending Vieille Chapelle. LOOS MEMORIAL, FRANCE. Name commemorated on SOUTH FULHAM CONSTITUTIONAL CLUB, Hammersmith and Fulham, London, UK.
PERRYMAN, Alfred H. 1165. Private
PERRYMAN, E. 1229. Private
PETCH, Albert D/15352. Corporal 1st Dragoons, Corporal KEH, Corporal Corps of Dragoons
PETERS, Leonard. 254. Private, Private Northumberland Fusiliers 39967
PETT, Frederick John. 1201. Private
PETTITT, John Charles Mason. 112176. Second Lieutenant Royal Field Artillery, Second Lieutenant Royal Engineers, Lance Corporal KEH
PHELAN, Patrick Joseph. 1959. Private, Private Northumberand Fusiliers 61194, Private Tank Corps 302786
PHILLIPS, Charles G. 833. Private
PHILLIPS, Horace V. 237. Private. Discharged 17/06/1919.
PHILLIPS, Leonard Wilkin. 357. Private
PHIPPS, Alfred George 657 Private, Second Lieutenant Suffolk Regiment, Lieutenant Royal Welsh Fusiliers
PIERSON, Horace. 1366. Private, Private Royal Flying Corps 65247
PIGGOTT, Arthur Vincent. Lieutenant
PIKE, Francis J. 241. Acting Serjeant 2112 on MIC as well
PIKE-STEPHENSON, Daniel. 515. Serjeant, Second Lieutenant South Staffordshire Regiment
PILBEAM, Ernest E. 857. Acting Serjeant. From China. Brothers William and Arthur Royal Navy, son or nephew William Royal Engineers. Civilian portrait photo on Hastings & Rotherham Family History.
PILCH, G. H. 105. Serjeant. Awarded Special Reserve Long Service and Good Conduct Medal April 1915.
PILE, Arthur Douglas. 1084, Private. 1914-15 Star, War and Victory Medals (1084 Pte. A. D. Pile, K. Edw. H). Arthur Douglas Pile died on the 21st August, 1917 and is buried in the Divisional Collecting Post Cemetery Extension at Leper, West-Vlaanderen, in Belgium. KIA by shellfire near Ypres 21/08/1917 aged 21. Born 10th April 1896. Son of Richard and Beatrice Pile of Netton, Salisbury. Commemorated on plaque in St Andrew's Church, Salisbury, Wiltshire (Image of medals courtesy of Woolley and Wallis Auctioneers, UK, 2006).
PINCKNEY John William 505 "Corporal, Lieutenant KIA 11/04/1918 aged 23. Son of George and Edith Howard Pinckney, of Waikaia, Southland, New Zealand. BAILLEUL ROAD EAST CEMETERY, ST. LAURENT-BLANGY, FRANCE. Name commemorated on plaque in St Peters Church, Buntingford, East Hertfordshire, Hertfordshire, UK."
PITT John 767 Private, Private Labour Corps 575684
PITTMAN William R. D/17002 Acting Serjeant Dragoon Guards D/17002, Acting Serjeant KEH D/17002, Acting Serjeant Corps of Dragoons D/17002
PIZER Ernest Justius 1179 Private
PLANT Albert Edwin 866 Private
PLANTE Cecil P. 1784 Private
PLAYLL Charles E. 63 Private
PLOWMAN Harry Francis Stanley 1190 Private, Second Lieutenant, Lieutenant Royal Field Artillery
POCOCK Arthur J. 946 Serjeant
POLCHET Gaston 1174 Private
POLDING Hubert 876 Acting Corporal
POLLARD Ernest 219 Private, Sapper Royal Engineers WR/276845, 309132
PONTON Alfred G. 919 Private
POOL, Arthur Harry William. 1439. Private, Second Lieutenant Royal Field Artillery
POOLE, Bernard J. 112. Private, Private Army Service Corps S/343580. A Corporal Poole is shown in KEH Colchester Camp 1911 photograph see Figure 61. Awarded Special Reserve Long Service and Good Conduct Medal as Private Poole May 1921.
POOLE, Bertie S. 2044. Private
POPHAM John Francis Watson Sapper, Temporary Captain Leicestershire Regiment
PORTEOUS Leonard G. 1708 Private, Private Royal Flying Corps 103712
PORTER Hubert W. 601 Private, Private Royal Engineers 311021
PORTER Jack Charlton 846 Private, Second Lieutenant Machine Gun Corps
POTTER Frank 930 Corporal, Serjeant Lancashire Fusiliers 40588
POTTER Frederick 1641 Private, Private Machine Gun Corps 105391
POTTER, Walter H. 1666. Private, Lance Corporal Tank Corps 302796, Lance Corporal Northumberland Fusiliers 61217
POWELL, Edgar 1796. Private, Private Labour Corps 640838
POWELL, Edward L. 1392. Private
POWELL, Frank E. D/11604 Private, Private Corps of Dragoons
POWELL, Henry. 1454. Private
POWELL, Matthew Alexander. 1261. Private, Second Lieutenant Lincolnshire Regiment
PRESNAIL, Albert. 1954. Acting Corporal, Acting Corporal Tank Corps 302270
PRESNALL, Edward J. 1792. Serjeant
PRESTON, Charles J. 688. Serjeant
PRESTON, Michael J. 1485. Private
PRETORIUS, Wessel J. 126. Corporal, Serjeant. Commissioned Second Lieutenant KEH 24/09/1917.
PRICE, Elias William. 415. Lance Corporal, Private Labour Corps 597325
PRIESTLEY, Charles. 1095. Private
PRITCHARD, Harold Quayle. 1633. Private KIA 20/11/1917 aged 19 near Cambrai. Son of William Henry and Anne Jane Pritchard of 27 Woodhall Road, Liverpool, UK. Buried in the ANNEUX BRITISH CEMETERY, FRANCE. Commemorated on Liverpool Town Hall Roll of Honour. Entitled to British War Medal and Victory medal.
PRITCHARD, William Second Lieutenant Royal Field Artillery, Second Lieutenant KEH, Lieutenant Royal Field Artillery
PRIVETT, Robert 1639 Private
PROCTER, Frederick G. S. 1042 Private
PROCTOR, Cecil H. D/13901 Private, Private Corps of Dragoons
PRODGER, Alfred D. 1200 Private, Private Tank Corps 112084
PYE, Alan 1154 Private
PYE, Arthur. 85. Private
PYKE, F. J. 241. Private 2112 on MIC as well - also spelt PIKE in Nominal Roll
QUAYLE, Charles Malcolm. 1127. Private, Second Lieutenant attached Machine Gun Corps Cavalry, Lieutenant
QUICK, Ernest J. 950. Private
QUINN William. 1447.Private