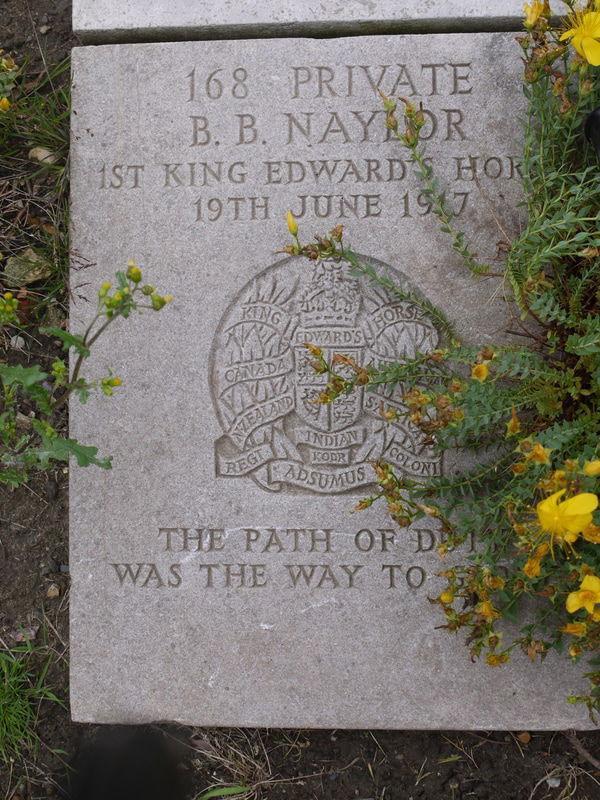 NAGLE, Cornelius. 1647. Private, Private Labour Corps
NASH, Frederick C. 2043. Private
NASH, Nowell. 13414. Private, Captain London Regiment
NAUDE, Benjamin. 1234. Private
NAYLOR, Benjamin Birchall. 168. Private, born in Litherland, Lancashire and enlisted in Liverpool. KIA 19/06/17 aged 26. 'B' Squadron. Son of Benjamin Shepherd Naylor and the late Caroline Naylor of Grasmere, Blundellsands, Liverpool. BOULOGNE EASTERN CEMETERY, FRANCE. Commemorated on Hightown Club WW1 Roll Of Honour, Hightown and Blundellsands Wesleyan Sunday School Plaque, Liverpool, Merseyside.
NAYLOR, James. W. 252. Serjeant. Discharged 28/02/1919.
NEALE, Horace. 795. Private, Private Tank Corps 302812, Private Northumberland Fusiliers 39890, Private Lancashire Fusiliers 40584
NEALE, Patrick Ernest. 1019. Private, Lieutenant Machine Gun Corps
NEL, Johannes P. 1356. Corporal
NELSON, Gilbert H. 2047. Private
NELSON John 1460 Private, Private Machine Gun Corps 111987, Private Northumberland Fusiliers 61219
NEUWIRTH Arthur 1997 Private
NEVILLE John B. 1712 Private
NEWBURY Christopher 1318 Private
NEWBURY George Grinsted 1198 Private, Private Royal Flying Corps 65143, Second Lieutenant Royal Air Force
NEWBURY Robert S. 1197 Private, Private Royal Flying Corps 65111
NEWMAN Eric J. 1706 Private
NEWSTEAD Horace 1569 Private 2124 on MIC as well
NEWTON Frank 1180 Private
NIBLETT George 1461 Private
NICCOL, George McLaughlin. 499. Private, Captain Royal Field Artillery
NICHOLLS, Phillip G. 1681. Private
NICHOLS, William. 996. Private, Private Labour Corps 421740
NICHOLS, William. D/10690. Private, Private Corps of Dragoons D/10690
NICKSON, R. G. 1015. Lance Corporal
NIELSON, Louis. 2231. Private Machine Gun Corps 55135, Private KEH
NOBLE, Percy Welstead H. 642. Private 26/08/1917. Buried in DUHALLOW A.D.S. CEMETERY, BELGIUM.
NORMAN, Edward A. 1481. Private, Private Tank Corps 159047, Private Northumberland Fusiliers 39913, Private Lancashire Fusiliers 40585
NORMAN, Reginald. 1676. Private, Private Royal Fusiliers GS/59068, Private London Regiment 783503
NORTHCOTE, Thomas Francis. Second Lieutenant, Lieutenant Royal Air Force
NUNN, George Richard. 1216. Private
NUTT, Ernest E. D/6372. Private Dragoon Guards D/6372, Private KEH D/6732
NUTTALL, Walter E. 1238. Private