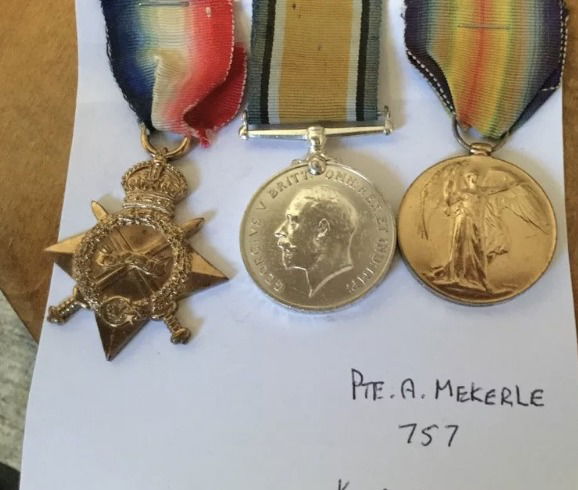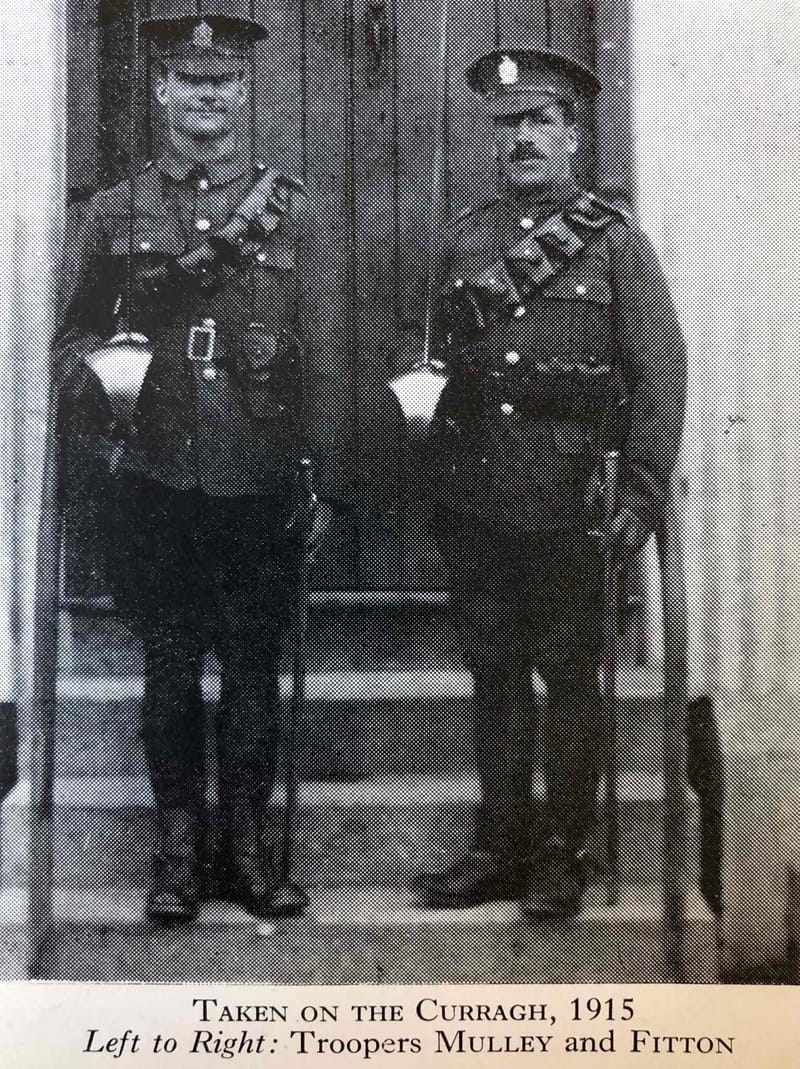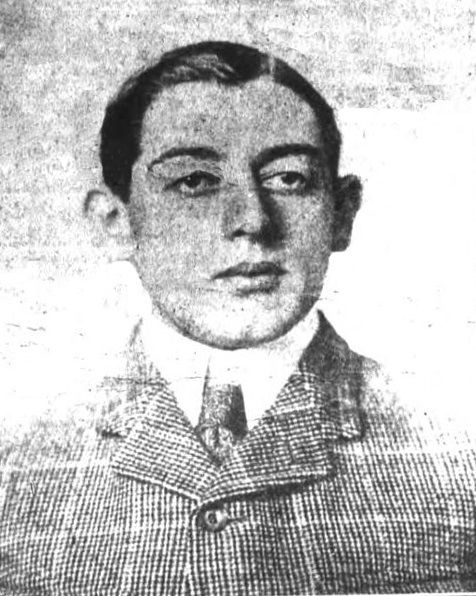 MEAD John H. 1123 Private
MEADS Robert A. 2042 Private, Private Lancashire Fusiliers 45487, Private Army Service Corps R/384020
MEAKIN Reginald A. 1383 Corporal, Corporal Royal Engineers 311019
MEARS George 605 Private
MEARS John L. 1749 Private
MEE F. 871 Private, Private Military Mounted Police P/12000
MEEK Maurice 836 Private, Private Labour Corps 443834
MEIKLE George Mather. 789. Acting Serjeant then Second Lieutenant. From Ireland. Second Lieutenant in photograph Marlborough Barracks, Dublin 1918 see Figure 33. Photograph on kingedwardshorse.net
MEIKLE Thomas B. 350 Private, Private Labour Corps 585705
MEIKLEJON Robert Wright 1239 Private, Second Lieutenant Hussars. Portrait photograph as a civilian.
MEIKLEM John 1037 Private
MEKERLE Alexander. 757. Private, Private Machine Gun Corps 105382. 1914-15 trio and entitled to Silver War Badge (for those who had been honourably discharged due to wounds or sickness from military service in the Great War). Later served with the Machine Gun Corps. Medals for sale in the UK in 2019 (Bill Friar Medals).
MENKENS William E. 1568 Private, Serjeant Royal Engineers WR/275822, 306757
MERCER Alex W. 2172 Private Army Service Corps T/1775, Private KEH, Private Army Service Corps T/4240941
MERCER Frederick E. 1618 Private, Corporal Tank Corps 302783, Corporal Northumberland Fusiliers 61192
MERCER Thomas Melbourn 382 Private, Second Lieutenant Machine Gun Corps
MERCHANT William John 1160 Lance Corporal, Second Lieutenant London Regiment
MERRICK Arthur L. 202 Corporal, Serjeant Labour Corps 672693
METCALFE J. C. 7 Serjeant
MeVOY named in Figure 22
MILES Henry F. 1378 Private
MILES Horace 1062 Private, Lieutenant Oxfordshire and Buckinghamshire Light Infantry
MILES John 1257 Private, Private Labour Corps 230745
MILLER Arthur G. P. 1604 Private, Private Royal Flying Corps 103243
MILLER George Alfred (Albert) 1039 Private KIA 19/08/17 aged 30. Son of Dr. George Foy, F.R.C.S., and Annie Miller, his wife. Born at Clontarf, Dublin. GWALIA CEMETERY, BELGUIM. Commemorated on Liverpool Town Hall Roll of Honour. Entitled to British War Medal and Victory medal.
MILLER Timothy 1641 Private 2121 on MIC as well
MILLER Wallace 1421 Corporal, Corporal Tanks Corps 302871, Corporal Northumberland Fusiliers 61237
MILLER Walter E. 1137 Lance Corporal, Serjeant Tank Corps 302870, Serjeant Northumberland Fusiliers 61171
MILLETT Frederick G. 554 Private
MILLS Thomas 1909 Private
MILNE William F. 1108 Corporal, Corporal Labour Corps 565814
MILNER Robert H. 1154 Private, Lieutenant Yorkshire Dragoons
MILNES Harold Harvey 2021 Private 30/10/1918. Died in service. GRANGEGORMAN MILITARY CEMETERY, IRELAND.
MILROY Joseph 1152 Private
MILROY Robert 1164 Private, Private Machine Gun Corps 105387
MILTON Alex C. 1690 Serjeant, Serjeant Northumberland Fusiliers 61299
MINTER Frank 1024 Private, Private then Second Lieutenant Machin Gun Corps 104511
MITCHALL John F. 1338 Private, Private Labour Corps 447031
MITCHELL Archibald McKerrow. 791. QUEEN'S SOUTH AFRICA 1899-1902, 3 clasps, Cape Colony, Transvaal, Laing's Nek (7893 Pte., Scottish Rifles); KING'S SOUTH AFRICA, 2 clasps (1695 Pte., Cape Town Hdrs.); 1914-15 STAR (791 Pte., K. Edw. H.); BRITISH WAR AND VICTORY MEDALS (2.Lieut.) Quarter Master and Lieutenant G.S.J. Roberts, Liverpool Regiment, late East Surrey Regiment QUEEN'S SOUTH AFRICA 1899-1902, 2 clasps, Tugela Heights, Relief of Ladysmith (2958 Sgt., 2nd E. Surrey Regt.); 1914-15 STAR (22233 Q.M. Sjt., L'pool R.); BRITISH WAR AND VICTORY MEDALS (Q.M. & Lieut); ARMY L.S. & G.C., E.VII.R. (C. Sgt., E. Surrey Regt.) Medals sold at auction by Dix Noonan Webb, UK in December 1992.
MITCHELL George D. 781 Private
MITCHELL J. J. 814 Private, Private Royal Engineers 348828, WR/204568
MITCHELL John F. 1338 Private
MOFFAT L. P. Lieutenant Lancers, Lieutenant KEH, Lieutenant Indian Army.Photograph shown as Figure 31.
MOIR David G. 152389 Serjeant Scottish Horse 152389, Serjeant KEH, Serjeant Corps of Dragoons D/35278, Acting Warrant Officer Dragoon Guards D/35278
MOLLOY Henry S. 1554 Private, Private Royal Engineers 12606
MONK Albert Victor Major
MONTGOMERY Albert Victor 787 Corporal, Lieutenant King's African Rifles
MONTGOMERY John McL. 1049 Private, Second Lieutenant. From Australia. From Australia, enlisted 1915 and died in 1917. Father Dr J. P. Montgomery from Terang, Victoria. AIF attestation papers for service abroad, unable to find address.
MOON Frederick George 1267 Private, Second Lieutenant Lancashire Fusiliers, Lieutenant Royal Army Service Corps
MOON Winfield A. 1347 Private, Lieutenant Machine Gun Corps
MOORE Albert W. 1091 Private
MOORE Basil O. 592 Private, Captain Royal Field Artillery
MOORE Ernest G. 233 Private
MOORE Frederick E. 840 Private 2123 on MIC as well
MOORE Reginald Joseph No rank KEH, Royal Field Artillery, Lieutenant Gold Coast Regiment
MOORHOUSE Eric G. 144 Private, Second Lieutenant Lancashire Fusiliers, Lieutenant Lancashire Hussars, Lieutenant Indian Army
MORANT Arthur F. H. 1088 Private
MORGAN Charles 273 Private, Private Liverpool Regiment 85735
MORGAN James 1681 Corporal, Corporal Northumberland Fusiliers 40121, Corporal Tank Corps 302863
MORGAN J. 1396 Private, Private Military Mounted Police P/12038
MORGAN Oswald William 717 Serjeant, Second Lieutenant Royal Field Artillery
MORGAN V. 889 Lance Corporal
MORLEY Alfred C. 1436 Sapper Royal Engineers 208130, Sapper KEH, Sapper Royal Engineers WR/509534
MORLEY Harold J. 772 Private
MORRIS Dan 1047 Squadron Serjeant Major, Second Lieutenant Reserve of Lancers
MORRIS Eyre Percival 1253 Private, Second Lieutenant East Kent Regiment
MORRIS Henry Hugh 1306 Private, Second Lieutenant East Kent Regiment
MORRIS James 1710 Private, Private Tank Corps 302834, Private Northumberland Fusiliers 61312
MORRIS Joseph Henry 892 Private KIA 11/04/1918 (aged 29).Son of Mrs. Emily Morris, of 150, Dudley Rd., Northfield, Worcs; husband of the late Margaret Morris. LOOS MEMORIAL, FRANCE.
MORRIS Lawrence Henry 1709 Private, Private Tank Corps 302833, Private Northumberland Fusiliers 61310
MORRIS Walter J. 1776
MORRISH Cyril George 1770 Private, Second Lieutenant Herefordshire Regiment attached
MORRISON Alexander 1896 Private
MORRISON Henry 1592 Private, Drummer Liverpool Regiment
MORTLOCK Ernest 847 Lance Serjeant
MORTON John 1688 Private, Lieutenant Royal Engineers
MORTON John H. 1259 Private, Private Labour Corps 230747
MORTON Lewis 1512 Private
MOSS John Albert 242 Private
MOSS Sydney 1638 Private, Lieutenant Middlesex Regiment
MOSS Thomas 1686 Private, Private Royal Defence Corps 68940
MOSSMAN Bertie A. 1023 Private
MOSSMAN Ellis Leopold 1022 Private KIA 09/04/1918 (aged 29). Enlisted in Bristol. Entered theatre 2 June 1915. Son of Hubert Leopold Mossman and Emily Mossman, of "Upton", Lodge, Jamaica, B.W.I. LOOS MEMORIAL, FRANCE. MEMORIAL PLAQUE IN ST. DUNSTAN'S CHAPEL, JAMAICA COLLEGE CAMPUS, WEST INDIES.
MOXHAM Arthur W. 908 Private, Corporal Lancashire Fusiliers 40580
MUGFORD Richard H. 855 Serjeant, Lieutenant Devonshire Regiment
MUGGLEWORTH Harry 1782 Private, Private Military Foot Police P/8556
MUIR George J. 827 Private
MUIR James M. 287 Lance Corporal
MULCAHY Francis P. 1474 Private
MULES Philip Austin 871 Corporal, Captain Tank Corps
MULLEY Reginald 1215 Corporal, Corporal Royal Fusiliers GS/59470. Photograph taken at the Currragh in Ireland in 1915 as Trooper Mulley together with Trooper Fitton.
MULLORD Eric 2047 Private, Private Staffordshire Yeomanry 76096
MUNN Private served in Dublin
MUNRO Donald 1600 Private, Private Rifle Brigade 29115, Acting Captain and Adjutant Labour Corps
MURDOCH Wills John Hughes 1333 Acting Corporal
MURPHY David 1598 Private 2097 on MIC as well
MURPHY Louis 1244 "Private. Died in service 16/04/16. Husband of M. Murphy, of 36, Little Strand St., Dublin.
CURRAGH MILITARY CEMETERY, IRELAND."
MURPHY Thomas 1607 Private
MURPHY Timothy 1649 Private, Private Army Service Corps M/405027, Private Royal Fusiliers G/59064
MURRAY A. C. Major
MURRAY Eric Moray 966 Private, Lieutenant
MURRAY Hon. Arthur Cecil Major
MURRAY Laugham D. 310 Lance Corporal
MURRAY M. G. D. Second Lieutenant in KEH 1910
MURTON Herbert M. 1093 Private 'C' Squadron KIA 16/01/16 aged 29. Son of Mr. W. A. Murton, of "Kerribree," 661, Inkerman Rd., Caulfield, Victoria, Australia. Born at Rochester, England. MAROC BRITISH CEMETERY, GRENAY, FRANCE.