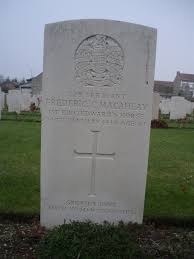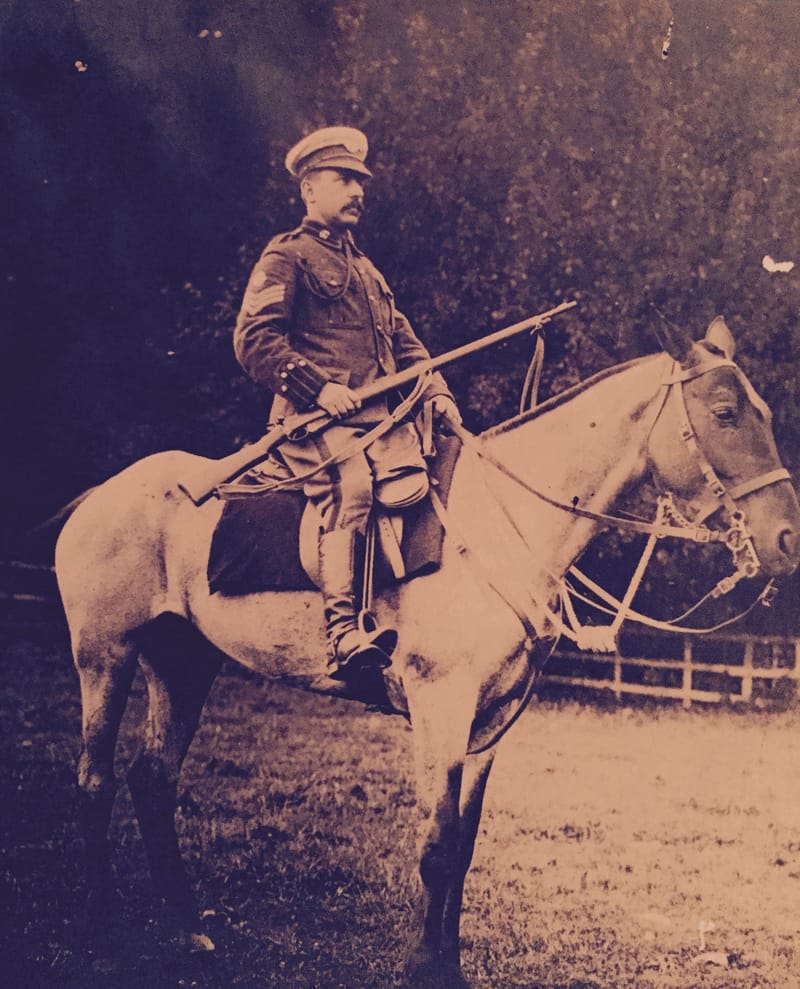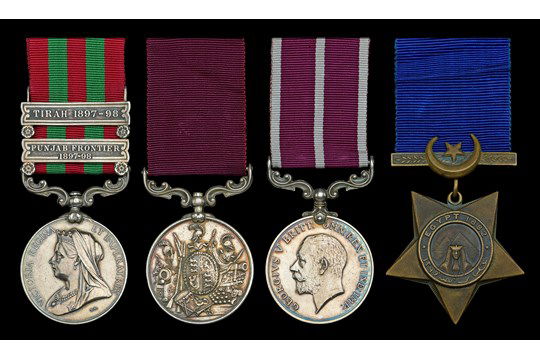 MACAULAY, Frederick. C. 729. Serjeant, Lieutenant. 'D' Squadron. Killed in action in 1915. Served as a District Commissioner in North Rhodesia for 12 years. Name recorded on a commemorative tablet upon the War Memorial, Victoria Falls (Photograph in The King Edward's Horse Senior and Junior Comrades Association Annual Bulletin No 14, 1947). Gravestone photograph courtesy CWGC.
MACAULIFFE William 1932 Private
MacCONNAL Connell 662 Private, Private Royal Army Service Corps M/40308
MacDONALD C. E. V. 617 Private
MacDONALD Hugh 1286 Private
MacDONALD John Norman. Sergeant of the Cambridge troop in 1907. Second Lieutenant KEH 1910, Major in command of 'B' Squadron during WW1. Australian. Captain in 1915 see Figure 19.
MacDONALD Oscar 1946 Private
MacDONALD Ritchie 2019 Private
MacDOUGALL Thomas M. 990 Private, Lieutenant London Regiment
MacEFIELD Walter D/8469 Private, Private Corps of Dragoons
MacGILLIVRAY Henry Alexander 1948 Private
MacINTOSH Herbert. Squadron Quarter Master Serjeant (SQMS). 3rd (New Zealand) Troop of 'D' Squadron (British African) of the 4th City of London (King's Colonials) Imperial Yeomanry. Born in Christchurch, New Zealand in 1871 and served with the King's Colonials from 1902 until 1906 and died in March 1957. SQMS MacIntosh wrote proudly in the King Edward's Horse Senior and Junior Old Comrades Association Bulletin in 1946 that he still prized owning his tunic and was disappointed not to be able to wear it and ride in the Procession as part of the Christchurch Centennial Celebrations in 1950 (The King Edward's Horse Senior and Junior Old Comrades Association Bulletin. 18: 18, 1951). The Full Dress tunic he wore is shown in Figures 60-66.
MacKAY Charles Stuart 289. Private, Lieutenant King's Liverpool Regiment, Lieutenant, 15th Battalion London Regiment. 1914-15 Star (289 Pte., K. Edw. H.); Victory Medal 1914-19 (Lieut.) sold by Dix Noonan Webb, UK at auction in April 2006.
MacKAY Donald P. 334 Serjeant, Serjeant Tank Corps 111997, Serjeant Machine Gun Corps 147831
MacKAY William David 369 Corporal, Lieutenant Royal Field Artillery
MacKENZIE Ernest 1232 Private
MacKEY Robert 793 Private
MacKEY William Graham 277 Lance Corporal
MacKINNON Donald. Captain 'A, B and C' Squadrons. Lived in South America and attended third re-union in 1945. Living in Australia in 1965. Lieutenant in KEH in 1915 see Figure 19.
MacKINTOSH A. J. Lieutenant. Portrait photograph see Figure 320 Copyright Imperial War Museum HU 117631.
MacKRELL Henry R. 944 Private
MacLAGAN William C. 979 Private, Lieutenant London Regiment
MacLEAN Archibald 470 Private, Second Lieutenant King's Own Scottish Borderers
MacQUEEN John Norman Reeve 1891 Serjeant
MacQUINN Oliver 1677 Private, Private Labour Corps 515080
MACVEAN John 1173 Private
MAIR George H. 961 Private
MAISONVILLE Oliver Francis 1057 Serjeant, Lieutenant Canadian Expeditionary Force
MALCOMB H. A. D. 260 Private, Second Lieutenant Royal Field Artillery
MALEHAM Frederick 1640 Serjeant, Serjeant Tank Corps 304891
MANDERS George Benjamin 472 Private, Lieutenant Royal Field Artillery
MANN Charles 570 Saddler, Private
MANN Hugh H. 1890 Private
MANNING Norman 1722 Private, Private Tanks Corps 302798, Private Northumberland Fusiliers 61193
MANSFIELD Wilifred Stephen Second Lieutenant, Major Hussars
MARGUTTI Chartres Louis Henry 1076 Private
MARKEY Patrick C. A. 1760 Private, Second Lieutenant Royal Field Artillery, Second Lieutenant Royal Irish Fusiliers
MARLOWE J. E. 991 Staff Serjeant Major, Warrant Officer Class 2
MARR James R. 1511 Private
MARRION James 1914 Sapper Royal Engineers 221581, Sapper KEH
MARRIOT Charles 526 Acting Corporal
MARSH Joseph George 1374 Private
MARSHALL John C. D/16406 Private, Private Corps of Dragoons, Private Army Service Corps ES/50319, Private Scottish Horse 395418
MARSHALL Julis T. 1704 Serjeant, Serjeant Tank Corps 105385
MARTIN Archibald R. 1699 Acting Serjeant, Acting Serjeant Machine Gun Corps 105386
MARTIN Cecil C. 1725 Private, Private Labour Corps 389719
MARTIN Henry F. G. 1164 Private
MARTIN O. N. 48 Staff Serjeant
MARTIN William Henry Ernest 1462 Private, Lieutenant East Surrey Regiment
MARTINGELL Frederick J. 1610 Private
MARTINSON W. F. 860 Private
MASKELL Ernest 1092 Private, Private Army Service Corps M/28056 incomplete
MASON Adrian T. Monck 1052 Private, Lieutenant Royal Horse Artillery
MASON Charles E. D/17207 Private, Private Corps of Dragoons D/17027
MASON Ernest George 739 Private, Captain Royal Berkshire Regiment
MASON Henry Walter 1999 Private
MASSEY Walter 608 Private
MASTERS Norman E. J. 591 Private
MATHERS Henry Samuel 998 Private, Second Lieutenant Suffolk Regiment
MATHEW Augustus E. 1750 Private
MATHEW David Hinchey 920 Private, Lieutenant Royal Field Artillery
MATHIESON George R. 261 Serjeant, Lieutenant Gordon Highlanders
MATHIESON John D. 1557 Private, Private Tank Corps 302800, Acting Quartermaster Serjeant Northumberland Fusiliers 29887
MATTERSON George Hardwick. 1359 Private, Second Lieutenant, Lieutenant
MATTHEWS Donald M. 1238 Private, Second Lieutenant Royal Naval Air Service
MAULSBURY John Roderick 1748 Private, Second Lieutenant King's Own Yorkshire Light Infantry
MAWDSLEY Robert 1283 Private
MAXWELL Lionel George 1298 Private, Corporal East Lancashire Regiment 30746, Corporal then Second Lieutenant Cheshire Regiment
MAY, Charles Campbell. Captain. Born in Otago, New Zealand in 1889. Served in King's Colonials/KEH 1908-1914. Freemason and member of King's Colonials Lodge. KIA 1/07/1916 with 22nd Battalion (7th City Pals), Manchester Regiment at Mametz at the Battle of the Somme. Mentioned in Despatches. Only son of Major Charles Edward May, New Zealand Forces and was married to Bessie Maude Earles in 1912 with a baby daughter Maude Pauline May. At the outbreak of war he founded and commanded the Legion of Volunteers in Manchester. Buried at Dantzig Alley British Cemetery, Mametz, France. Diary in the Imperial War Museum collection and now published as 'To Fight Alongside Friends'.
MAY Fred 549 Private
MAY Lawrence S. 1385 Private, Second Lieutenant Liverpool Regiment
MAY Percival Frederick W. 1186 Private
MAYBANK John Gunter 1315 Private, Second Lieutenant King's Own Yorkshire Light Infantry
McALIER Patrick 1297 Private 2nd Dragoon Guards 2DG/5812, Acting Corporal Dragoon Guards D/19537, Acting Serjeant KEH
McALPINE George R. 747 Private, Lance Coporal Tank Corps 302810, Lance Corporal Northumberland Fusiliers 3982 incomplete, Lance Corporal Lancashire Fusiliers
McARDLE Hugh Francis 33 Serjeant, Lieutenant
McARTHUR Basil 2164 Private Middlesex Regiment G/50687, Private KEH alias Bradney, Arthur B.
McBEAN Ian Bryce 121 Serjeant, Lieutenant, Lieutenant Royal Air Force. Photograph as Lieutenant shown in Figure 31.
McCALMAN Frank 970 Corporal
McCARTER Frank O. A. 1564 Private
McCARTHY Justin Ernest 1101 Private, Private Labour Corps 424157
McCLOSKEY James. 1347. Private KIA 26/08/1917 aged 39. Son of Patrick and Mary McClosky of Donegal; husband of Catherine McCloskey, of New Row, Donegal. Buried in DUHALLOW Advanced Dressing Station CEMETERY, West-Vlaanderen, Belgium.
McCOMB William C. 806 Private
McCORMACK Albert 1731 Private
McCORMACK Percy James 1278 Corporal
McCORMICK Andrew 1107 Private, Second Lieutenant
McCORMICK J. V. 289 Private
McCORRY E. M. 1021 Private
McCRACKEN Edward 1105 Lance Corporal, Serjeant
McCULLOCH Archibald Hood 2248 Private
McCULLOCH William Bennett 1047 Private, Second Lieutenant
McDONALD Frank 357801 Private
McDONALD George 1771 Private, Private Scottish Horse 4961, Private Royal Engineers WR/285723
McDONALD J. A. Lieutenant KEH 1910.
McDOUALL Philip Hastings 959 Private, Second Lieutenant then Lieutenant Royal Engineers
McDOWALL Thomas 564 Private, Second Lieutenant
McDOWELL T. Second Lieutenant (question same record as above noting different spelling)
McEVOY Patrick E. 170. Squadron Quarter Master Serjeant, Staff Quarter Master Serjeant. A number of his uniform items are held within the National Army Museum collection He served 1911-16 in the KEH.
McGAFFIN George D/21284 Private, Private Dragoons UD/303, Private Corps of Dragoons D/21287
McGINITY Francis G. 830. Private F. G. McGinity. 1914-15 Star (830 Pte., K. Edw. H.); British War and Victory Medals (830 Pte., K. Edw. H.). Private McGinity entered the France/Flanders theatre of war on 22 April 1915. With copied m.i.c. Sold at auction by Dix Noonan Webb, UK in March 2012.
McGLASHIN Colin L. 1446 Private, Private Northumberland Fusiliers 61208
McGOWAN, John. Medals worn by Squadron Sergeant-Major McGowan (Regimental number 2139) 4th Dragoon Guards, King's Colonials and later Yeoman of the Guard. India General Service medal 1895-1902 with two clasps, Punjab Frontier 1897-98, Tirah 1897-98 (S.Q.M.S. J. McGowan, 4th Dragoon Gds); Army Long Service and Good Conduct medal (L.S & G.C. VR., small letter reverse VR crown; Meritorious Service Medal GVR; Khedive's Star 1882. John McGowan was born in Liverpool and enlisted in the 4th Dragoon Guards on 21 September 1877. After a distinguished service career with the 4th Dragoon Guards, he was posted to the Permanent Staff Yeomanry Cavalry as Regimental Sergeant-Major on 20 December 1901 sanctioned to raise the King's Colonials. Regimental Serjeant Major 1905. He was discharged from the King's Colonials on 12 May 1909 and appointed to Her Majesty's bodyguard on 18 June 1909. He attended the Coronation in 1911, the Silver Jubilee in 1935 and the Coronation in 1937. He died on 11 January 1942.
McGRATH John Thomas 1931 Private
McGREGOR Alan W. 1130 Private
McINROY William 1330 Private
McINTOSH Alexander James 1046 Private, Second Lieutenant, Lieutenant. From Australia and alive in 1965.
McINTOSH Ernest 1659 Private
McISAAC Donald 2282 Private Lovat's Scouts 2835, Private KEH, Private Royal Regiment of Dragoons 125189
McKAY William K. 1509 Private
McKEAN Archie 384 Serjeant
McKENZIE A. G. Second Lieutenant in command of the Cambridge university detachment attached to 'C' Squadron. Son of Colonel McKenzie of the Natal Forces and who had seen distinguished service in the Boer War. May be same individual noted below.
McKENZIE Alexander J. 1177 Private KEH. Became Colonel in command of the 1st Royal Natal Carabiniers after service as a Captain in the 6th Dragoon Guards in France 1917-19. May be same individual noted above.
McKENZIE Fred 203 Private, Corporal Army Pay Corps 17580
McKENZIE Frederick William Private, Labour Corps 416802
McLARTY Lachlan 2052 Private
McLAY James 1499. Lance Corporal KIA 9/04/18 aged 38. Born in UK. Son of Mrs. and the late J. McLay, of Narrandera, New South Wales, Australia. LOOS MEMORIAL, FRANCE.
McLEAN John Archibald 780 Private, Second Lieutenant Army Service Corps
McLENNAN Alexander 957 Private
McNAMA Joseph 617 Lance Corporal, Second Lieutenant then Lieutenant Royal Army Service Corps,
McPHEE Hugh 490 Private
McPHERSON Herbert 1210 Private KIA 22/3/17. THIEPVAL MEMORIAL, FRANCE.
McPHERSON Ian W. 1751 Private
McROBB David C. 1769 Private, Corporal Northumberland Fusiliers 61263
McSWINEY Walter M. 1263 Private, Private Royal Army Service Corps S/391313, Private Royal Engineers 604696
McVEAGH James 542 Private also spelt McVedgh on MIC