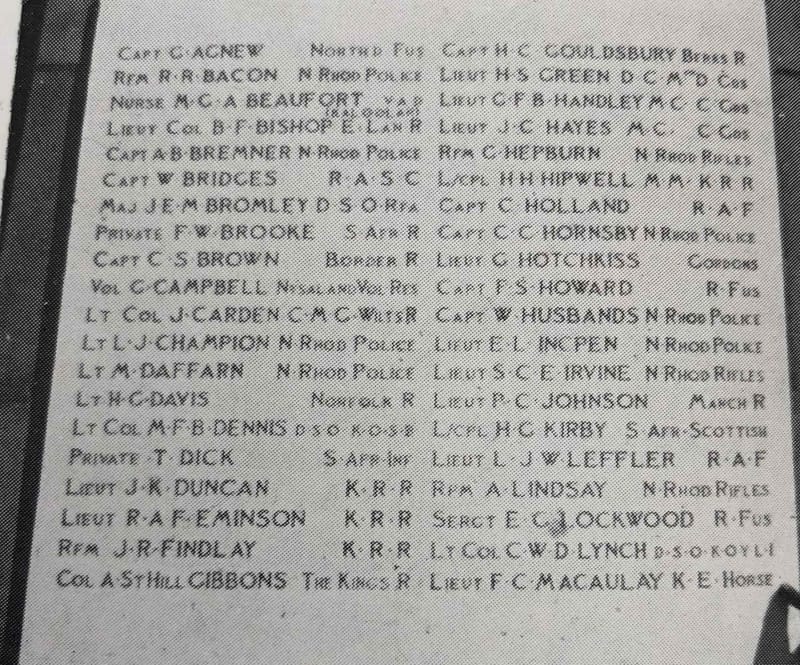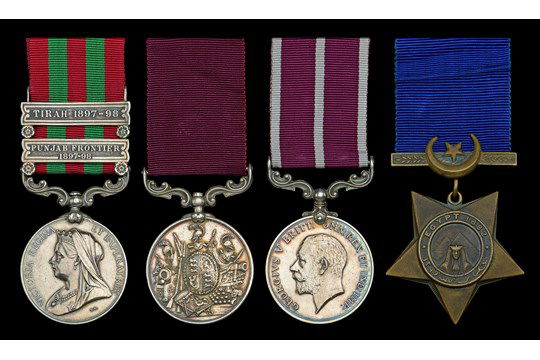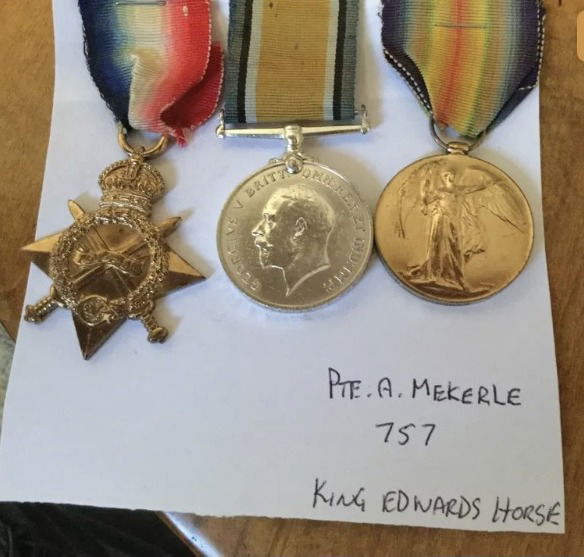 MACAULAY
, F. C. Lieutenant. 'D' Squadron. Killed in action in 1915. Name recorded on a commemorative tablet upon the War Memorial, Victoria Falls.
(
The King Edward's Horse Senior and Junior Comrades Association Annual Bulletin No 14,
1947).
McGOWAN
, John. Medals worn by Squadron Sergeant-Major McGowan (Regimental number 2139) 4th Dragoon Guards, King's Colonials and later Yeoman of the Guard. India General Service medal 1895-1902 with two clasps, Punjab Frontier 1897-98, Tirah 1897-98 (S.Q.M.S. J. McGowan, 4th Dragoon Gds); Army Long Service and Good Conduct medal (L.S & G.C. VR., small letter reverse VR crown; Meritorious Service Medal GVR; Khedive's Star 1882.
John McGowan was born in Liverpool and enlisted in the 4th Dragoon Guards on 21 September 1877. After a distinguished service career with the 4th Dragoon Guards, he was posted to the Permanent Staff Yeomanry Cavalry as Regimental Sergeant-Major on 20 December 1901 sanctioned o raise the King's Colonials. He was discharged from the King's Colonials on 12 May 1909 and appointed to Her Majesty's bodyguard on 18 June 1909. He attended the Coronation in 1911, the Silver Jubilee in 1935 and the Coronation in 1937. He died on 11 January 1942.
MEKERLE, A
. Private, 757. 1914-15 trio and entitled to Silver War Badge (for those who had been honourably discharged due to wounds or sickness from military service in the Great War). Later served with the Machine Gun Corps. Medals for sale in the UK in 2019 (Bill Friar Medals).
MITCHELL
, A. M. Private King Edward's Horse, late Scottish Rifles and Cape Town Highlanders. Medals - QUEEN'S SOUTH AFRICA 1899-1902, 3 clasps, Cape Colony, Transvaal, Laing's Nek (7893 Pte., Scottish Rifles); KING'S SOUTH AFRICA, 2 clasps (1695 Pte., Cape Town Hdrs.); 1914-15 STAR (791 Pte., K. Edw. H.); BRITISH WAR AND VICTORY MEDALS (2. Lieut.) good very fine and better Five: Quarter Master and Lieutenant G.S.J. Roberts, Liverpool Regiment, late East Surrey Regiment QUEEN'S SOUTH AFRICA 1899-1902, 2 clasps, Tugela Heights, Relief of Ladysmith (2958 Sgt., 2nd E. Surrey Regt.); 1914-15 STAR (22233 Q.M. Sjt., L'pool R.); BRITISH WAR AND VICTORY MEDALS (Q.M. & Lieut); ARMY L.S. & G.C., E.VII.R. (C. Sgt., E. Surrey Regt. (Reference - medals sold at Dixon Noonan Webb auction 2 December 1992).