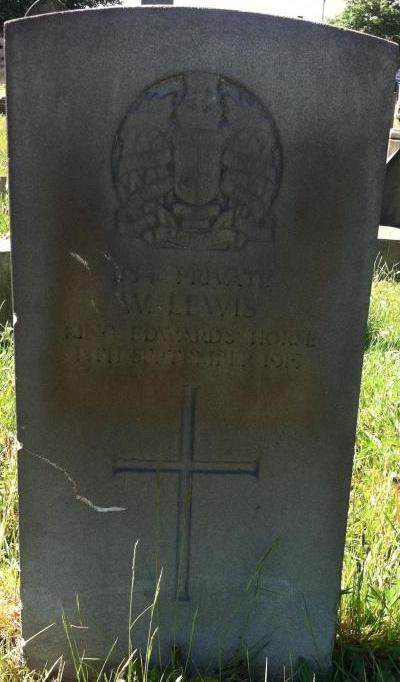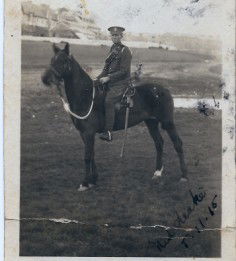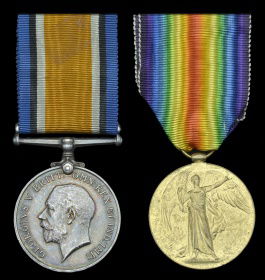 LACEY Lewis L. Second Lieutenant, Lieutenant. From Argentina.
LADE Allan W. 710 Corporal, Second Lieutenant
LADE J. H. 711 Private, Second Lieutenant Warwickshire Yeomanry
LAHEE Edward Sansom. 1204 Corporal, Second Lieutenant, Lieutenant
LAHEE Herbert M. 669 Private, Warrant Officer Class 2 Tank Corps 111992
LAING George M. 824 Private
LAMB George E. 2089 Private
LAMB H. B. 22 Staff Serjeant Major
LAMB James Eclysse 2141 Corporal
LAMBERT William 841 Private, Second Lieutenant Highland Light Infantry
LAMBOURNE Thomas 1132 Private
LAMPINEN Constantine Richard 1669 Private
LA NAUZE Brazil W. 491 Private, Private Royal Engineers 198926. A portrait photograph of Private La Nauze is shown in Figure 133.
LANDON John Robert Sapper, Captain Royal Warwickshire Regiment
LANDRY Romes 1536 Private
LANE Marshall. 2160. Ex-2nd Dragoon Guards and saw service in India. Private KEH then Fitter Tank Corps 35280.
LANGDON John Stafford 911 Private, Second Lieutenant Royal Engineers
LANGE John A. 1352 Private
LANGE Marc 1094 Private Royal Fusiliers G/59466, Private KEH, Private East Surrey Regiment G/26244, Private Royal Engineers 361856
LANGE P. 1358 Private, Second Lieutenant Indian Army Reserve of Officers
LANGLOIS Wilfred S. 1371 Private, Private Lancashire Fusiliers 40578
LANGRISH Ernest 464 Serjeant
LANGSHAW Frank 230752 Private, Private Labour Corps
LAROQUE A. L. R. 1382 Private, Captain Royal Engineers
LATREILLE Leonard 268 Private, Captain Labour Corps. Private in a photograph at KEH Colchester Camp 1911.
LAURENSON, D. G. Lieutenant. Taken Prisoner of War 9/04/1918 and repatriated 13/12/1918.
LAVERS H. H. 6 Lance Corporal. Awarded 1911 Coronation medal. Became an Infantry Officer and served in France.
LAW Archibald Abram 1736 Private, Lance Corporal Northumberland Fusiliers, Captain Cheshire Regiment
LAW Ernest 1431 Private, Serjeant Tank Corps 300520
LAWRANCE Frederick E. 1924 Private, Private Army Pay Corps 17080
LAWRENCE Dennis H. 1422 Private, Private Tank Corps 112024
LAWRENCE Douglas 883 Private KIA 9/04/18. Born in UK. LOOS MEMORIAL, FRANCE.
LAWRENCE Frederick John Temporary Major
LAWRENCE Honourable Herbert Alexander. Brevet Lieutenant Colonel/Temporary Brigadier General. Colonel Lawrence was the son of Lord Lawrence, Viceroy of India and was the second Commanding Officer of the King's Colonials from 19th April 1904 until April 1909 (Portrait photograph Figure 6).
LAWS Arnold A. 853 Lance Corporal, Staff Quarter Master Serjeant Corps of Dragoons D/24573
LAWSON Enest J. 1472 Private
LAYLAND, Thomas Dawson. 1232. Captain. British War and Victory Medals (Capt.) Born on 14 February 1874. As a Private in King Edward's Horse he entered France on 4 April 1915. Commissioned into the Dorset Yeomanry on 2 February 1916. Later served as a Lieutenant (Temporary Captain) with the South Lancashire Regiment. Post war he lived in British Columbia (Reference - Dixon Noonan Webb auctioneers, UK, 2015).
LAYTON Horace 1291 Private
LEACH James L. D/17066 Private, Dragoons, Private KEH, Private Corps of Dragoons
LEADER Sidney 1196 Private, Second Lieutenant Royal Highlanders, Second Lieutenant Indian Army Reserve of Officers
LEAKE Edward (Ned) J. 1220. Serjeant. Australian brother of Leslie. Photograph of him mounted 5/11/15 (Courtesy Great War Forum).
LEAKE Leslie 1221 Serjeant. Brother of Ned.
LEANE Osborne 1704 Private, Second Lieutenant Durham Light Infantry
LEANE Arthur B. 696 Lance Serjeant, Second Lieutenant Royal Engineers
LEARED Frank Harvey 1443 Private KIA 09/04/1918 aged 43 near Hazebrouck, Lys. Son of Mr. R. H. Leared and Mrs. S. M. Leared of Glenville, Wexford. HAVERSKERQUE BRITISH CEMETERY, FRANCE. Commemorated on Watford Borough Roll of Honour. Entitled to British War and Victory medals.
LEAP George F. 685 Private
LEEVES Henry 361 Lance Corporal
LEGGETT Cecil 195 Serjeant, Warrant Officer Class 2 Tank Corps, WO Class 2 Labour Corps 414290
LETHBRIDGE Patrick Lionel. South African. Private KEH, Captain 7th Battalion King's Own Scottish Borderers. KIA 25/09/1915 Loos.
LEVETT Ernest Frank 1749 Private
LEWIS Frederick Sydney James 1404 Private, Lieutenant Welsh Regiment
LEWIS Harry 2102 Private
LEWIS Reginald Cameron 307 Private, Captain Royal Berkshire Regiment
LEWIS Wilfred. 1134, Private. Died of wounds after an operation in Manchester 18 September 1915. Buried in Liverpool Kirkdale cemetery (Headstone photograph courtesy of Tony Brown). Commemorated on Liverpool Town Hall Roll of Honour.
LEWIS William T. 1894 Acting Serjeant Royal Engineers 238524, Acting Serjeant KEH, Acting Serjeant Royal Engineers WR/553458
LIDDIARD Arthur 1328 Private, Private Lancashire Fusiliers 40577, Second Lieutenant Machine Gun Corps
LIDDLE . Private King's Colonials 1904. Photograph see Figure 53.
LIGHTBOUND Austin 9 Serjeant, Captain East Lancashire Regiment
LILLEY George 882 Private
LINDOP Erskine Vernon Augustine 891 Private, Lieutenant Indian Army of Reserve Officers
LINDSAY William K. 1451 Private, Private Royal Engineers WR/215422, Sapper Royal Engineers 338724
LING Graham Fergus Lieutenant, Captain, Mentioned in Despatches. Died in service from pneumonia in Northampton, UK. 16/12/1918 aged 35. Son of Christopher and Sarah Ling. Born at Wetheral. Bradfield School, Bradfield, Berkshire, UK. Household Cavalry and Cavalry of the Line (incl Yeomanry and Imperial Camel Corps). WETHERAL CEMETERY, UK.
LINNEY Edgar Walter 1687 Private, Second Lieutenant East Surrey Regiment
LINSTEAD D. W. 1151 Private, Second Lieutenant Royal Fusiliers
LINTON E. Gordon Lieutenant, Captain
LITTLE Edwin Charles 1971 Private
LIVINGSTONE Duncan T. 1332 Serjeant
LIVINGSTONE Robert D. 1936 Private, Private Northumberland Fusiliers 61201
LLOYD Alfred Mostyn 1289 Private
LLOYD Henry 1719 Private, Private Army Service Corps MR/47663, M/354264
LOADER Ernest 976 Private
LOCATELLI Richard 1569 Acting Corporal, Acting Corporal Royal Fusiliers G/95484, Acting Corporal Royal Munster Fusiliers G/40251
LOCK Lambert E. 1670 Private
LOOKER Ernest J. 1698 Private, Private Northumberland Fusiliers 61224
LONG Charles Ernest Captain, Captain Royal Army Service Corps
LONG Vincent W. 197 Serjeant, Northumberland Fusiliers 61297
LOUDON Geoffrey Marcus 884 Private, Second Lieutenant East Lancashire Regiment
LOUGH Thomas J. 2015 Private Royal Fusiliers 59463, Private Reserve Regiment of Cavalry 35185, Private KEH, Private East Surrey Regiment 26295
LOUW Marthias B. 655 Corporal
LOWE John W. 199 Private, Private Labour Corps 580504
LOWE Rupert 1943. Private. Served as Lance Corporal, 552, 4th Victorian Mounted Rifles in Boer War before King Edward's Horse. An Australian from Geelong. Saw service with Citizen's Military Forces in WW2. Died 22 July 1965 aged 86. Peter Nemaric: Sabretache: XLI, 8-14, March 2000.
LOWE William G. 972 "Corporal 09/04/1918 aged 31. Son of George and Jane Lowe, of Lurgan House, Moate, Co. Westmeath.
VIEILLE-CHAPELLE NEW MILITARY CEMETERY, LACOUTURE, FRANCE."
LOWRY William J. 1885 Private, Private Hussars 80653, Private Royal Engineers 622873
LOXSTON George H. 1714 Private, Private Tank Corps 112126
LUCAS Alymon Second Lieutenant
LUCAS Frederick J. 648 Private, Private Corps of Hussars 80211, Private Hussars A/N/535929
LUCAS Herbert 647 Private
LUCAS Robert 2159 Private
LUCK Albert P. 1619 Private, Private Northumberland Fusiliers 61275
LUDLOW Edgar 1192 Private, Private Northumberland Fusiliers 61243, Lieutenant Royal Air Force
LUDLOW Frank 1849 Acting Corporal, Second Lieutenant East Lancashire Regiment
LUKEY G. E. 26 Staff Serjeant Major
LUSCHER Sidney P. 956 Private
LUTTMAN Henry C. 1278 Serjeant, Warrant Officer Class 2 Tank Corps 111989
LYNCH William 1532 Private, Private Tank Corps 302808, Private Northumberland Fusiliers 39912, Private Lancashire Fusiliers 40579
LYNCH-STAUNTON L. A. 1027 Corporal, Acting Captain Tank Corps
LYON Harry 817 Private, Private Labour Corps 421711
LYONS Harold Marsh Lyle 402 Trooper, 'A' Squadron KEH, Lieutenant Cheshire Yeomanry, Lieutenant Colonel