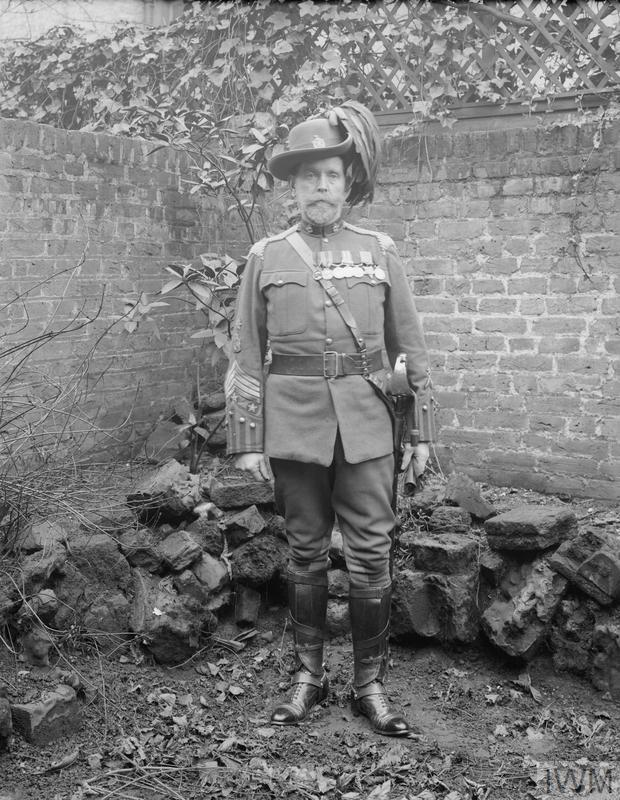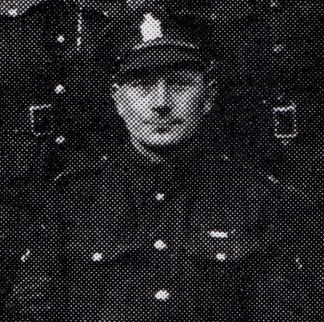 FAHEY Frederick O. 1315 Private
FAIRBROTHER Walter H. 250 Corporal, Staff Serjeant, Acting Serjeant
FAIRBURN Frederick A. 953 Private
FALCONER Reginals K. 255 Private
FANNIN Valentine Gowen Second Lieutenant 4th South African Horse, Lieutenant KEH
FAULKNER Albert Brown 642 12th Hussars, Private KEH, Second Lieutenant Machine Gun Corps
FAULKNER Arthur 1360 Corporal, Corporal Liverpool Regiment 85720
FAWCETT Frank E. 986 Private
FAWCETT Reginald 1884 Private
FEARNLEY Ernest W. 1504 Private KIA 31/07/1917 (aged 26). Son of Mr. R. and Mrs. F. Fearnley, of 31, St. James St., Leeds. YPRES (MENIN GATE) MEMORIAL, BELGUIM.
FEARNLEY William George 1503 Private KIA 26/08/1917 aged 25. Son of Mr. and Mrs. R. Fearnley, of 31, St. James St., Leeds. Born Norwich, Norfolk. Returned from Australia in 1915, to enlist. DUHALLOW A.D.S. CEMETERY, BELGUIM.
FEGAN, Daniel. 13. Regimental Sergeant Major Daniel Fegan, 274 in Full Dress uniform of 'B' Squadron, King Edward's Horse circa 1911 (Image Copyright Imperial War Museum Q 69197). Regimental Sergeant Major Fegan was born in 1851 in Ireland and saw service with the 4th Royal Irish Dragoon Guards, the King's Colonials and then King Edward's Horse. He saw out the final years in service as a Yeoman of the Guard. Image of medals worn by Regimental Sergeant Major Daniel Fegan with a set of miniatures: the 1902 and 1911 Coronation medals; Egypt medal with 'Tel-el-Kebir' bar, Khedives Star; Army Long Service and Good Conduct medal; Army Meritorious Service Medal and the Territorial Force Efficiency medal (Reproduced courtesy of Richard Winterton Auctioneers Ltd, UK).
FEILDING Henry Simon. The Honourable. Lieutenant in KEH in 1915 see Figure 19. Accidentally wounded 30/06/1915 at Divisional Bombing School. Second Lieutenant, Captain Coldstream Guards. KIA 11/10/1917 aged 23 with 2nd Bn. Coldstream Guards. Son of the Earl and Countess of Denbigh of Newnham Paddox, Lutterworth, Rugby. Buried at DOZINGHEM MILITARY CEMETERY, West-Vlaanderen, Belgium.
FIELDING, Morris Granville. 201. Australian. Corporal 2nd Troop, 'C' Squadron KEH. Captain 2nd Oxfordshire and Buckinghamshire Light Infantry and awarded the Military Cross. Born in Sydney 30 June 1892. Joined the Oxford University Troop of KEH 2/01/1912.
FEILING Reginald Ernest 144 Serjeant, Second Lieutenant, Captain
FELL Vincent 785 Serjeant, Serjeant Northumberland Fusiliers 61296
FELLGETT Sidney J. 1642 Private
FERGUSON Clifford C. 1466 Private
FERGUSON Thomas 1487 Private, 2114 on MIC as well
FERRARIO John E. 1133. Private KEH, Lieutenant then Captain 11th Battalion Tank Corps. Left Trinidad for UK 18/10/1915. Awarded Military Cross and Bar with the Tank Corps. MC and Bar group of four awarded to Captain J. E. Ferrario, 16th Battalion, Tank Corps, and King Edward's Horse, the bar being awarded for conspicuous gallantry at Mortho Wood on 8 October 1918. Military Cross, G.V.R., with Second Award Bar, reverse of cross inscribed 'Lieut., King Edward's Horse'; 1914-15 Star (1133 Pte., K. Edw. H.); British War and Victory Medals (Capt.) M.C. London Gazette 18 June 1917, (2nd Lieut., King Edward's Horse). 'For conspicuous gallantry and devotion to duty, while on reconnaissance. He displayed great coolness and skill in withdrawing his patrol under heavy fire, covering the retirement himself. His personal example was splendid.' Bar to M.C. London Gazette 15 February 1919. The recommendation states 'For conspicuous gallantry and devotion to duty at Mortho Wood, Villers-Outreaux, on 8 October 1918, when he assisted his company reconnaissance officer in successfully laying tape under heavy shell fire through German posts to German main line. Later he tried to get into a burning tank to recue some of the crew; the tank was being heavily shelled. Again, later, he went forward under heavy shell and machine-gun fire to make sure that the last tank of his section had got into action. During the whole action he displayed total disregard to his personal safety.' Was living in Trindad in 1946. Medals sold at auction by Dix Noonan Webb, UK in April 2004.
FERREIRA Edwin L. 1296 Private
FERRIER Alexander 2058 Private 2071 on MIC as well
FEZAN . Regimental Serjeant Major King's Colonials 1902 former service with 4th Royal Irish Dragoon Guards (Photograph see Figure 5).
FFRENCH V. T. H. 372 Private, Second Lieutenant Royal Air Force
FIELD Albert 1055 Private, Tank Corps 300509
FIELDING Mark Glanville 201 Corporal, Captain 2nd Battalion Oxfordshire and Buckinghamshire Light Infantry
FILLIS Cecil E. 1941 Private, Corporal 4th Mounted Rifles 126
FILMER Geoffrey F. 863. Private, 'A' Squadron. Acting Captain Surrey Yeomanry 863. Severely wounded upper arm 22/06/1915.
FINCH William 1384 Private, Company of Dragoons D/32095
FINKLE James 156? Corporal, Corporal Tanks Corps 302860, Corporal Northumberland Fusiliers 61225
FINLAY Alan Gordon. Second Lieutenant KEH late Second Lieutenant Gordon Highlanders 4/09/1914 and Temporary Captain 9th Battalion Devonshire Regiment 12/1914.
FINLAY Reginald George Second Lieutenant King's Colonials 1905, Lieutenant KEH 1910. Captain Special List 2/04/1913 KEH. Born in England, lived Henley-on-Thames and died 20/02/1952 aged 70. Lieutenant in 1915 see Figure 19.
FINNELLY William A. 1634 Private. Discharged 14/12/1918.
FINNEY A. Private. Born in South Africa and died in 1943 in Johannesburg, South Africa.
FINNEY Vincent 1223. Private KIA 09/04/1918 aged 42 defending Vieille Chapelle. Son of Mr. and Mrs. Lude Finney of 19 Witham Road, Isleworth, Middlesex. LOOS MEMORIAL, FRANCE.
FISH Joseph. 499. Private. Enlisted 26/08/1914 and discharged due to illness 25/02/1916.
FISHER Alexander. 436. Staff Serjeant, Serjeant. Arrived in France 22/04/1915 with 4th Troop, 'C' Squadron and discharged 9/04/1919.
FISHER Alwyn George Edmond. 1006. Private
FISHER Edward Henry. 397. Private. Commissioned Second Lieutenant 26/01/1917 'B' Squadron. Orderly Officer 'A' Squadron 9/04/1918. Also served in Italy. KIA 09/04/1918 aged 21 defending Vieille Chapelle. Son of Henry Edward and Matilda Ann Fisher of 64 Westover Road, Wandsworth, London. Commemorated on the LOOS MEMORIAL, FRANCE.
FISHER Hyman 202169 Private
FISHER Walter 1125 Private, Private Machine Gun Corps 71547
FISHER-DEANE . King's Colonials 1904-07 with 'B' Squadron and then pre-war KEH.
FISHLOCK Aynsley C. 1621. Private then Lance Corporal, Private Dragoon Guards 393869. From Ireland. Awarded Military Medal LG 20/08/1919. Transferred to the Reserve 7/03/1919.
FITCH Stephen. 1963. Private, Private Northumberland Fusiliers 61209, Private Tank Corps 302820
FITTON John. 1098. Private. 'B' Squadron 1916. Transferred to Reserve 18/02/1919. Private (Trooper) in 1915 photograph at the Curragh, Ireland alongside Trooper Mulley (see Nominal Roll under MULLEY).
FITZGERALD Francis John. 1168. Private, Lance Corporal Lancashire Fusiliers 40559, Second Lieutenant Loyal North Lancashire Regiment
FITZGERALD William Patrick Gerald. 1313. Private
FITZHERBERT John Aloysius. 326. Private KEH. Born in Launceston, Tasmania on 19/05/1892. Enlisted in KEH in 1913 whilst at Trinity College, Cambridge and originally attended Sydney University. Arrived in France 22/04/1915 with 'C' Squadron. Commissioned Second Lieutenant Royal Garrison Artillery 20/10/1915 and absorbed into Anti-Aircraft Section, Royal Artillery 7/06/1916. Lieutenant 1/07/1917. Seconded to Royal Flying Corps 31/08/1917. Observer with 15 Squadron RAF 1/04/1018 and wounded 2/05/1918 in an aeroplane crash near Amiens. Returned to England 3/06/1918 and transferred to Royal Garrison Artillery 3/06/1918. Awarded Military Cross 1917 and Mentioned in Despatches. Became a Professor at Adelaide University from 1928 and died in South Australia 15/04/1970. Commemorated on the Sydney University Roll.
FITZPATRICK Clement. 983. Private. Born in England in 1882, enlited 1/03/1915 and arrived in France 21/04/1915 with 'C' Squadron. Attended Cadet School 8/09/1916 and commissioned Second Lieutenant 20/10/1916 in Indian Army Reserve of Officers. Prior service of two years with Uttar Pradesh Light Horse Volunteers and occupation on enlistment with KEH stated as Police Officer.
FITZWATER Charles F. Private, Private Corps of Dragoons D/12428