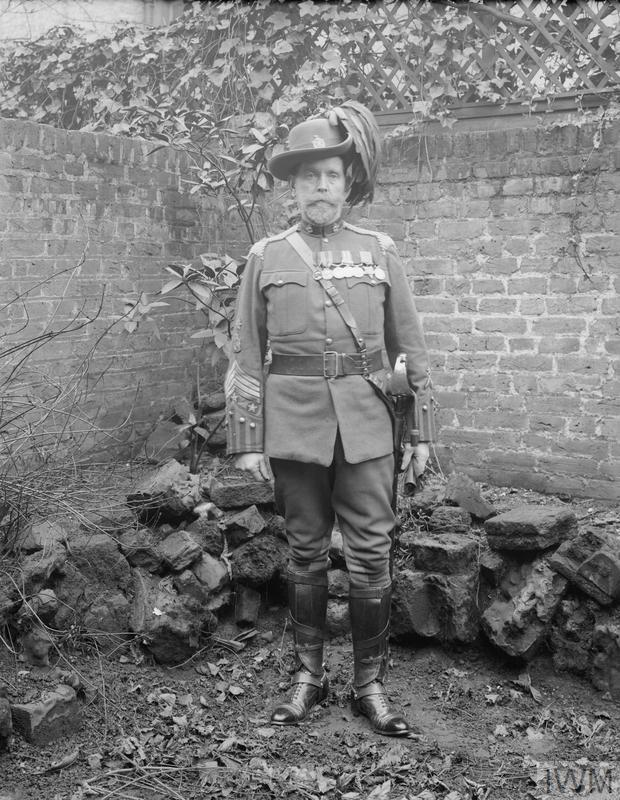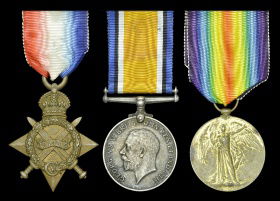 FEGAN
, Daniel. Regimental Sergeant Major Daniel Fegan (Regimental number 274) in Full Dress uniform of 'B' Squadron, King Edward's Horse circa 1911. (Image Copyright Imperial War Museum Q 69197).
Regimental Sergeant Major Fegan was born in 1851 in Ireland and saw service with the 4th Royal Irish Dragoon Guards, the King's Colonials and then King Edward's Horse. He saw out the final years in service as a Yeoman of the Guard.
Image of medals worn by Regimental Sergeant Major Daniel Fegan with a set of miniatures: the 1902 and 1911 Coronation medals; Egypt medal with 'Tel-el-Kebir' bar, Khedives Star; Army Long Service and Good Conduct medal; Army Meritorious Service Medal and the Territorial Force Efficiency medal (Reproduced courtesy of Richard Winterton Auctioneers Ltd, UK).
FORREST
, H. A. 940, Private. 1914-15 Star (940 Pte. H. A. Forrest. K. Edw. H.); British War and Victory Medals (940 Pte. H. A. Forrest. K. Edw. H.). Harold Archibald Forrest was born in Streatham in 1889 and attested for General Service on 4 September 1914, giving his profession as Assistant Riding Master. He served during the Great War with King Edward's Horse on the Western Front from 5 May 1915, and, having subsequently transferred to the 2nd Battalion, Lancashire Fusiliers, was discharged on account of wounds on 9 August 1918 (entitled to Silver War Badge). He died in Rochford, Essex, in 1948. (Reference - Dixon Noonan Webb auctioneers, UK, 2017).