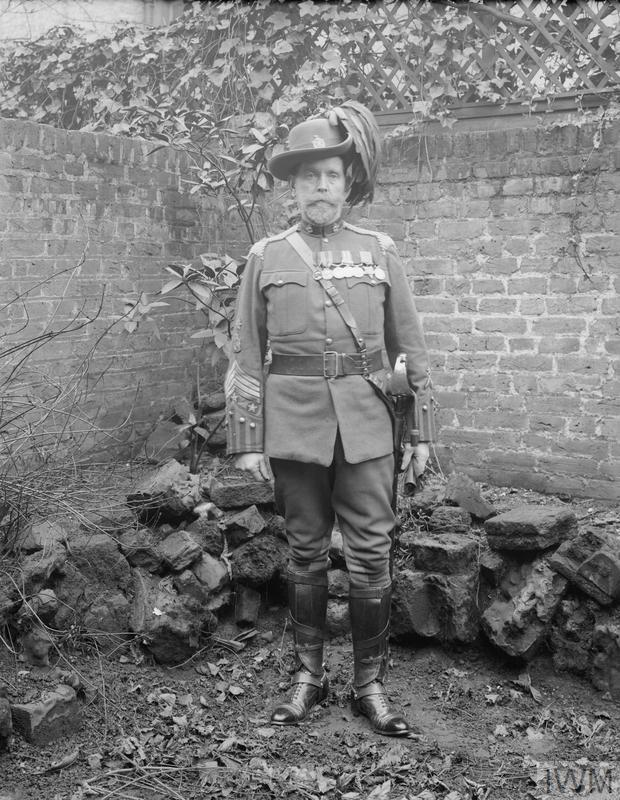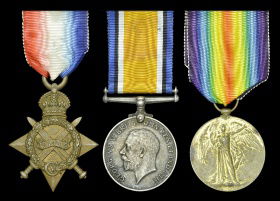 FAHEY Frederick O. 1315 Private
FAIRBROTHER Walter H. 250 Corporal, Staff Serjeant, Acting Serjeant
FAIRBURN Frederick A. 953 Private
FALCONER Reginals K. 255 Private
FANNIN Valentine Gowen Second Lieutenant 4th South African Horse, Lieutenant KEH
FAULKNER Albert Brown 642 12th Hussars, Private KEH, Second Lieutenant Machine Gun Corps
FAULKNER Arthur 1360 Corporal, Corporal Liverpool Regiment 85720
FAWCETT Frank E. 986 Private
FAWCETT Reginald 1884 Private
FEARNLEY Ernest W. 1504 Private KIA 31/07/1917 (aged 26). Son of Mr. R. and Mrs. F. Fearnley, of 31, St. James St., Leeds. YPRES (MENIN GATE) MEMORIAL, BELGUIM.
FEARNLEY William George 1503 Private KIA 26/08/1917 aged 25. Son of Mr. and Mrs. R. Fearnley, of 31, St. James St., Leeds. Born Norwich, Norfolk. Returned from Australia in 1915, to enlist. DUHALLOW A.D.S. CEMETERY, BELGUIM.
FEGAN, Daniel. 13. Regimental Sergeant Major Daniel Fegan (Regimental number 274) in Full Dress uniform of 'B' Squadron, King Edward's Horse circa 1911. (Image Copyright Imperial War Museum Q 69197). Regimental Sergeant Major Fegan was born in 1851 in Ireland and saw service with the 4th Royal Irish Dragoon Guards, the King's Colonials and then King Edward's Horse. He saw out the final years in service as a Yeoman of the Guard. Image of medals worn by Regimental Sergeant Major Daniel Fegan with a set of miniatures: the 1902 and 1911 Coronation medals; Egypt medal with 'Tel-el-Kebir' bar, Khedives Star; Army Long Service and Good Conduct medal; Army Meritorious Service Medal and the Territorial Force Efficiency medal (Reproduced courtesy of Richard Winterton Auctioneers Ltd, UK).
FEILDING Henry Simon Second Lieutenant, Captain Coldstream Guards
FEILING Reginald Ernest 144 Serjeant, Second Lieutenant, Captain
FELL Vincent 785 Serjeant, Serjeant Northumberland Fusiliers 61296
FELLGETT Sidney J. 1642 Private
FERGUSON Clifford C. 1466 Private
FERGUSON Thomas 1487 Private, 2114 on MIC as well
FERRARIO John E. 1133 Private, Lieutenant then Captain Tank Corps
FERREIRA Edwin L. 1296 Private
FERRIER Alexander 2058 Private 2071 on MIC as well
FFRENCH V. T. H. 372 Private, Second Lieutenant Royal Air Force
FIELD Albert 1055 Private, Tank Corps 300509
FIELDING Mark Glanville 201 Corporal, Captain 2nd Oxfordshire and Buckinghamshire Light Infantry
FILLIS Cecil E. 1941 Private, Corporal 4th Mounted Rifles 126
FILMER Geoffrey F. 863 Private, Acting Captain Surrey Yeomanry 863
FINCH William 1384 Private, Company of Dragoons D/32095
FINKLE James 156? Corporal, Corporal Tanks Corps 302860, Corporal Northumberland Fusiliers 61225
FINLAY Reginald George Second Lieutenant King's Colonials 1905, Lieutenant KEH 1910. Captain Special List
FINNELLY William A. 1634 Private
FINNEY Vincent 1223 Private KIA 09/04/1918 aged 42 defending Vieille Chapelle. Son of Mr. and Mrs. Lude Finney, of 19, Witham Rd., Isleworth, Middx. LOOS MEMORIAL, FRANCE.
FISH Joseph 499 Private
FISHER Alexander 436 Staff Serjeant, Serjeant
FISHER Alwyn George Edmond. 1006 Private
FISHER Edward Henry 397 Private, Second Lieutenant 'B' Squadron KIA 09/04/1918 aged 21 defending Vieille Chapelle. Son of Henry Edward and Matilda Ann Fisher, of 64, Westover Rd., Wandsworth, London. Also served in Italy. LOOS MEMORIAL, FRANCE.
FISHER Hyman 202169 Private
FISHER Walter 1125 Private, Proivate Machine Gun Corps 71547
FISHLOCK Aynsley 1621 Private then Lance Corporal, Private Dragoon Guards 393869
FITCH Stephen 1963 Private, Private Northumberland Fusiliers 61209, Private Tank Corps 302820
FITTON John 1098 Private
FITZGERALD Francis John 1168 Private, Lance Corporal Lancashire Fusiliers 40559, Second Lieutenant Loyal North Lancashire Regiment
FITZGERALD William Patrick Gerald 1313 Private
FITZHERBERT John Aloysius. 326. Private KEH. Lieutenant Royal Garrison Artillery seconded Royal Flying Corps. Enlisted in KEH in 1913 whilst at Trinity College From Sydney, Australia. Awarded Military Cross 1917 and Mentioned in Despatches. Wounded 2 May 1918 in aeroplane crash near Amiens. Commemorated on Sydney University Roll.
FITZPATRICK Clement 983 Private
FITZWATER Charles F. Private, Private Corps of Dragoons D/12428
FLASHMAN Frank 6 Saddler Serjeant, Serjeant
FLEMING Royd 1189 Private
FLETCHER Edward A. 1496 Private, Lance Corporal Northumberland Fusiliers 61174
FLIGHT Frederick H. 2084 Private
FLOYD Sidney 105? Private, Private Corps of Dragoons D/327?
FOARD Frederick 1601 Private
FOGARTY Harry R. 1632 Private
FOLEY James 1850 Private, Private Liverpool Regiment 85683?, Private Tank Corps 302883
FOOT Thomas Morey 1717 Private
FORBES Hugh Stuart 1762 Private, Second Lieuttenant London Regiment
FORD Frank E. 1726 Signaller
FORD Stanley 1115 Private
FORD William H. 25 Farrier Quarter Master Serjeant 100 on MIC as well. Farrier Quartermaster Sergeant Major William H. Ford (born in England in 1874 and enlisted in the King's Colonials Imperial Yeomanry on the 16th March 1903, re-enlisted in King Edward's Horse on 1st March 1913, embodied 5th August 1914, landed in France 2nd June 1915 and discharged on the 15th March 1916) at Latimer Camp in 1903. Photograph see Figure 47.
FORDE Jeremiah 1642 Private, Private Tank Corps 302791, Private Northumberland Fusiliers 61186
FORREST, H. A. 940, Private. 1914-15 Star (940 Pte. H. A. Forrest. K. Edw. H.); British War and Victory Medals (940 Pte. H. A. Forrest. K. Edw. H.). Harold Archibald Forrest was born in Streatham in 1889 and attested for General Service on 4 September 1914, giving his profession as Assistant Riding Master. He served during the Great War with King Edward's Horse on the Western Front from 5 May 1915, and, having subsequently transferred to the 2nd Battalion, Lancashire Fusiliers, was discharged on account of wounds on 9 August 1918 (entitled to Silver War Badge). He died in Rochford, Essex, in 1948. (Reference - Dixon Noonan Webb auctioneers, UK, 2017).
FORSTER Alfred C. 1077 Private, Private Royal Defence Corps 6985?
FORT G. Seymour. Lieutenant King's Colonials 1902 and commanded 2nd Troop (New South Wales) 'C' Squadron (Australasian) in 1903. Photograph Figure 4.
FORTESCUE H. Senior Major, King's Colonials 1905. Colonel, Commanding Officer April 1909 - January 1913, late 17th Lancers. Awarded Coronation medal 1911.
FOSTER David 603 Private
FOSTER Henry 652 Acting Corporal
FOSTER Theodore 731 Private, Second Lieutenant Royal Field Artillery, Second Lieutenant Royal Air Force
FOSTER William 1373 Private, Serjeant Machine Gun Corps 25294
FOTHERGILL William H. 961 Private
FOUNTAIN Anthony P. 1715 Serjeant Royal Engineers 206086, Serjeant KEH, Serjeant WR/553257
FOUNTAIN Owen G. W. 1669 Private, Private Tanks Corps 302795, Private Northumberland Fusiliers 61185
FRANCIS Ernest Wilks 529 Private, Lieutenant
FRANKLIN Brian 425 Private, Corporal
FRANKLIN John G. 1422 Sapper Royal Engineers 229158, Private KEH, Sapper Royal Engineers WR263360
FRASER Douglas Galloway Lance Corporal, Second Lieutenant Royal Flying Corps
FRASER Ernest A. 1727 Private
FRASER Ernest F. 1921 Private, Private Machine Gun Corps 80437
FRAZER Donald 974 Private
FREEMAN Frank 1645 Private
FREEMAN John Christian 1565 Private 3rd South African Mounted Regiment 2329, Private then Second Lieutenant KEH
FRODSHAM Henry Freer 852 Private, Private Machine Gun Corps Cavalry 105526, Econd Lieutenant then Captain Labour Corps
FRODSHAM Hugh R. S. 584 Serjeant
FRY James Leslie Rood 1235 Private
FRYER Horace W. 687 Private, Private Lancashire Fusiliers 40558
FULLER Albert 1078 Private
FULLER Charles C. 141 Corporal, Staff Serjeant, Serjeant
FULLER Charles Drury Private, Flying Officer Royal Air Force
FULLER Charles Stephen 1007 Private, Second Lieutenant Manchester Regiment, Second Lieutenant Royal Flying Corps
FULLER Percy 536 Shoeing Smith, Serjeant
FULLER Stanley 28 Farrier Staff Serjeant, Farrier Quarter Master Serjeant
FULLER Thomas C. 258 Shoeing Smith, Corporal
FURSE Ralph Dougnon. He was Private when attending training camp in 1908 as part of the Oxford university detachment. Commissioned as a Second Lieutenant KEH 1910, Lieutenant, Captain, Major who commanded a Squadron of the KEH in WW1. Awarded the DSO an Bar. Eleven uniform and equipment items of Major Furse's held in the National Army Museum collection.
FUTCHER Cyril 1380 Corporal, 2nd Notts & Derby Second Lieutenant
FUTTER John A. 1503 Private