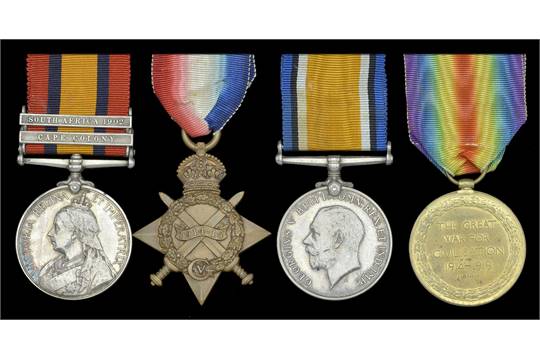 EARLE George H. 6th Dragoons, Captain Adjutant King's Colonials 1905 and retired in 1910.
EARLE Lionel 700 Private
EARLE Robert C. 1319 Private
EAST Reginald W. 620 Private
EASTICK Arthur G. 49 Serjeant
EASTICK John Clare Newland. 51. Serjeant. He went to France with 'B' Squadron as a Serjeant 22/4/15 and was commissioned on 13 September 1915 as Lieutenant. Lieutenant in a caption of a photograph of him taken at Longford in 1915. Promotion to Captain 14/5/19 published in the London Gazette. He was born in England in 1889 and died in 1972. Medal address 137 Upper Clapton Road, London. Serjeant on BWM which was sold with his sweetheart badge on an electronic auction site.
EASY Alfred J. C. 1589 Private, Private Labour Corps 555644
EATON, Roland Wynne. 441, Private. Roland Wynne Eaton served in France from 1st June 1915. He started his service as a Private in King Edward's Horse and was commissioned into the Royal Garrison Artillery as a Second Lieutenant on 6 July 1916. Address given as 41 North John Street, Liverpool. Military Cross engraved to Lieutenant R. W. Eaton announced in the London Gazette 01.01.1919. Died 29 December 1957. (Reference - Dixons Medals, dixonmedals.co.uk, 2018).
EDDOWES Cecil Stanton 2242 Private
EDKINS Raymond J. 1176 Private
EDLINGTON Charles J. 766 Serjeant Trumpeter, Serjeant
EDMOND George 1030 Private, KIA 22/03/17
EDWARDS Francis W. 286 Serjeant
EDWARDS Frederick 1266 Private
EDWARDS, H. 779, Corporal. Queen's South Africa 1899-1902, 2 clasps, Cape Colony, South Africa 1902 (7618 Private., Loyal North Lancashire Regiment.); 1914-15 Star (779 Private., King Edward's Horse); British War and Victory Medals (779 Cpl., King Edward's Horse) (Reference - Dixon Noonan Webb Auctioneers, UK, 2015).
EDWARDS John G. Private Dragoon Guards GS/13226, Private KEH, Private then Lance Corporal Corps of Dragoons D/14515