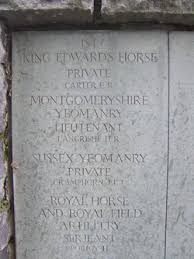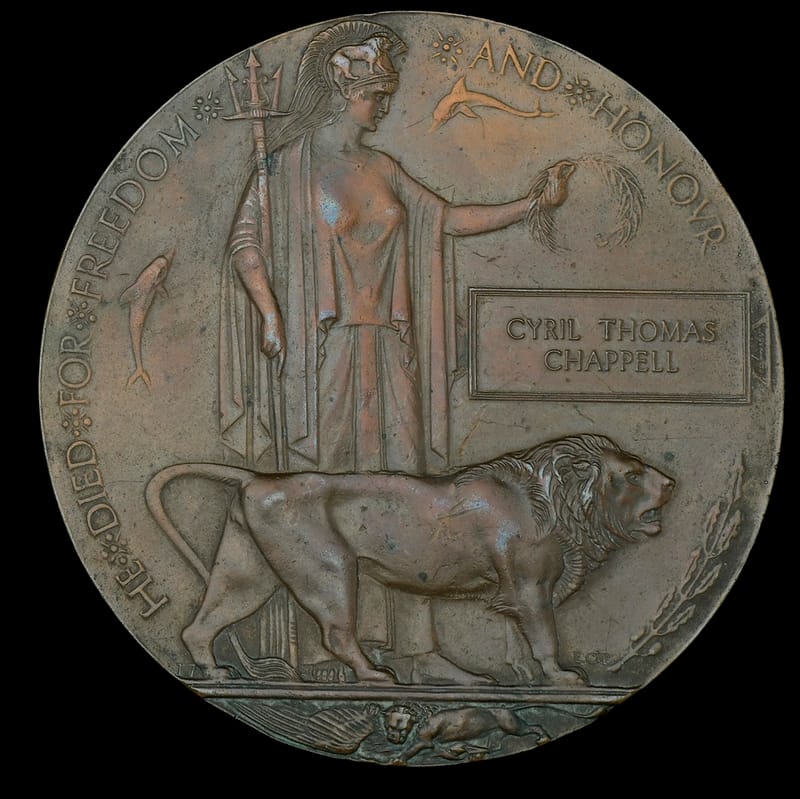 CADIC, Joseph E. 1097. Private MIC
CAILES, Stephen E. 893. Private, Acting Serjeant then Second Lieutenant Royal Marine Light Infantry MIC
CALLAGHAN, Charles. 1519. Private, Tanks Corps 302947, Northumberland Fusiliers 40118 MIC
CALNAN, George. 330. Private MIC
CALVERT, H. C. 279. Squadron Serjeant Major. Awarded the Special Reserve Long Service and Good Conduct medal July 1914.
CAMERON, Arthur Garfield. Lieutenant KEH 1910 who joined as Rhodes scholar at Oxford university and was a Second Lieutenant in 1907 in command of the Oxford university detachment attached to 'D' Squadron. Rejoined the KEH at the outbreak of WW1 to become Acting Major in command of 'C' Squadron KEH. Became a Major in the Royal Berkshire Regiment in 1918. Lieutenant in KEH in 1915 see Figure 19.
CAMERON, Donald Keith. Former Captain Cameron Highlanders, Captain KEH. Australian. Mentioned in Despatches. Photograph on
kingedwardshorse.net
. Second Lieutenant in 1914 and Lieutenant in KEH in 1915 see Figure 19.
CAMERON, Herbert J. 984. Private then Lance Corporal attached to Trench Mortar Battery, Lieutenant Northumberland Fusiliers, Lieutenant King's African Rifles MIC
CAMLIN Edward Former Private Royal Dragoons D/17238, Private, Private Corps of Dragoons MIC
CAMPBELL James A. 1311. Private MIC
CAMPBELL James C. 1583. Private, Private Liverpool Regiment 85698 MIC
CAMPBELL, Nigel Harry. Second Lieutenant in photograph Marlborough Barracks, Dublin 1918 see Figure 33.
CAMPBELL, Robert B. 1794. Private, Second Lieutenant, Second Lieutenant Labour Corps MIC
CAMPION, A. B. L. Second Lieutenant, Second Lieutenant Welsh Regiment MIC
CANNON, William (Tom). 1168. Private MIC
CAPPER, Isidore Alfred. 433. Private, Acting Corporal Northumberland Fusiliers 61202.
Alfred Capper was born Alfred Friedlander and changed his name by deed poll Nov 1914 because of his surnames Germanic tone. He served in the 2nd King Edward's Horse as a Private later transferring to the King Edward's Horse as a Private 433 with him appearing in Figure 22 in a Hotchkiss machine gun section of King Edward's Horse in 1916. He finally transferred to the Northumberland Fusiliers as an Acting Corporal 61202. He was rumoured to have worked in South Africa and this could have been sufficient connection for the appeal of the 2nd KEH as it was made up of Colonial volunteers. The family recall that although he didn't speak about his wartime experiences at one stage he was shot off his horse and buried by the earth thrown up by the shell but escaped unscathed, and that eventually they had to fight dismounted. Alfred died in 1945 and was awarded the 1915 Star, British War Medal and Victory medal. The family retain his 2nd King Edward's Horse cap badge (With thanks for the portrait (shown in the 2nd King Edward's Horse Nominal Roll section) and other photograph and correspondence from his maternal grandson Robert Cruickshank).
CARLTON, Edward. Former Private 1st Dragoons D/15338, Private, Corps of Dragoons MIC
CARR, George. 1149. Serjeant MIC
CARR, Isaac. Former Private 3rd Dragoon Guards D/352, Private MIC
CARR, Talbot (Tiny) E. 921. Private. From Argentina.
CARRIG, Edward. 1260. Private MIC
CARSON, Robert E. 152204. Private 2/1st Scottish Horse 4057, Private Border Regiment 260587, Private KEH, Private Royal Fusiliers 59098 MIC
CARTER, Bertrand S. 544. Corporal KEH, Second Lieutenant Machine Gun Corps, Lieutenant Tank Corps. Bertrand Stanley Carter was born on 28 January 1878 and educated at a Public School in England and was employed by an English company which had an interest in coffee plantations in Malaya well before World War 1. Soon after the commencement of hostilities he, like many of his colonial Malayan compatriots, travelled back to the 'old country' as he felt the country was in great danger and joined the KEH. He first entered the Theatre of War in France on 2 June 1915. He was subsequently commissioned as a 2nd Lieutenant in the Machine Gun Corps on 25 January 1917, and later as Captain, Tank Corps. He was appointed Temp. Lieutenant on 26 July 1918 and advanced to the rank of Acting Captain when he was appointed as Reconnaissance Officer finally relinquishing this rank when he ceased to be Reconnaissance Officer (28 March 1919). After the end of the War he acted as Demobilization Officer. His Military Cross was presented by H.M. King George V to Captain B.S. Carter, Tank Corps for Distinguished Service in France", May 8th 1919); 1914/15 Star 544 Cpl. B.S. Carter, K. Edw. H.; BWM; AVM (Brit) Capt. B.S. Carter. He was recommended for the the immediate award of a Military Cross for gallantry at the Battle of Meteren on 16 April 1918. It would seem that confirmation of this was gazetted on 3 June 1918 in which the award is referred to as a Bar to a Military Cross. The award of a Military Cross was later published in the Supplement to London Gazette dated 16 September 1918 - it would seem probable that this further act of gallantry preceded his immediate award during the Battle of Meteren in April 1918. (For the action during the Battle of Cambrai 23 November 1917). Information courtesy of the British Medal Forum.
CARTER, Edwin Righton. 1409. Trumpeter, Died at Sea with the sinking of the SS Connemara after colliding with another vessel when sailing between Glenoore and Anglesey 03/11/16. Son of R. A. Carter of 13 Somali Road, Cricklewood, London. CARLINGFORD (HOLY TRINITY) CHURCH OF IRELAND CHURCHYARD, IRELAND.

CARTER, Herbert Thompson. 92. Private MIC
CARTEY, John B. 1150. Private MIC
CASEY, Reginald. 540. Private MIC
CASTLE, Archibald Crisp. Private Rifle Brigade S/29094, Private KEH, 10th Cadet Battalion, 1/4th Leicestershire Regiment MIC
CASTLE, Gordon. 2010. Private 2069 on MIC as well MIC
CASTLE, William S. 704. Private MIC
CAVANAGH, Albert J. 1018. Private MIC
CHADWICK, Clifford Norman. 623. Serjeant. 4th Troop, 'A' Squadron. Wounded at defence of Vieille Chapelle 9/04/1918. Discharged 2/03/1919. Died in Rhodesia in 1946.
CHAFEN, Harold S. Private, Private Corps of Dragoons D/13912 MIC
CHALKIN, Herbert. 732. Private, Private Northumberland Fusiliers 61254 MIC
CHALKLEY Albert 553 Private MIC
CHAMBERLAIN Arthur Henry 859 Acting Corporal MIC
CHAMBERS, Alexander E. 725. Private, Private Shropshire Light Infantry 8192, Private Military Mounted Police P12039 MIC
CHANDLER, James W. 1221. Private, Private Lancashire Fusiliers 40551 MIC
CHAPMAN, Charles T. 1187. Company Quarter Master Serjeant - Northumberland Fusiliers 61295, Tank Corps 30284 MIC
CHAPPELL, Cyril Thomas. 1946. Corporal. Born in Dunstable, Bedfordshire and died of wounds on the Western Front 11 March 1918. Buried in St Marie Cemetery, Le Havre, France. Image of memorial plaque (death penny) shown from when it was sold at auction February 2019. 1915 Star trio medal entitlements confirmed on MIC.
CHARLES B. Staff Serjeant Major KEH since 1910 and retired in 1912 but returned to the Regiment and probably an original member of the King's Colonials since 1902.
CHARLES, John. 1905. Expeditionary Force Canteens 1441, Gunner Royal Field Artillery 1355, Private KEH. Awarded the Territorial Forces War Medal.
CHARLES, Thomas. 77. Private, Corporal Northumberland Fusiliers 61302 MIC
CHARTER, Walter G. 1567. Private MIC
CHASE, Percival. 1894. Private MIC
CHEESEMAN, James Alfred. 894. Private, Sapper MIC
CHEETHAM, Arthur R. 712. Private MIC
CHEYNE, James D. 901. Private MIC
CHILD, Arthur J. 1498 Private MIC
CHIRNSIDE, R. M. Second Lieutenant King's Colonials 1905
CHITTY, John. 571. Private MIC
CHRISTENSON, Cecil C. 2143. Private MIC
CHRISTIE, James V. 1331. Private MIC
CHUBB, W. S. R. Saddler. 1881. Casualty. BWM and Victory medals sold at auction. Details not confirmed on MIC.
CHURCHOUSE, Reginald Rufus. 995. Private, Second Lieutenant in photograph Marlborough Barracks, Dublin 1918 see Figure 33.
CHURCHYARD, Archibald. 1510. Former Sapper Royal Engineers 229154, Private KEH, Royal Engineers Railway Transport Department WR/287661 MIC
CHURMS, William H. 351. Private, Lance Corporal. Played Side Drum in KEH band. Discharged 10/11/1919. Civil Servant in the Colonial Office and died of TB.
CLACY, Walter. 1273. Lance Corporal MIC
CLANCY, W. M. John. 1297. Private, Private Liverpool Regiment 91433, Second Lieutenant Army Service Corps MIC
CLARK, Reginald. 1622. Acting Corporal MIC
CLARK, Thomas. 2024. Private - Northumberland Fusiliers 61179, Tank Corps 302873 MIC
CLARK, William D. 804. Private, Private Durham Light Infantry, Second Lieutenant and Lieutenant Royal Air Force MIC
CLARKE, Albert Edmond (Nobby). 1405. Corporal, DOW 15/03/19 received at Vieille Chapelle 9/04/1918. From Shanghai. Buried in GOOLE CEMETERY, UK.
CLARKE, Eric O. 952. Private MIC
CLARKE, H. V. 1120. Private, Captain Machine Gun Corps MIC
CLEARY, Arthur. 230754. Former Labour Corps 233754, Private KEH 230754 MIC
CLEGG, Reginald A. D/11696 Private, Private Company of Dragoons MIC
CLOUTT, Harry. 1899. Private, Private Northumberland Fusiliers 61251 MIC
CLYNE, Joseph. 1469. Private, 2050 as well on MIC MIC