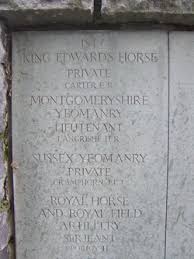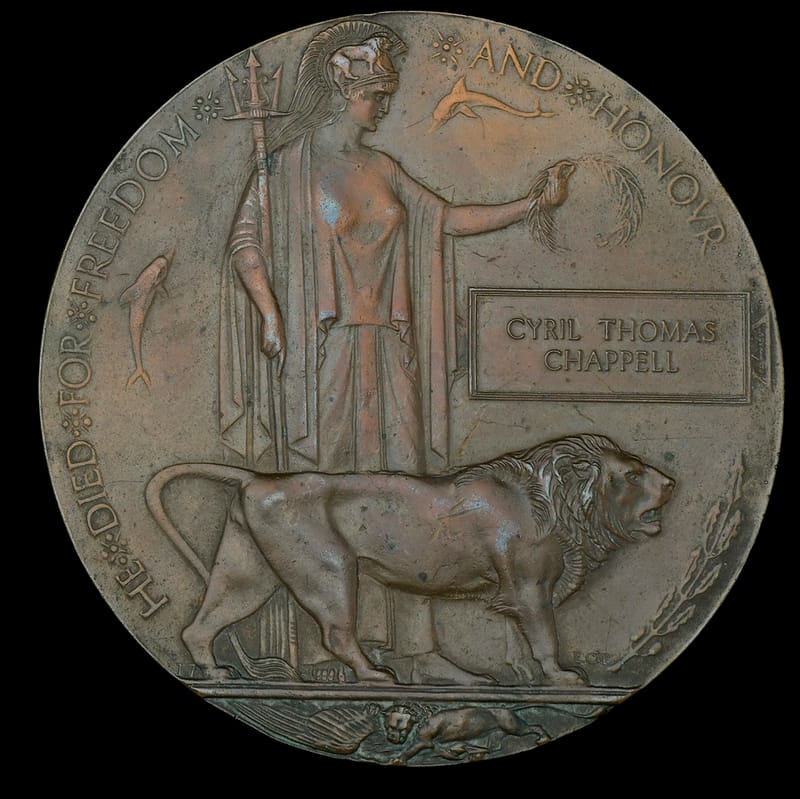 CADIC Joseph E. 1097 Private MIC
CAILES Stephen E. 893 Private, Acting Serjeant then Second Lieutenant Royal Marine Light Infantry MIC
CALLAGHAN Charles 1519 Private, Tanks Corps 302947, Northumberland Fusiliers 40118 MIC
CALNAN George 330 Private MIC
CAMERON Arthur Garfield. Lieutenant KEH 1910 who joined as Rhodes scholar at Oxford university and was a Second Lieutenant in 1907 in command of the Oxford university detachment attached to 'D' Squadron. Rejoined the KEH at the outbreak of WW1 and rose to become Acting Major in command of 'C' Squadron KEH. Became a Major in the Royal Berkshire Regiment in 1918. Lieutenant in KEH in 1915 see Figure 19.
CAMERON Donald Keith. Former Captain Cameron Highlanders, Captain KEH. Australian, photograph on
kingedwardshorse.net
Lieutenant in KEH in 1915 see Figure 19.
CAMERON Herbert J. 984 Private then Lance Corporal attached to Trench Mortar Battery, Lieutenant Northumberland Fusiliers, Lieutenant King's African Rifles MIC
CAMLIN Edward Former Private Royal Dragoons D/17238, Private, Private Corps of Dragoons MIC
CAMPBELL James A. 1311. Private MIC
CAMPBELL James C. 1583. Private, Private Liverpool Regiment 85698 MIC
CAMPBELL Nigel Harry. Second Lieutenant in photograph Marlborough Barracks, Dublin 1918 see Figure 33.
CAMPBELL Robert B. 1794. Private, Second Lieutenant, Second Lieutenant Labour Corps MIC
CAMPION A. B. L. Second Lieutenant, Second Lieutenant Welsh Regiment MIC
CANNON William (Tom) 1168 Private MIC
CAPPER Isidore Alfred 433 Private, Acting Corporal Northumberland Fusiliers 61202.
Alfred Capper was born Alfred Friedlander and changed his name by deed poll Nov 1914 because of his surnames Germanic tone. He served in the 2nd King Edward's Horse as a Private later transferring to the King Edward's Horse as a Private 433 with him appearing in Figure 22 in a Hotchkiss machine gun section of King Edward's Horse in 1916. He finally transferred to the Northumberland Fusiliers as an Acting Corporal 61202. He was rumoured to have worked in South Africa and this could have been sufficient connection for the appeal of the 2nd KEH as it was made up of Colonial volunteers. The family recall that although he didn't speak about his wartime experiences at one stage he was shot off his horse and buried by the earth thrown up by the shell but escaped unscathed, and that eventually they had to fight dismounted. Alfred died in 1945 and was awarded the 1915 Star, British War Medal and Victory medal. The family retain his 2nd King Edward's Horse cap badge (With thanks for the portrait (shown in the 2nd King Edward's Horse Nominal Roll section) and other photograph and correspondence from his maternal grandson Robert Cruickshank).
CAREY Leonard Arthur 1288 Private, Second Lieutenant 2nd Devonshire Regiment MIC
CARLTON Edward Former Private 1st Dragoons D/15338, Private, Corps of Dragoons MIC
CARR George 1149 Serjeant MIC
CARR Isaac Former Private 3rd Dragoon Guards D/352, Private MIC
CARR Talbot (Tiny) E. 921 Private. From Argentina.
CARRIG Edward 1260 Private MIC
CARSON Robert E. 152204 Private 2/1st Scottish Horse 4057, Private Border Regiment 260587, Private KEH, Private Royal Fusiliers 59098 MIC
CARTER Bertrand S. 544 Corporal, Second Lieutenant Machine Gun Corps, Lieutenant Tank Corps MIC
CARTER Edwin Righton. 1409. Trumpeter, Died at Sea with the sinking of the SS Connemara after colliding with another vessel when sailing between Glenoore and Anglesey 03/11/16. Son of R. A. Carter, of 13, Somali Rd., Cricklewood, London. CARLINGFORD (HOLY TRINITY) CHURCH OF IRELAND CHURCHYARD, IRELAND.

CARTER Herbert Thompson 92 Private MIC
CARTEY John B. 1150 Private MIC
CASEY Reginald 540 Private MIC
CASTLE Archibald Crisp Private Rifle Brigade S/29094, Private KEH, 10th Cadet Battalion, 1/4th Leicestershire Regiment MIC
CASTLE Gordon 2010 Private 2069 on MIC as well MIC
CASTLE William S. 704 Private MIC
CAVANAGH Albert J. 1018 Private MIC
CHADWICK Clifford N. 623 Corporal, Serjeant MIC
CHAFEN Harold S. Private, Private Corps of Dragoons D/13912 MIC
CHALKIN Herbert 732 Private, Private Northumberland Fusiliers 61254 MIC
CHALKLEY Albert 553 Private MIC
CHAMBERLAIN Arthur Henry 859 Acting Corporal MIC
CHAMBERS Alexander E. 725 Private, Private Shropshire Light Infantry 8192, Private Military Mounted Police P12039 MIC
CHANDLER James W. 1221 Private, Private Lancashire Fusiliers 40551 MIC
CHAPMAN Charles T. 1187 Company Quarter Master Serjeant - Northumberland Fusiliers 61295, Tank Corps 30284 MIC
CHAPPELL, Cyril Thomas. 1946. Corporal. Born in Dunstable, Bedfordshire and died of wounds on the Western Front 11 March 1918. Buried in St Marie Cemetery, Le Havre, France. Image of memorial plaque (death penny) shown from when it was sold at auction February 2019. 1915 Star trio medal entitlements confirmed on MIC.
CHARLES B. Staff Serjeant Major KEH since 1910 and retired in 1912 but returned to the Regiment and probably an original member of the King's Colonials since 1902.
CHARLES John 1905 Expeditionary Force Canteens 1441, Gunner Royal Field Artillery 1355, Private KEH MIC
CHARLES Thomas 77 Private, Corporal Northumberland Fusiliers 61302 MIC
CHARTER Walter G. 1567 Private MIC
CHASE Percival 1894 Private MIC
CHEESEMAN James Alfred 894 Private, Sapper MIC
CHEETHAM Arthur R. 712 Private MIC
CHENERY Harold 1608 Private MIC
CHEYNE James D. 901 Private MIC
CHILD Arthur J. 1498 Private MIC
CHIPPERFIELD Edward 1195 Private MIC
CHIRNSIDE R. M. Second Lieutenant King's Colonials 1905
CHITTY John 571 Private MIC
CHRISTENSON Cecil C. 2143 Private MIC
CHRISTIE James 1436 Private MIC
CHRISTIE James V. 1331 Private MIC
CHUBB, W. S. R. Saddler. 1881. Casualty. BWM and Victory medals sold at auction. Details not confirmed on MIC.
CHURCHOUSE Reginald Rufus. 995. Private, Second Lieutenant in photograph Marlborough Barracks, Dublin 1918 see Figure 33.
CHURCHYARD Archibald. 1510. Former Sapper Royal Engineers 229154, Private KEH, Royal Engineers Railway Transport Department WR/287661 MIC
CHURMS William H. 351 Private MIC
CLACY Walter 1273 Lance Corporal MIC
CLANCY WM John 1297 Private, Private Liverpool Regiment 91433, Second Lieutenant Army Service Corps MIC
CLAPHAM Graeme W. 774 Private MIC
CLARK Reginald 1622 Acting Corporal MIC
CLARK Thomas 2024 Private - Northumberland Fusiliers 61179, Tank Corps 302873 MIC
CLARK William D. 804 Private, Private DLI, Second Lieutenant and Lieutenant Royal Air Force MIC
CLARKE Albert Edmond (Nobby). 1405. Corporal, DOW 15/03/19 received at Vieille Chapelle 9/04/1918. From Shanghai. Buried in GOOLE CEMETERY, UK.
CLARKE Alfred C. 1695 Private MIC
CLARKE Eric O. 952 Private MIC
CLARKE H. V. 1120 Private, Captain Machine Gun Corps MIC
CLEARY Arthur 230754 Former Labour Corps 233754, Private KEH 230754 MIC
CLEGG Reginald A. D/11696 Private, Private Company of Dragoons MIC
CLOUTT Harry 1899 Private, Private Northumberland Fusiliers 61251 MIC
CLYNE Joesph 1469 Private, 2050 as well on MIC MIC