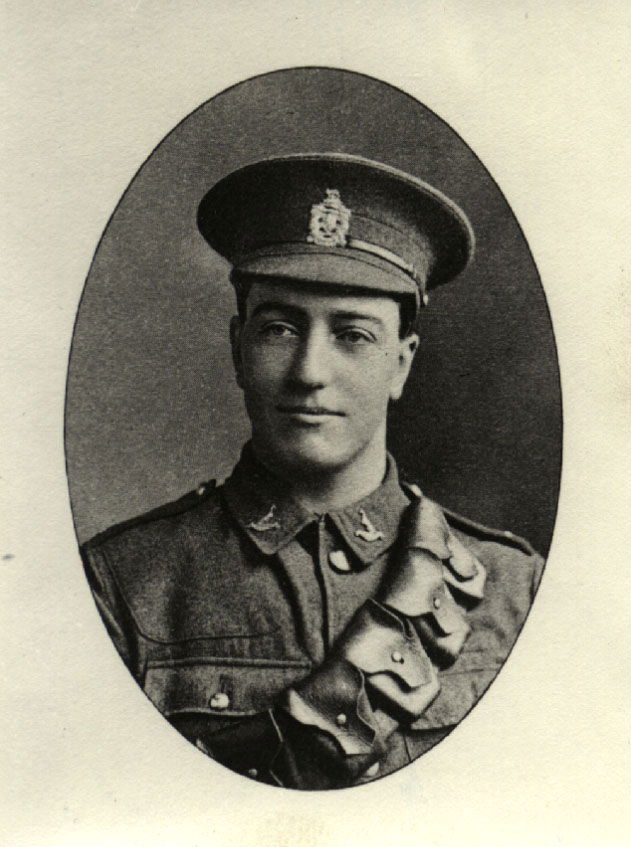 BUCHANAN George Frederick 1242 Corporal, KIA 13/03/18 aged 42 as a Private. Son of George and Caroline Buchanan. ST. GERMAIN-AU-MONT-D'OR COMMUNAL CEMETERY EXTENSION, FRANCE.
BUCKLAND Geoffrey J. 583. Private Buckland was born in Charters Towers, Queensland, Australia on the 30th January 1893 and enlisted on 26th August 1914 in England. He was killed in action by a German rifle grenade on 7th August 1915 after seeing action at Ploegsteert Wood in July 1915. RIFLE HOUSE CEMETERY, BELGIUM.
BUCKLEY Herbert Morris 473 Private
BUCKLEY M. Francis Sapper, Major Royal Field Artillery
BUCKLEY Millard 1142 Private, Private 13th Royal Scots, Second Lieutenant Labour Corps
BUCKNELL William Wentworth Private, Second Lieutenant Royal Field Artillery 108 Brigade
BULL George 1603 Private
BULL Percy William 1293 Private
BULTEAU Victor H. 1879 Private, Private Northumberland Fusiliers 39988
BURBIDGE Arthur Henry 40 Private, Private Lancashire Fusiliers 40543, Second Lieutenant Oxfordshire and Buckinghamshire Light Infantry
BURDETT John Burdett 80 Corporal, Lieutenant Royal Fusiliers
BURGE Frank 707 Private, Corporal
BURGESS Charles F. 1002. Private 'A' Squadron KEH from the UK. Severely wounded in several places 24/06/1915 when defending trench from German attack.
BURGESS John. 1616. Private
BURKE Michael L. 1001. Lance Corporal, Second Lieutenant
BURKE William J. 742. Private, Northumberland Fusiliers 61170
BURNETT Sidney C. 1212. Private
BURNIE Charles. 848. Private
BURNSIDE Joseph Augustus. 667. Private, Lieutenant then Acting Captain 1/4th Loyal North Lancashire Regiment
BURT David. 960. Private, Second Lieutenant Royal Flying Corps
BURTON Archer R. 1054. Serjeant
BURTON Charles William Gordon. 1395 Private, Second Lieutenant Royal Fusiliers
BURTON Richard N. R. 1445 Private, Acting Warrant Officer Class 2 Royal Engineers 213817, WR/354913
BUSH Robert W. 1817. Corporal, Corporal Royal Defence Corps 71971
BUTLER Adrian Illingworth. 936 Trooper, Royal Engineers A/198254, Second Lieutenant Royal Field Artillery
BUTLER Robert W. 1367. Private.
BUTLER William Mahoney. Captain KEH. Photographic negative available of KEH portrait 30/12/1916. Went on to become a Lieutenant Colonel in the 9th Tank Battalion.
BUTTERFIELD Ernest 699. Private, Private Royal Engineers 311020
BUTTERWORTH Christian name possibly C. from name on manufacturers label in bandsman's tunic, 1913.
BUXTON Gordon Ottford. 500. Private. Born in England and served in 'C' Squadron during WW1. Photograph shown on
kingedwardshorse.net
Lieutenant in 1915 see Figure 19.
BYNOE J. E. K. 1 Staff Quarter Master Serjeant. Awarded Coronation medal 1911. There were two Bynoe brothers who served with the King's Colonials from 1902. The junior of which had a son who served in France 1915-19 presumably Private Ronald L. Bynoe.
BYNOE Ronald L. 532. Private. 1914-15 Star, British War Medal and Victory medal held by NAM.
BYSOUTH Sydney Private, 653rd Company Labour Corps 416807