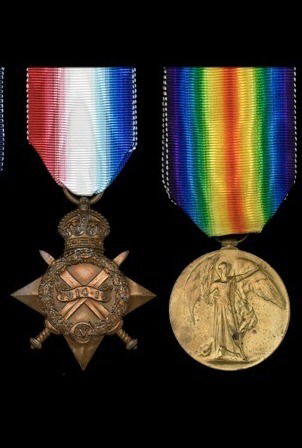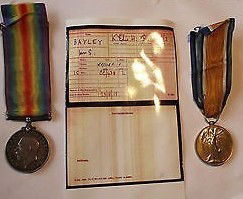 BACON, Herbert. 785. Private MIC
BACKUS, Alfred F. 1020. Private MIC
BAGNELL, George W. 2043. Private MIC
BAILEY, Alexander F. Private, former Private 6th Dragoon Guards 8209 MIC
BAILEY, Edward. 1712. Private, Private Lincolnshire Regiment 50111 MIC
BAILLIE, Robert Alexander. Captain Sir. Bart. An original Officer in the King's Colonials joined 1/02/1903. Major Baillie commanded 'C' Squadron (Australasian) King's Colonials in 1903. Died in October 1907 at Colchester (Photograph see Figure 4).
BAILLON, Cyril 768. Private MIC
BAIN, Bertram. 1978. Private, Commissary Liverpool Regiment 85788 MIC
BAIRD, Charles Alfred. 15239. Private, Second Lieutenant Royal Dublin Fusiliers MIC
BAKER, Arthur W. 26. Private, MR/343298 Royal Army Service Corps MIC
BAKER, Augustine. Enlisted August 1914 KEH, Commissioned 2nd Lieutenant December 1914 Royal Field Artillery, Lt April 1915, Captain September 1915, A/Maj May 1917, A/Lt Col September 1918, retired 1919. Awarded Distinguished Service Order LG 3 June 1918 & Bar LG 16 September 1918. Military Cross LG 19 November 1917. Mentioned in Despatches (x3) LG's 15 June 1915, 21 May 1918, 23 December 1918. Died 1937 Shanghai.
BAKER, Charles F. 1631. Private, Private Northumberland Fusiliers, Second Lieutenant Machine Gun Corps MIC
BAKER, Frederick. 115. Private. Discharged 11/01/1919. British War Medal issued by the Admiralty and 1914/15 Star and Victory medal sold at auction in the UK February 2020 by Dix Noonan Webb.
BAKER, George N. 1073. Corporal MIC
BAKER, James H. 800. Private, Sapper Labour Corps 340258 MIC
BAKER, Ralph Cleighton. 1711. Private former Private Hertfordshire Yeomanry 2205 MIC
BAKER, William H. 1969. Private MIC
BAKER, William J. 743. Acting Corporal MIC
BALDWIN, Cornelius. 1648. Private, Private Labour Corp 230751 MIC
BALFOUR, C. 1298. Military Mounted Police P/12933 MIC
BALL, B. Corporal. Served in the King's Colonials and was proprietor of the Fox and Hounds Inn, Bourne End
BALL, Samuel A. D/14418. Corps of Dragoons MIC
BALLARD, Arnold. 482. Private, Private Shropshire Light Infantry, Second Lieutenant South Wales Borderers MIC
BALSHAW, Newton Kesleven. Private, Second Lieutenant then Captain King's Royal Rifle Corps MIC
BANCROFT, Douglas. 1002. Private, Second Lieutenant Essex Regiment MIC
BANKES, Robert W. L. 744. Private MIC
BANNOCK, William H. 1363. Serjeant MIC
BANTA, Frederick B. 1774. Private, Private Labour Corp 112239 MIC
BARBER, Basil Hastings. Lieutenant, Captain, Major. Australian. 'C' Squadron. Awarded the Military Cross and the French Croix de Guerre (London Gazette 10 October 1918) as a Captain. Lieutenant in 1915 see Figure 19.
BARBER, Joseph A. 1527. Private MIC
BARDELL, Arthur G. 1732. Private, Private Liverpool Regiment 85700, Private Tank Corps 302884 MIC
BARKER, Augustine Lieutenant, Lieutenant Colonel Royal Field Artillery MIC
BARKER, William Private, former 3rd Dragoon Guards GS/14786, Corps of Dragoons D/15087 MIC
BARLOW, Geoffrey Petrie. 287. Private KEH, Second Lieutenant 6th Battalion, Notts and Derby Regiment. Born at Southport 16/05/1895 the son of John James and Emily Barlow. Educated at Holmwood School, Freshfield, Formby, Liverpool and at Haileybury College, Hertfordshire. Employed at the Head Office of the Royal Insurance Company in Liverpool. Joined the Liverpool Squadron of the KEH in 1913 and was at camp in Cantebury when the war broke out. Served in France from June 1915 and returned to England for training in March 1916 at Lichfield and gazetted Second Lieutenant Sherwood Foresters on 5/09/1916. Joined Battalion in France Nov 1916 and wounded at Gommecourt 9/03/1917. Awarded Military Cross for trench raid with 1/5th Battalion Sherwood Foresters 25/06/1917 (London Gazette 18/10/1917). KIA by machine gun fire whilst supervising a wiring party near Hulluch, France 2/09/1917. Buried in the Philosophe British Cemetery, Mazingarbe, France. Image of MC and WW1 trio of medals available together with portrait in the uniform of the Sherwood Foresters.
BARLOW, George T. 67. Private, Private Essex Regiment 32746 MIC
BARNARD, William H. Private, Corps of Dragoons D/13185 MIC
BARNES, William C. Private 3rd Dragoon Guards D/17908 MIC
BARRATT, Gaston E. S. 1420. Private, Private Royal Engineers 313096 MIC
BARRETT, Archibald. 1431. Private MIC
BARRETT, Reginald T. 1729. Corporal, Labour Corp Warrant Officer Class 2 679732 MIC
BARRY, Arthur V. 335. KEH. Royal Army Service Corps M/41355 MIC. Likely to be Serjeant Barry who was severely wounded at Anneux on 20/11/1917 when Major Tutt was also severely wounded.
BARTELLE, James. 1296. Private MIC
BARTLETT, Ashmead. Lieutenant attached from 1st Regiment of Cavalry, former British South African Police MIC
BARTON, William L. 1151. Private MIC
BASSILL, James F. 1657. Private, Private Corps of Dragoons D/32103 MIC
BATES, George E. 2040. Private, Private Corps of Hussars 56048 MIC
BATES, Joseph (Joe) C. 720. Acting Staff Quarter Master Serjeant. Entered France 2/06/1915. Discharged 22/02/1919. Mentioned in Despatches as a Serjeant. Lived in Margate, Kent and died in 1965.
BATTERBURY, William Charles. 19. Lance Corporal. Second Lieutenant 5th Battalion, Royal Fusiliers 26/06/1917. Entered France 22/04/1915 and discharged 1/01/1919. Biography available on
www.kingedwardshorse.net
.
BATTERSBY, Eric William. 885. Serjeant. 'A' Squadron. Enlisted 29/12/1914, entered France 1/06/1915 and discharged 28/01/1919.
BAUER, L. N. 1666. Private MIC
BAXTER, Gordon E. 929. Private, Second Lieutenant Devonshire Regiment MIC
BAYLEY, Lewis S. 513. Private. British War Medal - 513 PTE. L. S. BAYLEY. K. EDW. H. and Victory Medal - 513 PTE. L. S. BAYLEY. K. EDW. H. shown with a copy of the Medal Index Card. The 1915 Star was noted as missing. Arrived in France 23 August 1915 and discharged 8 August 1919. (Image from an electronic auction site, UK, 2014).
BAYLIS, Gerald William. Quarter Master, Lieutenant General. Lieutenant in KEH in 1915 see Figure 19.
BAYLISS, Louis. 1099. Serjeant, Serjeant Yorkshire Dragoons 3681, Serjeant Machine Gun Corps Cavalry 100103 MIC