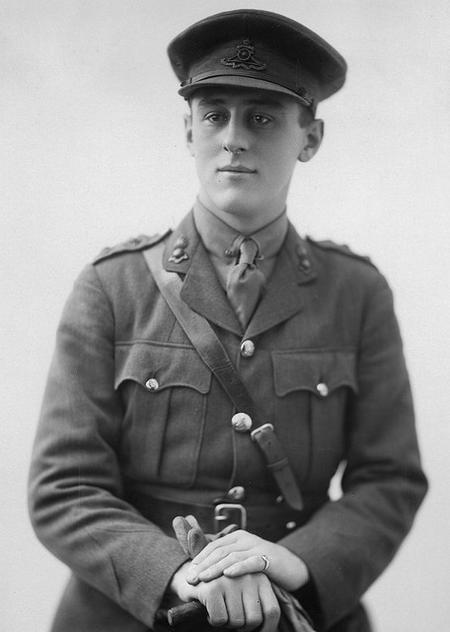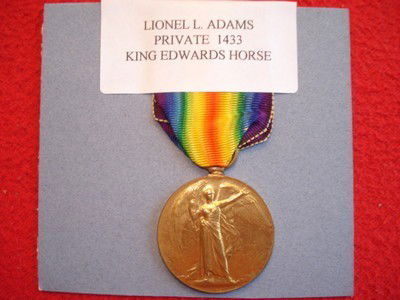 AAGAARD,
Andrew (Anders). 1008. 'A' Squadron. Originated from Argentina. Private, arrived in France 27/07/1915 and commissioned Second Lieutenant 22/02/1918. Died in 1957. Awarded 1914/15 Star trio. Photograph of him attending third South American re-union in 1945 available.
ABBOTT,
Bertie J. 1517. Private. Born in New South Wales, Australia in 1895. Australian. Discharged to the Reserve 18/06/1919. Entitled to British War Medal and Victory Medal. Lived in Bauple, Queensland post-War.
ABRAHAM, Lionel Martyn. Serjeant KEH. Commissioned as a Second Lieutenant in the Royal Field Artillery on 4/12/1914 (London Gazette). Entered France 24/08/1915. Wounded once. Born in July 1893 in Palmerston North, Wellington, New Zealand the son of Lionel Augustus Abraham and Constance Palgrave Martyn OBE and attended Wanganui College 1907-12. He saw service in the King Edward's Horse joining the University Squadron in 1912 when at Pembroke College, Cambridge. Was living in Palmerston North, New Zealand in 1914 and returned post war. 1914/15 Star trio medal entitlements confirmed on MIC. Served as a Second Lieutenant with the 12th Company, National Reserve in New Zealand in 1940. Died in New Zealand 31/12/1986. Portrait photograph of Second Lieutenant Abraham in the Royal Field Artillery courtesy of the Imperial War Museum.Commemorated on the Auckland Online Cenotaph. ADAMS,
Frank. 1913. Private. Discharged 30/10/1919.
ADAMS,
Fred T. C. 106. Private, Northumberland Fusiliers 61234 MIC
ADAMS, Lionel L. 1433 Private then promoted to Serjeant and transferred to the Reserve 26 June 1919. (Victory medal sold on electronic auction site 2014, image shown). Confirmed on MIC.ADAMS,
Norman Clarke. 670. Private, Serjeant. Born in England, arrived in France 20 October 1915 and was commissioned as a Second Lieutenant, Royal West Surrey Regiment 5/02/1919. Confirmed on MIC.
ADAMS,
Noel P.
Captain. A New Zealander who served in 'A' Squadron of the King Edward's Horse from 1909 after service in command of the Cambridge University Mounted Rifles as Lieutenant. Commanded the four University troops as a Squadron. Returned to New Zealand in 1916 as Colonel of the Base Training Camp for which he was awarded the Most Distinguished Order of Saint Michael and Saint George (CMG). Died in Clevedon, New Zealand in 1951. Referenced in KEH History.
ADAMSON,
W. From Argentina - details not confirmed on MIC but noted in Old Comrades Association bulletins.
ADDISON,
Noel Goodricke. 191. Private. Born in Natal on 25 December 1892 and joined the Oxford Troop of King Edward's Horse when studying at university. Commissioned as a Second Lieutenant 12 November 1914 and arrived in France on 1 June 1915 with 'A' Squadron King Edward's Horse. Killed in action 9 April 1918 aged 25 as a Lieutenant and awarded a posthumous Military Cross. Mentioned in Despatches. Medal entitlements confirmed on MIC. Lieutenant in 1915 see Figure 19.
AFFLECK,
Johnson Morris. 724. Serjeant. Entered France 22/04/1915. Commissioned as a Second Lieutenant 7th Battalion, Northumberland Fusiliers 29/12/1916. Awarded Military Cross 18/01/1918. Born 17/10/1886 in Gateshead, UK and went to St. Bees School 1900-03. Emigrated to Canada in 1906. Enlisted in British Columbia but was told his poor eyesight would preclude him from active service. Paid for his own passage to England and enlisted in KEH. Escorted German POWs back to Germany when the war ended and discharged late 1919 and returned to Canada in 1920. He died 10/1971.
AGATE,
Ronald W. 969. Private. 'A' Squadron. Canadian. Entered France 2/06/1915. Wounded in defence of Vieille Chapelle 9-11/04/1918. Discharged 17/03/1919. He died 10/1947 in British Columbia.
AGOSTINI
, Edgar Barnard. Private. Oxford University OTC then KEH. Left Trinidad for UK 17/10/1917 with 11th Caribbean Merchant and Planters Contingent. Home service 08/1917 to 11/11/1918. Did not serve overseas as was born in 1900 and too young. Living in USA in 1946. Likely to be a relative of J. Leon Agostini.
AGOSTINI,
J. Leon. Private. Left Trinidad for UK 5/06/1917 with 6th Caribbean Merchant and Planters Contingent. Likely to be a relative of Edgar B. Agostini.