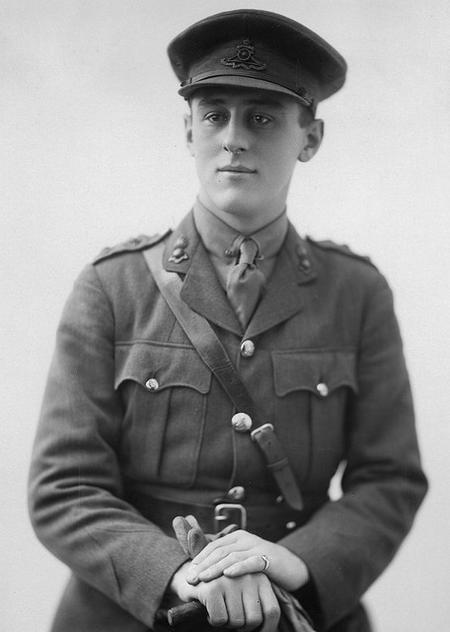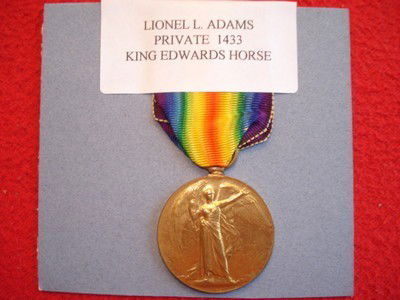 AAGAARD,
Andrew (Anders). 1008. 'A' Squadron. Originated from Argentina. Private, arrived in France 27 July 1915 and commissioned Second Lieutenant 22 February 1918. Died in 1957. 1915 Star trio details confirmed on Medal Index Card (MIC), Regimental history and Old Comrades Association bulletins.
ABBOTT,
Bertie J. 1517. Private MIC. An Australian born in New South Wales in 1895 and settled after the war in Bauple, Queensland.
ABRAHAM, Lionel Martyn. Serjeant KEH. Commissioned as a Second Lieutenant in the Royal Field Artillery on 4/12/ 1914 (London Gazette). Wounded once. Born in July 1893 in Palmerston North, Wellington, New Zealand. He saw service in the King Edward's Horse joining the University Squadron in 1912 when at Pembroke College, Cambridge. Was living in Palmerston North, New Zealand in 1914 and returned post war. 1915 Star trio medal entitlements confirmed on MIC. Died in New Zealand 31/12/1986. Portrait photograph of Second Lieutenant Abraham in the Royal Field Artillery courtesy of the Imperial War Museum.ADAMS,
Frank. 1913. Private MIC
ADAMS,
Fred T. C. 106. Private, Northumberland Fusiliers 61234 MIC
ADAMS, Lionel L. 1433 Private then promoted to Serjeant and transferred to the Reserve 26 June 1919. (Victory medal sold on electronic auction site 2014, image shown). Confirmed on MIC.ADAMS,
Norman Clarke. 670. Private, Serjeant. Born in England and arrived in France 20 October 1915 and was commissioned as a Second Lieutenant, Royal West Surrrey Regiment on the 5th February 1919. Confirmed on MIC.
ADAMS,
Noel P.
Captain. A New Zealander who served in 'A' Squadron of the King Edward's Horse from 1909 after service in command of the Cambridge University Mounted Rifles as Lieutenant. Commanded the four University troops as a Squadron. Returned to New Zealand in 1916 as Colonel of the Base Training Camp for which he was awarded the Most Distinguished Order of Saint Michael and Saint George (CMG). Died in Clevedon, New Zealand in 1951. Referenced in KEH History.
ADAMSON,
W. From Argentina - details not confirmed on MIC but noted in Old Comrades Association bulletins.
ADDISON,
Noel Goodricke. 191. Private. Born in Natal on 25 December 1892 and joined the Oxford Troop of King Edward's Horse when studying at university. Commissioned as a Second Lieutenant 12 November 1914 and arrived in France on 1 June 1915 with 'A' Squadron King Edward's Horse. Killed in action 9 April 1918 aged 25 as a Lieutenant and awarded a posthumous Military Cross. Mentioned in Despatches. Medal entitlements confirmed on MIC. Lieutenant in 1915 see Figure 19.
AFFLECK,
Johnson M. 724. Private, Second Lieutenant Northumberland Fusiliers MIC
AGASS
, Alfred. 465025. Private. Commonwealth War Graves information - Born Bethnal Green, London. Enlisted in Walthamstow. Killed in action at age 31 on 18/08/1915 in Belgium. Name recorded on Menin Gate, Ypres Panel 54. Name not confirmed on MIC and regimental number does not fit with KEH. Further research required.
AGATE,
Ronald N. 969. Private MIC
AGOSTINI
, B. E. Private. Oxford University OTC then KEH. Home service 08/1917 to 11/11/1918. Stonyhurst War Record.