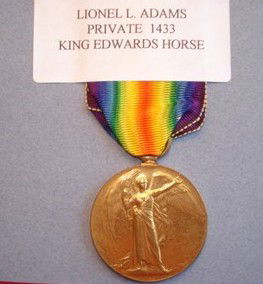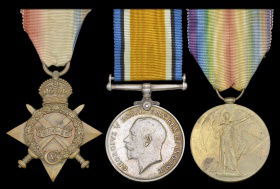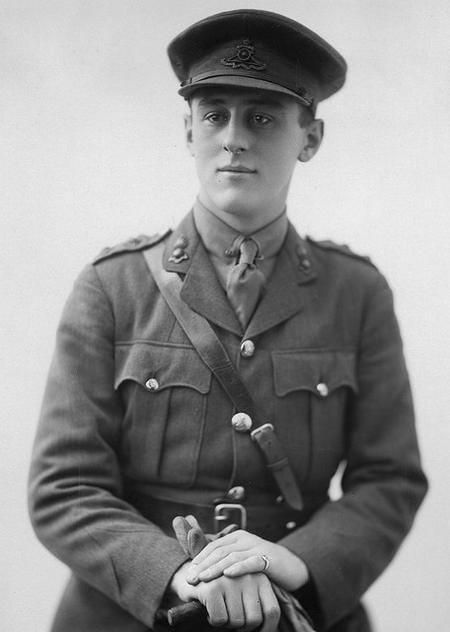 AAGAARD
Andrew (Anders) 1008 'A' Squadron. Originated from Argentina. Private, arrived in France 27 July 1915 and commissioned Second Lieutenant 22 February 1918. Died in 1957. 1915 Star trio details confirmed on Medal Index Card (MIC), Regimental history and Old Comrades Association bulletins.
ABBOTT
Bertie J. 1517 Private MIC. An Australian born in New South Wales in 1895 and settled after the war in Bauple, Queensland.
ABRAHAM Lionel Martyn. Serjeant. Commissioned as a Second Lieutenant in the Royal Field Artillery on 4/12/ 1914 (London Gazette). Born in July 1893 in Palmerston North, Wellington, New Zealand. He saw service in the King Edward's Horse joining the University Squadron in 1912 when at Pembroke College, Cambridge. Was living in Palmerston North, New Zealand in 1914 and returned post war. 1915 Star trio medal entitlements confirmed on MIC. Died in New Zealand 31/12/1986. Portrait photograph of Second Lieutenant Abraham in the Royal Field Artillery courtesy of the Imperial War Museum.ADAMS
Frank 1913 Private MIC
ADAMS
Fred T. C. 106 Private, Northumberland Fusiliers 61234 MIC
ADAMS Lionel L. 1433 Private then promoted to Serjeant and transferred to the Reserve 26 June 1919. (Reference - Victory medal sold on electronic auction site 2014, image shown). Confirmed on MIC.ADAMS
Norman Clarke 670 Private, Serjeant. Born in England and arrived in France 20 October 1915 and was commissioned as a Second Lieutenant, Royal West Surrrey Regiment on the 5th February 1919. Confirmed on MIC.
ADAMS
Noel P.
Captain. A New Zealander who served in 'A' Squadron of the King Edward's Horse from 1909 after service in command of the Cambridge University Mounted Rifles as Lieutenant. Commanded the four University troops as a Squadron. Returned to New Zealand in 1916 as Colonel of the Base Training Camp for which he was awarded a CMG. Died in Clevedon, New Zealand in 1951. Referenced in KEH History.
ADAMSON
W. From Argentina - details not confirmed on MIC but noted in Old Comrades Association bulletins.
ADDISON
Noel Goodricke 191 Private. Born in Natal on 25 December 1892 and joined the Oxford Troop of King Edward's Horse when studying at university. Commissioned as a Second Lieutenant 12 November 1914 and arrived in France on 1 June 1915 with 'A' Squadron King Edward's Horse. Killed in action 9 April 1918 aged 25 as a Lieutenant and awarded a posthumous Military Cross. Medal entitlements confirmed on MIC. Lieutenant in 1915 see Figure 19.
AFFLECK
Johnson M. 724 Private, Second Lieutenant Northumberland Fusiliers MIC
AGASS
, Alfred. 465025, Private. Commonwealth War Graves information - Born Bethnal Green, London. Enlisted in Walthamstow. Killed in action at age 31 on 18/08/1915 in Belgium. Name recorded on Menin Gate, Ypres Panel 54. Name not confirmed on MIC and regimental number does not fit with KEH. Further research required.
AGATE
Ronald N. 969 Private MIC
AGNEW
Frank Vans 1112 Private, Second Lieutenant later Captain Tank Corps MIC
AGOSTINI
, B. E. Private. Oxford University OTC then KEH. Home service 08/1917 to 11/11/1918. Stonyhurst War Record.
AIREY
George R. Private, former Private 3rd Dragoon Guards, Private Corps of Dragoons D/17046 MIC
AITKEN
D. B. Private, Second Lieutenant Royal Flying Corps MIC
ALAZIA
Charles. Private in 1916.
ALBERTSON
Armand Harold 1003 Private, Private Machine Gun Corps 107480, Second Lieutenant Tank Corp MIC
ALBRECHT
Frederick Private Corps of Dragoons D/10936 MIC
ALDERSON
E. C. 1276 Private, Military Mounted Police 12405 MIC
ALDERTON
Charles 490 Staff Quarter Master Serjeant MIC
ALEXANDER
David A. H. 1400 Private MIC
ALEXANDER
Frederick Vionee 4 Private, Second Lieutenant Royal Engineers MIC
ALEXANDER
Ralph Douglas. 958. Second Lieutenant in photograph Marlborough Barracks, Dublin 1918 see Figure 33.
ALEXANDRA
Walter 862 Private, Private Army Service Corps R/41311 MIC
ALLAN
John 1427 Private, Second Lieutenant and then Captain Machine Gun Corps MIC. Transferred to the Heavy Section Machine Gun Corps 26/4/16 (London Gazette). Awarded Military Cross for conspicuous gallantry in action at Courcellette on 15/9/17 whilst commanding Tank C6 (Cordon Rouge) so was in the Tank Corps or attached. Injured later in the war with 6th Battalion, Regt?
ALLEN
Albert E. 1373 Private MIC
ALLEN
Ernest Rawson 1032 Private, Private then Lieutenant Royal Engineers MIC
ALLEN
Hamilton J. 557 Private MIC
ALLIOTT
John A. 1086 Private MIC
ALLUM
Ephraim 1926 Private MIC
ALMACK
Alfred 1346 Private MIC
ALSOP
George 2 S2 Private MIC
ALSOP
John W. Private, former Private 1st Dragoons D/18482, Private Corps of Dragoons D/18482 MIC
ALSTON
John F. 1395 Private, former Private Lincolnshire Yeomanry, Second Lieutenant Machine Gun Corps MIC
AMBROSE
Guy 1865 Private MIC
AMBROSE
Herbert 543 Private MIC
AMOTT
John Private in 1918
ANDERSON
Andrew 1875 Private MIC
ANDERSON
Claude W. 1693 Corporal MIC
ANDERSON
Donald Alex 169 Corporal, Serjeant MIC
ANDERSON
George Reid 124 Serjeant 1245 on another MIC MIC
ANDERSON
John M. 14316 Private, Private Royal Air Force MIC
ANDERSON
William L. 215 Serjeant, Sub Lieutenant Royal Naval Air Service, Captain Royal Field Artillery MIC
ANDREWS
Charles James William Captain, Private South Rhodesia Column A1, Private 1st Rhodesia Regiment 7 MIC
ANDREWS
Leonard H. D/1645 Private, Private Corps of Dragoons MIC
ANDREWS
William E. 1367 Private MIC
ANGEL . Private. King's Colonials. Portrait photograph in Full Dress uniform circa 1902 see Figure 77.
ANGOLD
Harry E. 1289 Private MIC
ANSTEY
Herbert L. 96 Private MIC
ARCHDALL
Montgomery Private, Private Dragoons D/21216 MIC
ARCHIBALD
William R. 1064 Private MIC
ARGENT
Edward 1061 Private MIC
ARGENT
W. K. Serjeant Major KEH in 1911
ARIZA
Louis Francis 1110 Private MIC
ARKELL
William J. 1345 Private MIC
ARMOUR
Donald J. Lieutenant and Surgeon KEH 1910
ARMSTRONG
Bertie Mac Vicar 671 Serjeant, Acting Captain MIC
ARMSTRONG
Frederick 1209 Private MIC
ARMSTRONG
J. Private. New Zealander who enlisted in 1902 and was commissioned as a Second Lieutenant in the King's Colonials in 1903 in command of 1st Troop (New South Wales) 'C' Squadron (Australasian) and shown with that rank on 1905 Officer's List.
ARMSTRONG
John W. Private, Private 1st Dragoons, Private Corps of Dragoons D/17279 MIC
ARNOLD Jack. 991. Private 'B' Squadron. 1914-15 Star (991 Pte., K. Edw. H.); British War and Victory Medals (991 Pte., K. Edw. H.). Born in South Africa and entered the France/Flanders theatre of war on 15 September 1915 and was discharged 9th July 1919. Medals sold with a copy of the Medal Index Card at auction by Dix Noonan Webb, UK, March 2014). ARNOTT
John 1482 Private MIC
ASH
Arthur H. 1893 Private, Private Lancashire Fusiliers 45520 MIC
ASHDOWN
James R. 1618 Acting Corporal MIC
ASHFORD
William 104 Lance Corporal, Second Lieutenant The Queen's Regiment, Lieutenant Royal Air Force MIC
ASTLEY
William P. 807 Acting Corporal MIC
ATKINS
John 567 Private, Private Royal Fusiliers GS/142659 MIC
ATKINS
Leslie J. 1327 Private MIC
AUCKETT
Arthur E. 1997 Attached King's African Rifles MIC
AUCUTT
Richard E. 1325 Private, Lieutenant South Surrey Regiment MIC
AULIFF
Harry 93 Serjeant, Lieutenant Royal Flying Corps 115528 MIC
AUSTEN
Cesil Alexander 987 Private, Second Lieutenant and Lieutenant Royal Fusiliers MIC
AVERBACH
Willy H. A. 1145 Private MIC
AYLWARD
Gordon 1371 Private MIC