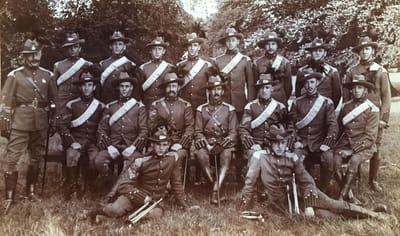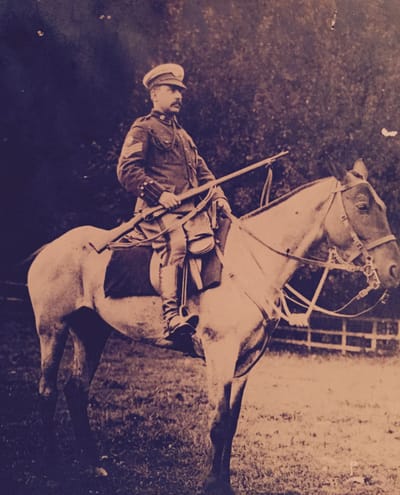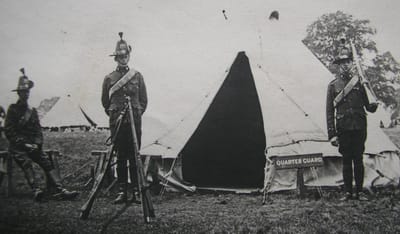 The King's Colonials were a unique yeomanry Regiment in the British Army in the opening years of the 20th century. Although formed in the final stages of the Boer War the Regiment itself did not see service there although a number of its volunteer members did. They were comprised of Colonial volunteer's resident in Britain initially from those living in London but in time extending to Cambridge, Oxford and Liverpool. A combination of colourful characters, rich and flamboyant uniforms, iconic badges reflecting proud Dominion heritages mixed with Royal patronage ensured that the King's Colonials became a much talked about Regiment. The King's Colonials bore many distinctions and among them that they were the only Colonial unit administered from Whitehall and the other rather tragically is that although not the very last but among those officially registered as having being killed on Armistice Day was a Trooper of 'C' Squadron King Edward's Horse.

Re-named in 1910 as the King Edward's Horse (King's Overseas Dominions Regiment) the Regiment went on to see active service in the Great War. Service in the King Edward's Horse proved to be a highly-regarded training ground for future Officers. Some 550 men were transferred from the King Edward's Horse to become Officers in other units. The King Edward's Horse were demobilised upon their return to England in 1919 and were never re-embodied being disbanded in 1924.

Much of the time in the Great War, the King Edward's Horse were kept in reserve waiting for breakthroughs in the line which rarely if ever occurred. They spent much of their time foraging for themselves and their horses and delivering messages. The infantry took their abbreviated title of 'KEH KODR' and jeeringly called them 'King's Own Despatch Riders'.

The truth is that the King Edward's Horse had an exemplary wartime service record. During the war the Regiment lost ten Officers, two Staff Sergeants and 69 Other Ranks killed or died on service. They were awarded four Distinguished Service Orders, one with bar; eleven Military Crosses, one with bar; ten Distinguished Conduct Medals, one with bar; five Meritorious Service Medals and twenty-five Military Medals plus a number of Foreign service awards and Mentioned in Dispatches.

The King's Colonials and later the King Edward's Horse together, with nothing more than a namesake as a link, the 2nd King Edward's Horse represent a tremendous topic for research. The badges of these Regiments in particular make a fascinating study. This was my initial interest in the Regiments which grew over time to a fuller appreciation of their uniform and place in history.

I am currently compiling a comprehensive Nominal Roll with medal entitlements and photographic memorials to the fallen and these pages are being regularly updated. Surnames A, B and C are now complete. Information and photographs of any member of the King's Colonials/King Edward's Horse and 2nd King Edward's Horse would be most welcome and please see the Contact page for getting in touch. Full acknowledgement will be given.

I hope you find some aspects of this website to be of interest and use and I would very much like to hear from you should you have questions, comments, corrections or information to contribute. I certainly do not profess to being an expert on this subject.

To descendants of members of the Regiments I hope you can be proud of such a heritage.

Lest We Forget.