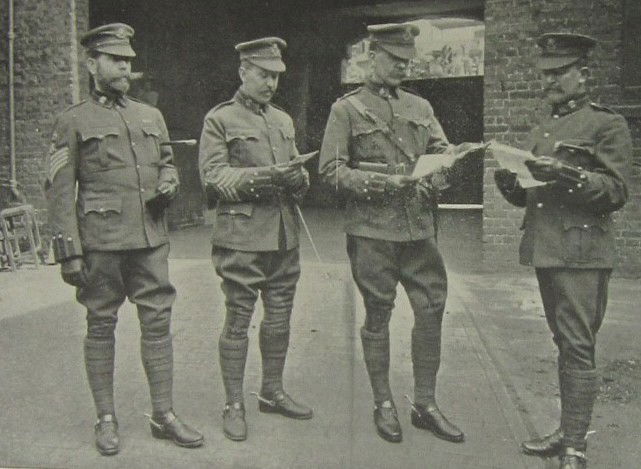 The group photograph (Figure 283) of senior NCOs and an Officer shows both first and second pattern collar badges being worn.
Figure 283: The permanent staff of the King's Colonials as of 19th April 1902 from left to right are Regimental Sergeant Major Fezan (former 4th Dragoon Guards), Squadron Quarter Master Sergeant Palmer (former 10th Hussars); Captain and Adjutant R. R. Thompson; and Squadron Sergeant Major Thompson (former 13th Hussars) (Navy and Army Illustrated. London: Elliot & Fry, Volume XIV: Number 274, 147-148, May 3rd 1902).
In the Colin Churchill collection there was a single die-cast, flat backed, second pattern Regimental collar badges in bronze with north-south copper loops (Figures 284-285). No photographic evidence exists as to these bronzed collar badges being worn and it is likely they were intended for wear as part of the Officer's Service Dress (OSD) uniform.
Figures 284-285: Front and rear images of a second pattern Regimental Officer's collar badge in bronze with a flat back (Images reproduced with kind permission
C&T Auctioneers
, United Kingdom).