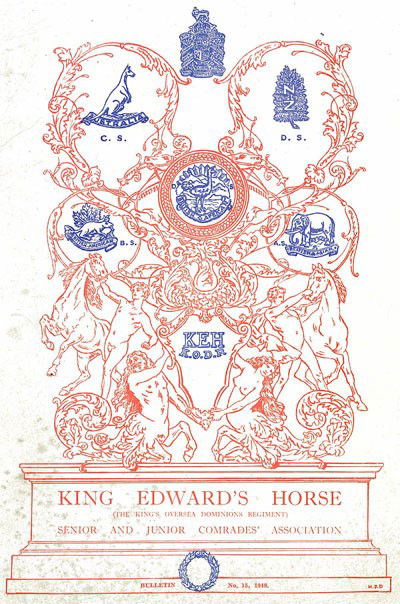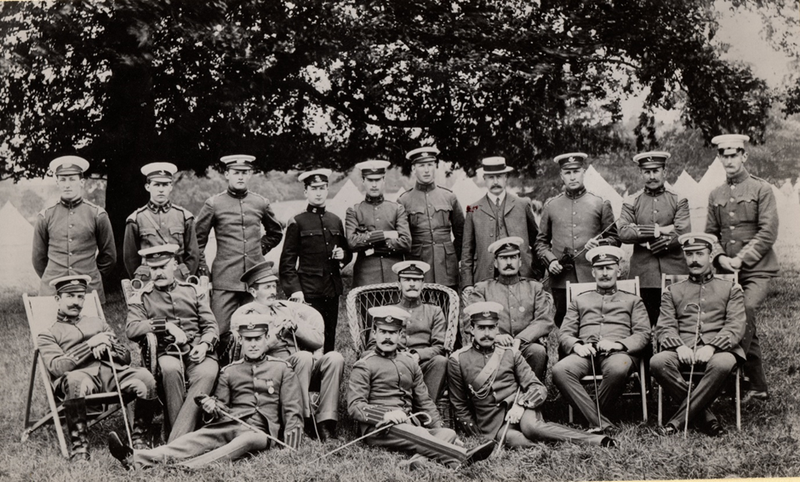 On the hat-band of the first pattern, tall-felt hat introduced in 1901 and worn until 1905, all Squadron members wore a distinctive Squadron headdress badge. These are perhaps best appreciated in Figure 190 which is a plate from
The
King Edward's Horse Senior and Junior Old Comrades Association Bulletin
from 1948. This plate illustrates the headdress badges of the Squadrons as: 'A' (British Asian) elephant; 'B' Squadron (British American) beaver; 'C' Squadron (Australian) kangaroo which is the later headdress badge replacing the first pattern Australasian kangaroo and New Zealand fern badge when it was a combined Australian and New Zealand Squadron; and the 'D' Squadron (British African) headdress badge and later fern badge of the 3rd New Zealand Troop of 'D' Squadron. These Squadron headdress badges are covered in more detail in a later section. The Squadron badges were on the front of the second pattern Regimental Full Dress Sombrero hat from 1905-1910. They were also worn on the Undress uniform first and second pattern cap from 1901-1910.
Figure 190: Plate illustrating the Squadron badges of the King's Colonials and regimental badge of King Edward's Horse from The King Edward's Horse Senior and Junior Old Comrades' Association Bulletin. Number 15: 1948.
The King's Colonials group photograph (Figure 191) shows five of the different Squadron headdress badges being worn, many with matching pairs of collar badges. All the headdress and collar badges in this photograph appear to be gilt or yellow-brass. Close-up images of this group photograph have been used to illustrate each set of Squadron headdress and collar badges unless otherwise indicated.
The King's Colonials Squadron headdress and collar badges are arguably among some of the most iconic and emblematic badges worn within the British Dominions. The choice of native animals as icons of the senior members of the Dominions was fitting as the members of the King's Colonials were recruited from Dominion residents in Great Britain amidst the patriotic fervour evoked by the Second Boer War.
Figure 192: A group of Officers and Other Ranks from all of the different Squadrons of the King's Colonials Imperial Yeomanry showing the second pattern Forage Cap in khaki with a white cap cover circa 1906-07. The Officer, second from left in the middle row is denoted as a Field Officer as he bears gold braid to the peak of his forage cap. Captain Sir Hamar Greenwood (later Viscount Greenwood), 'B' Squadron (British American) is third from the left in the rear row holding a cane (Peter Nemaric collection).