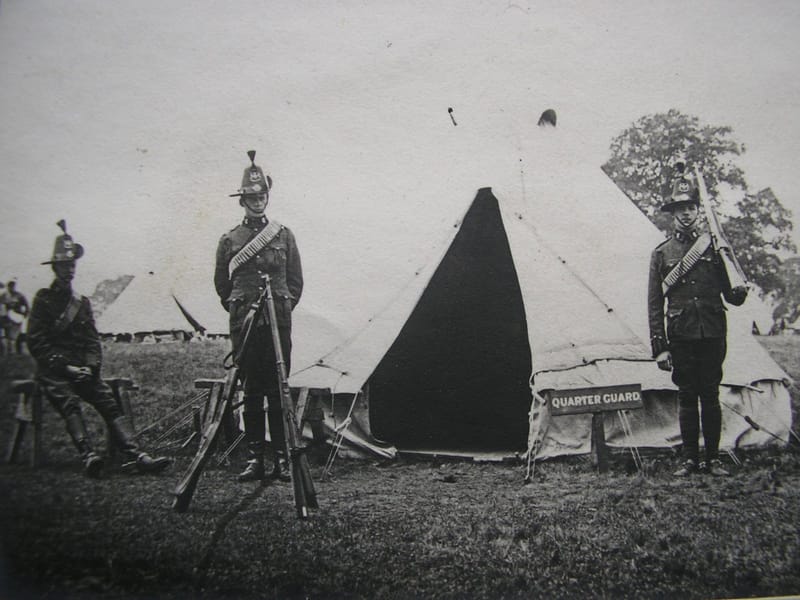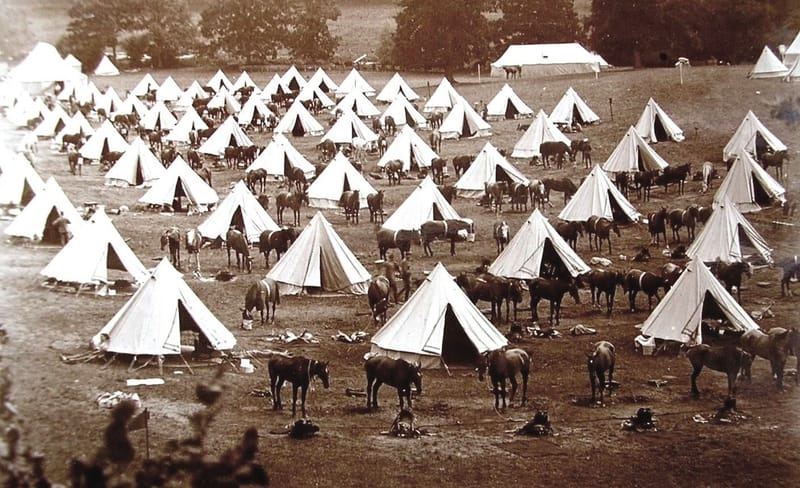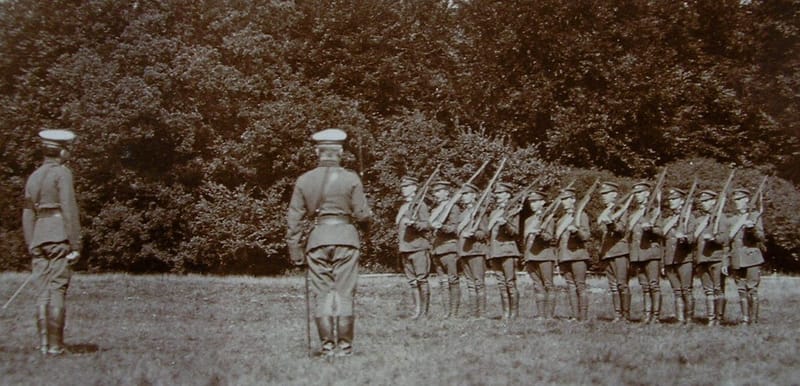 The annual camp was an important training activity for all British army regiments especially the volunteers. A fortnight under canvas annually was supplemented for the King's Colonials by intermediate trainings at Easter and Whitsuntide holidays which became annual features from 1904. The first annual camp of the newly formed King's Colonials was held at Sidcup in Kent from 14th to 29th June 1902. The Regiment in camp totaled fourteen Officers and 201 Other Ranks with a strong Squadron released under the command of the Adjutant for the Coronation Review. Figure 40 is a photograph taken from that first annual camp of the Quarter Guard being mounted by several Troopers of the Australasian Squadron.
Figure 40: Annual camp in Sidcup, Kent in June 1902.
In 1903, the annual camp was held at Latimer Camp in Chesham, Buckinghamshire in August of that year under the encouraging and watchful eye of the land holder, Lord Chesham. Unlike some irregularities with the previous camp the Latimer Park experience was very soldierly. The camp was attended by eighteen Officers and 202 Other Ranks illustrating the slow growth of the Regiment in the early years.
The photograph in Figure 41 shows the typical annual camp layout of the precisely aligned and evenly spaced horse lines and men's tents. The larger tents in the background are the mess tents.
Figure 41: Annual camp at Latimer Park in Chesham, Buckinghamshire in 1903.
The annual camps were great training opportunities for marching, parading and horsemanship.
Figure 42: Captain Robert R. Thompson (an Australian who had served as a Sergeant in the 4th Dragoon Guards and Adjutant of the 1st (Volunteer) Australian Horse) and Squadron Sergeant Major Ernest S. Wells (who had served as Regimental Sergeant Major in the 4th Hussars and was promoted to Regimental Sergeant Major in the later King Edward's Horse in 1911) passing and inspecting recruits at Latimer Camp in 1903.