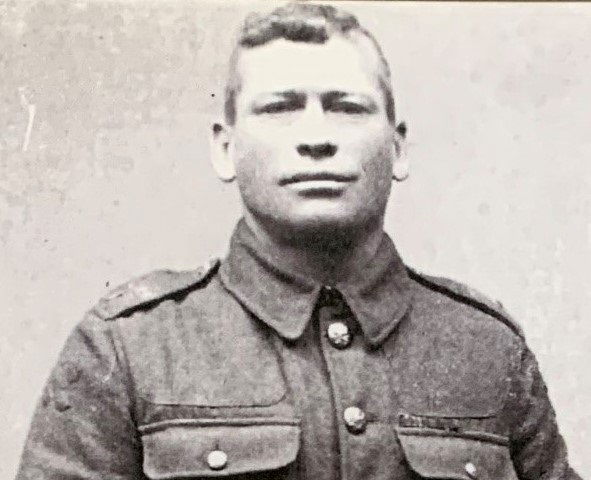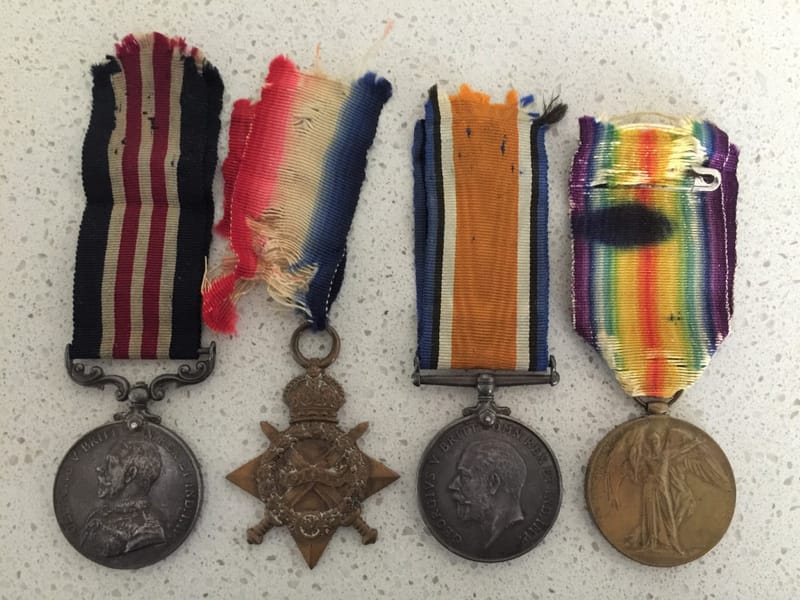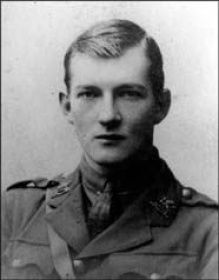 MITCHELL, Jack Fraser. 1338. Australian who had seen service in the 2nd Boer War under his birth name as Private Joseph Norman Greer, 83 with the Fourth Queensland Imperial Bushmen. He enlisted as Private Jack Fraser Mitchell 1338 in the 2nd King Edward's Horse in London on 24/12/1914 aged 35 and deployed to Bolougne 5/05/1915 having sailed on HMTS Onward from Folkestone. He fought dismounted at Festubert, Givenchy and Ploegsteert Wood and then transferred to the 93rd Company of the Machine Gun Corps (MGC) 7/02/1916. He saw action at the Battle of the Somme supporting the 93rd Brigade attack on Serre. This was the same action in which my grandfather Serjeant Charles Herbert Moss, 18th Durham Pals Battalion, Durham Light Infantry fought as part of 93rd Brigade, 31st Division. Jack was gassed in 1917, transferred to the Labour Corps, 447031 and discharged 29/08/1919 medically unfit and returned to Australia 1919. He died from bronchial pneumonia in 1933 as a complication of being gassed. He was awarded the Queen's South Africa (QSA) medal with four bars, the Military Medal, 1914/15 Star, British War Medal and Victory medal, all medals except QSA held by the family and pictured here. Photograph in MGC uniform in November 1916 (Photographs and biographical information courtesy of his grandson and my friend Ray Mitchell).MORRIS, Eyre Percival. Second Lieutenant (Pilot) E. P. Morris, No. 8 Squadron, Royal Flying Corps, and East Kent Regiment, formerly 2nd King Edward's Horse, killed in action on 1 May 1917. Eyre Percival Morris was killed in action on 1 May 1917 whilst flying a BE2e over Wancourt on an artillery observation patrol. His plane received a direct hit from a shell killing both him and his Observer (Lieutenant V. R. Pfrimmer). They are both buried in Warlincourt Halte British Cemetery, France. The following is an un-sourced quote, stated to have been made by his C.O. 'Percy's loss was a severe blow to the squadron. We truly believe he was destined to be one of our top aces and expected him to be awarded the Military Cross for his exploits.' The following biographical detail is taken from the South Pacific Mail, which includes photographs of both recipients, who were residing in Chile on the outbreak of the Great War: Percival Eyre Morris: 'Left for England in November 1914, and enlisted in the 2nd King Edward's Horse. In May 1915, Percy Morris went to France with the 2nd KEH., remaining on active service for 16 months and obtaining his commission as 2nd Lieutenant in the 1st Buffs Regiment to which he was transferred early in 1916. On his return to England in September 1916, he joined the Royal Flying Corps (RFC) and three months later went to France again as a pilot. He was then the youngest aviator to gain the pilot certificate, being only 23 years of age. On May 1st, 1917, he was killed in action after bringing down 5 enemy machines. Lieutenant Morris took part in the following engagements: Festubert, Givenchy, Messines, Vierstraate and Ploegsteert...'. 1914-15 Star (1253 Pte., K. Edw. H.); British War and Victory Medals (2. Lieut.); together with memorial plaque (Eyre Percival Morris); illuminated memorial scroll; and a fine quality portrait miniature of recipient in RFC uniform, painted on ivory, in oval arts and crafts style copper frame, signed 'O.H. 1918' sold at auction Dix Noonan Webb, UK June 2002. Brother of H. H. Morris.


MORRIS, Hugh H. 1306. Second Lieutenant H. H. Morris, East Kent Regiment, formerly 2nd King Edward's Horse, invalided out of the army in March 1916 suffering from severe shell shock. He left Chile with his younger brother Percy in November 1914, to join the forces and enlisted in King Edward's Horse. After training in England he was sent to France where he served in the trenches with the 2nd K.E.H. for over a year. He then trained for a commission and was gazetted 2nd Lieutenant to the 1st Buffs Regiment. In March 1916, he was reported to be dangerously ill at Calais suffering from shell shock. He was invalided to England for treatment but has never recovered his normal health being partly paralysed with loss of speech. 1914-15 Star (1306 Pte., K. Edw. H.); British War and Victory Medals (2. Lieut.) sold at auction Dix Noonan Webb, UK June 2002 with the medals of his late brother Eyre Percival Morris.
MORRIS. Serjeant. Awarded the Distinguished Conduct Medal.