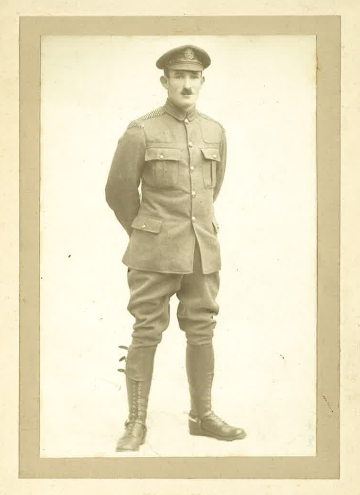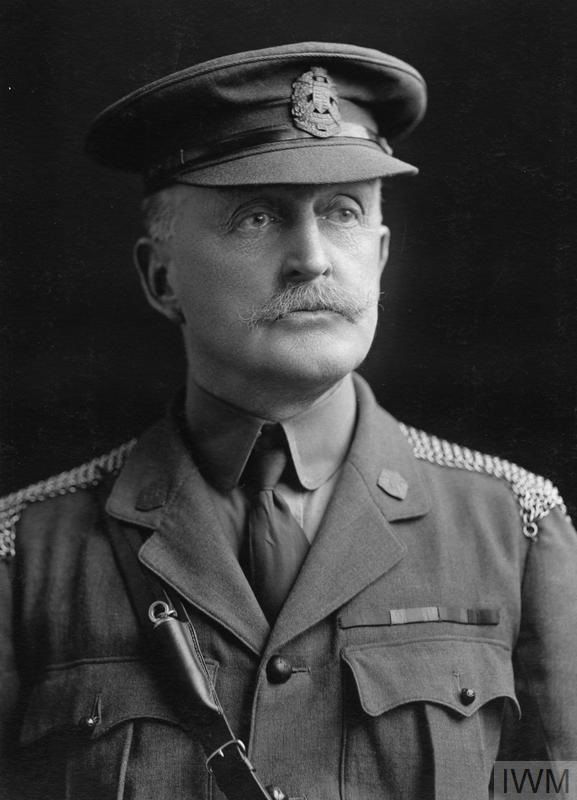 CAMPBELL, Robert Bruce. Served with the Assam Valley Light Horse from 1897. Served 2nd KEH 1915-17 then Tank Corps. Commissioned Second Lieutenant Labour Corps 1918. Cap badge and shoulder title in National Army Museum together with his British War Medal, Victory Medal and Volunteer Long Service Medal India.
CAPELL Henry Addison Devereaux 1977 Trooper, Second Lieutenant Highland Light infantry, Lieutenant Labour Corps
CAPPER Alfred Isidore 433. Private 2KEH, Private KEH, Acting Corporal Northumberland Fusiliers 61202. Born in London named Alfred Isidore Friedlander and worked in South Africa. Changed his name to Alfred Isidore Capper by deed poll in November 1914 due to Germanic overtone of his birth surname. He enlisted in the 2nd KEH 1914 and went to France 2/07/1915. Alfred then appears in a 1916 photograph of a Hotchkiss machine gun team of King Edward's Horse (see Figure 22) which he must have been transferred to although his Medal Index Cards and medal rolls make no distinction between the KEH and 2KEH. He was then transferred as an Acting Corporal to the Northumberland Fusiliers 61202. He didn't speak about much of his wartime experiences with his family but did re-call being shot off his horse, being buried by the earth thrown up by a shell but escaped unscathed and fighting dismounted. He married in 1930 and died in London in 1945. The family retains his 2KEH cap badge (see Figure 429) and 2KEH portrait photographs (Information and photographs courtesy of Robert Cruickshank, his grandson).
CHRYSTAL John 1919 Acting Corporal Royal Engineers 208117, Acting Corporal 2nd KEH, Second Lieutenant Royal Engineers
CHUBB William S. R. 1881 Private
CLACEY Walter Cleveland 1213 Serjeant
CLAREY John C. 1788 Private - Northumberland Fusiliers 40115, Tank Corps 302868
CLARKE Stanley R. 1855 Private, Private Northumberland Fusiliers 61215, Private Tank Corps 302872
CLELLAND Daniel 1333 Private, Acting Lance Corporal Tank Corps 302822, Acting Lance Corporal Northumberland Fusiliers 61307
CLEWLON R. D.
COLLING John 1808 Private Lancashire Fusiliers 40546, Private Northumberland Fusliers
COLLINGWOOD Alan R. G. 1984 Private
COOKE Edwin B. 1805 Private, Corporal 5th Dragoon Guards 3834
COONEY Jonathan 1309 Private, Private Tank Corps 45460, Private Lancashire Fusiliers 303024
CONSTABLE Clifford Edward Second Lieutenant, Captain
COPE Arthur Selywn 1330 Private, Second Lieutenant Lancashire Fusiliers, Lieutenant 2/5 Gloucestershire Regiment
CORDER Harold C. 1187 Private, Acting Serjeant Tank Corp 302806, Northumberland Fusiliers 39947, Lancashire Fusiliers
CRADOCK Montagu Lieutenant Colonel CB CMG. (Portrait photograph Copyright Imperial War Museum HU 102500)
CREIGHTON Bertram B. 1215 Private, Tank Corp, Northumberland Fusiliers 61255
CRONIN Thomas 1461 Private, Private Tank Corp 302787, Private 2/4th Northumberland Fusiliers 61180
CULLINANE Michael 1632 Private, Private 10th Northumberland Fusiliers 39916, Private Lancashire Fusiliers 40545, Private Tank Corps 302852
CUTHBERT R. L. 340 Private
D'ALROY Frank 1822 Corporal
DAVIDSON William 416811 Private, Private Labour Corps 5195
DAVIES William Stanley Second Lieutenant
DEELEY Frank Glover 1188 Trooper, South Staffordshire Regiment attached Gloucestershire Regiment, Lancashire Fusiliers
DE VERTEUIL Maurice 1356 Private, Private Tank Corps 302867, Corporal Northumberland Fusiliers 40119 Lance Corporal
EVERETT Raymond Charles Second Lieutenant, Captain
FARRELL John V. 1310 Private
FARRER-BROWN Y. 1080 Lance Corporal, Second Lieutenant 51st Middlesex Regiment
FINCH James W. 17 Serjeant, Warrant Officer Class 2 Tank Corps 302774, Warrant officer Class 2 Northumberland Fusiliers 61293
FINNEY Alexander 61187 Private - Northumberland Fusiliers 112091, Tank Corps 302803
FISHER Alwyn George Edmond. 1006 Private.KIA 25/05/1915. LE TOURET MEMORIAL, France.
FRASER Guy Basil Captain, Captain Head Quarters No 1 Training Group Royal Air Force
GIDWELL John 463 Private, Serjeant Lancashire Fusiliers 45473
GORDON William 1783 Private, Private 25th Indian Cavalry, Second Lieutenant Indian Army Reserve of Officers
GRAINGER E. 1098 Private, Private Military Mounted Police
GREEN Mathu 1621 Private, Lance Corporal then Second Lieutenant Machine Gun Corps 22979
GREENWAY Thomas 1134 Private, Private Tank Corps 302864, Private Northumberland Fusiliers 61289
GRIFFITHS J. N. Colonel awarded Distinguished Service Order
GROSVENOR . Lieutenant 'C' Troop photographed at Woodbridge 1914. Photograph on www.ukphotoarchive.org.uk
HAMILTON-WHITEFORD R Lieutenant Royal Air Force
HAMMILL Maurice William 1607 Private
HEARNE G. R. 1233 Corporal
HERBERT R. 40567 Shoeing Smith. Photograph on www.ukphotoarchive.org.uk
HUNT Harry Kingswell 1148 Private, born in the UK and KIA 23/05/1915 aged 32 commemorated on Le Touret Memorial.