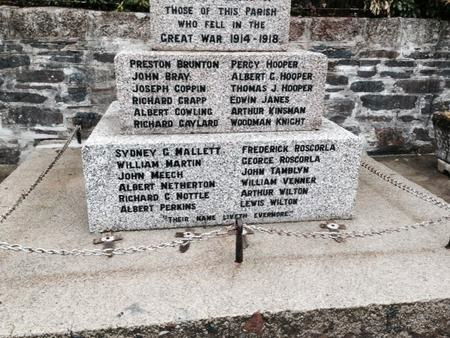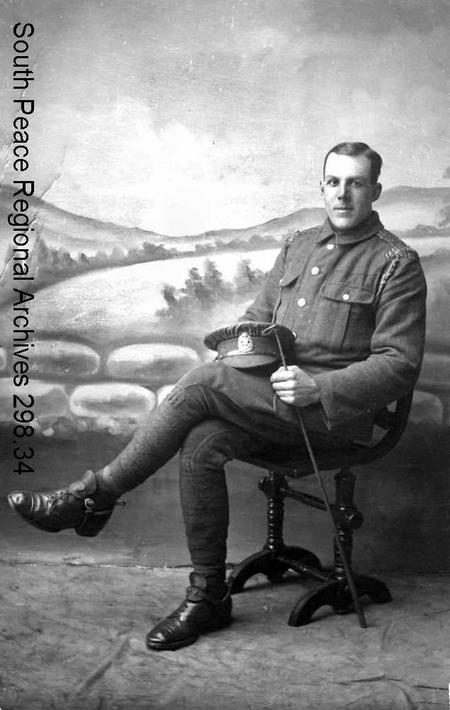 BRUNTON, Preston. 52. Enlisted White City, London. Entered France 5/05/1915. KIA 25/05/1915 aged 33 at the Battle of Festubert. Son of Fred S. and Mary Brunton of 29 Twickenham Road, Teddington, Middlesex; husband of the late Janet Taylor and born Richmond, Surrey. Commemorated on the Le Touret Memorial, France and the St. Neot War Memorial, Cornwall, UK (pictured). Entitled to 1914/15 Star Trio.BUCK, Charles W. 1352. Private 2KEH. Private Tank Corps 300485. Born in England in 1886 and died of a war related illness 4/03/1920 in Alberta, Canada (Portrait photograph courtesy of South Peace 298.34 & Imperial War Museum).
BUCKLAND, James A. 1840. Private, Corporal Military Mounted Police P/11922.
BUCKLEY, Charles. 1650. Private, Private Northumberland Fusiliers 61272.
BUCKLEY, Millard. 1142. Private. Private 13th Royal Scots. Commissioned Labour Corps 18/05/1918.
BULL, Percy William. 1293. Private. Discharged 8/03/1916
BURDETT, John, B. 80. Serjeant. Entered France 4/05/1915. Commissioned 5th Battalion Royal Fusiliers 25/09/1916. Entitled to 1914/15 Star Trio.
BURKE, Michael L. 1001. Serjeant. Commissioned Second Lieutenant 2KEH 1/10/1915.
BURNETT, Horace E. 1000. Serjeant, Private Machine Gun Corps 25253, Lieutenant
BURROUGHS, John R. 1509. Private, Corporal Tank Corps 302775, Corporal King's Liverpool Regiment 91422.
BURT, David. 960. Private. Commissioned Royal Flying Corps 25/07/1916.
BURTON, Archer R. 1054. Serjeant. Commissioned Royal Field Artillery 30/06/1918.
BURTON, Charles W. 1375. Private. Commissioned 6th Battalion Royal Fusiliers 26/06/1917.
BUTLER, . Second Lieutenant. Arrived Merris, France 28/06/1915 from Reserve Cavalry Regiments in England.
BYNOE, Clive Vickers. B/200735. Private 2KEH. Left Trinidad for UK 18/10/1915 with 1st Caribbean Merchant and Planters Contingent. Enlisted 8/12/1915 and claimed prior service Trinidad Light Horse. Entered France 29/11/1916, gassed and discharged medically unfit 31/05/1917. Repatriated 27/07/1917. Tried to re-enlist with 15th Contingent 20/03/1918 but rejected. Born in San Fernando, Trinidad in 1895.