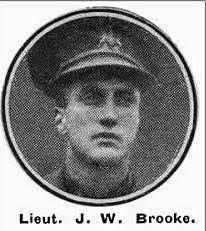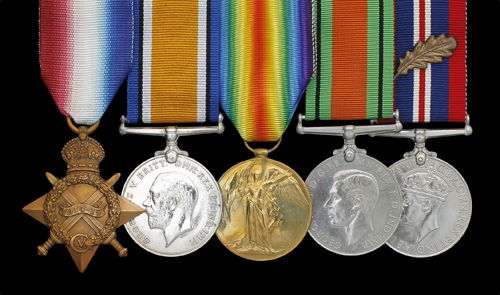 BROOKE, Charles. Lieutenant Oct 1914 formerly Lieutenant Colonel 2/1st Yorkshire Dragoons.
BROOKE, John Warwick. 606. Serjeant. Born 30/05/1886 in London and died 1929 at Uxbridge aged 42. Joined Royal Navy 1901. Press photographer with Topical Press Agency. Enlisted 1915, arrived in France as a Serjeant 5/05/1915 and commissioned as Second Lieutenant in the Intelligence Corps 2/07/1916 after being awarded the Distinguished Conduct Medal 14/01/1916. Became the second British official war photographer. Awarded OBE 2/11/1920. Joined the Auxiliary Division Royal Irish Constabulary (ADRIC) 4/05/1921 and discharged 1922 as a Captain. Photograph in 2KEH uniform. BROOKER Jack. 1365. 2 KEH. Wing Commander J. Brooker, Royal Air Force, Late Royal Flying Corps, Welsh Regiment and King Edward´s Horse 1914-15 Star (1365 Pte. J. Brooker, K. Edw. H.); British War and Victory Medals (Lieut. J. Brooker. R.F.C.); Defence Medal; War Medal, M.I.D. Oakleaf. Medals addressed to recipient at The Brewers Arms, Sinderby, Thirsk, Yorkshire. M.I.D. London Gazette 1.1.1946 Wing Commander J. Brooker (73568), R.A.F.V.R. Wing Commander Jack Brooker, born Argentina, 1891; enlisted as a Trooper 2nd Battalion King Edward´s Horse, January 1915; served with the regiment on the Western Front, from 4.5.1915; commissioned Second Lieutenant 10th Battalion Welsh Regiment, December 1915; promoted Lieutenant before transferring to the Royal Flying Corps, 23.10.1916; Temporary Flying Officer (Observer), 2.2.1917; postings included to a number of Training Squadrons between February - December 1917, before being posted as a Ferry Pilot to No. 2 (N) Aircraft Repair Depot, Sheffield, 16.8.1918; discharged 31.1.1919; re-engaged as a Flying Officer for service during the Second War and was employed for Operations Room Duties, including Control, at Abbotsinch, Dyce, Shetlands and Lough Erne Stations, between August 1939 - March 1941; served in the Operations Room, H.Q. Iceland, 21.8.1941-19.11.1942 and in the same capacity with H.Q. Coastal Command, from the end of November 1942 - June 1945; advanced Wing Commander 21.8.1941; retired 10.2.1954. Photograph of Brooker medal group.

BROOM, Francis Hubert. 831. Private. Entered France 4/05/1915. Commissioned as a Second Lieutenant Machine Gun Corps 22844 on 28/11/1917. Applied for medals from Shamua in Southern Rhodesia.
BROWN, Arthur Edwin Hollinsworth. 1761. Private. Enlisted Burton-on-Trent, London. Entered France 14/10/1915. Seriously wounded whilst in the trenches at St. Jan-Cappel near Baillieul in the Ypres sector 25/11/1915 and subsequently DoW 1/12/1915. Buried at BAILLEUL COMMUNAL CEMETERY EXTENSION, NORD, France.BROWN, Herbert Cavis. 1341. Private. Born in Stratford-on-Avon, England and enlisted Hampton Court, London. KIA 25/05/1915 aged 31 at the Battle of Festubert. Son of William and Mary Brown, of Stratford-on-Avon. Commemorated on Le Touret Memorial, France.
BROWN, Y. Farrier Lance Corporal, Second Lieutenant 51st Middlesex Regiment